Like any capital city in the world, I could write you a travel guide all about the many things to do in Delhi. I could varnish over the truth of backpacking in North India, but it's always more interesting to be totally honest about the things you've seen. Especially the things that are unjust.
We ended up in Delhi three times, despite vowing to never return after the first time as we'd seen what we'd come to see.
This is what I experienced as a female traveller navigating India's most historical and hectic city. Here is the good, the bad and the ugly about visiting the fascinating city of Delhi.

Arriving in Delhi
We arrived in Delhi from Kathmandu to be greeted by exactly the chaos that we'd expected. I couldn't help but feel excited that here we were in India, the place I dreamed of coming for so long.
While in Delhi, I posed for more selfies than I can recall and I started to become aware of becoming the subject of men's attention. It started when we'd left Delhi's swanky airport for its metro system and a man stood up to snap a picture of me, then sat down again as if we wouldn't notice.
This was a problem that followed me around India, but mainly in the North. It reached its absolute peak in Varanasi when I was bizarrely of more interest than sadhus with bells tied to their penises.
Paharganj
We stayed in the Paharganj area of Delhi as that's where the main train station and the majority of the hotels are located.
There was a blackout when we arrived at our guesthouse and we sat in the darkness in a back street wondering what was around us. Once the lights went back on, I was excited to finally eat authentic Indian food so we visited the various rooftop restaurants where we could look down at the madness.
I was also thrilled to see the cows wandering around the streets like the India of my imagination. Admittedly, they didn't eat trash in my imagination but I saw it frequently while I was here and it's difficult to stop them.
Old Delhi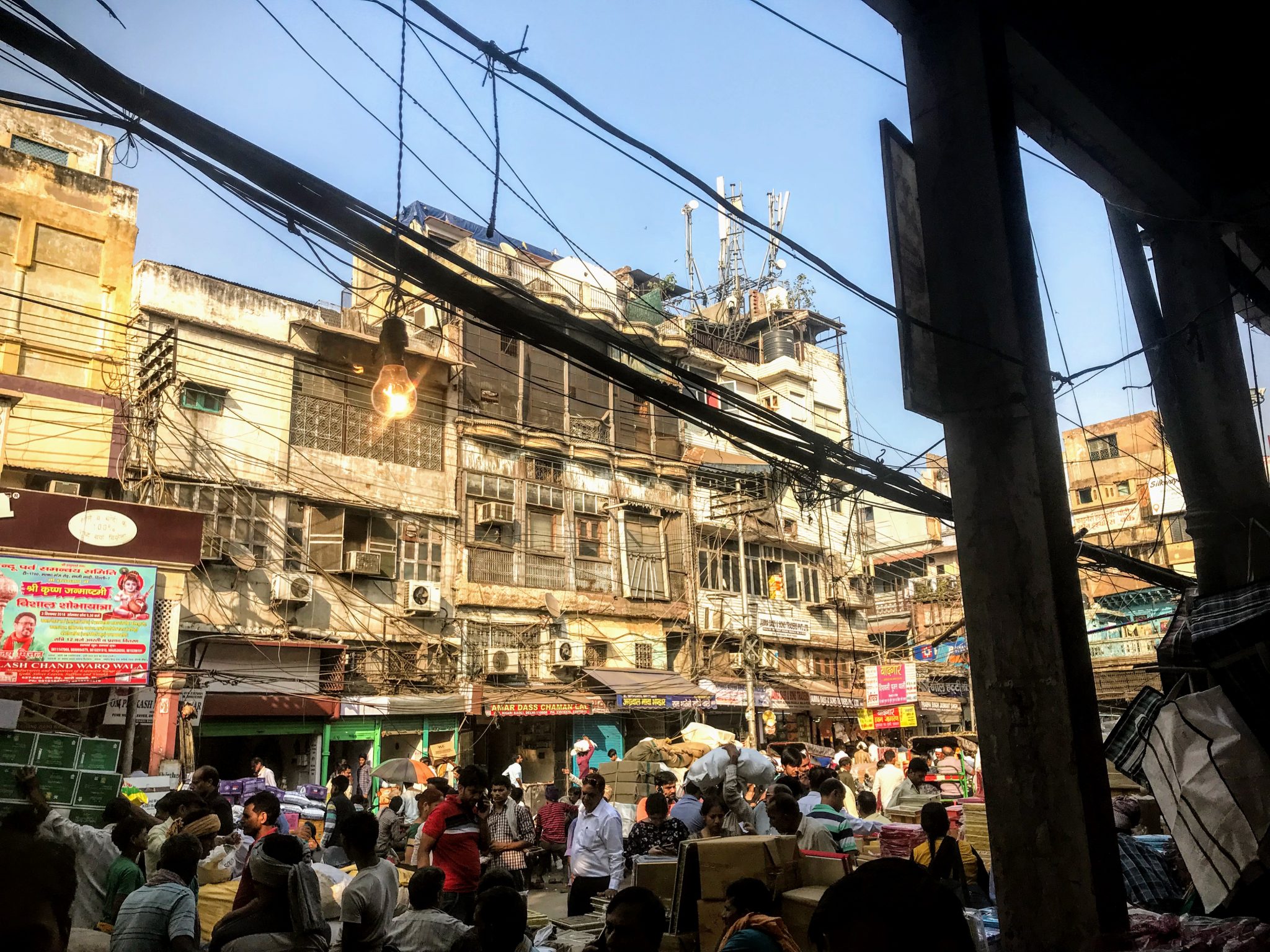 If we thought New Delhi was busy, Old Delhi was insane in comparison. I couldn't see a square inch of free space as we jostled through the crowds in anxiety-inducing conditions.
We watched people pull carts of produce through packed crowds that went against all the laws of physics and it looked exhausting. There was a slither of space to be navigated in the crazy spice market backstreets and following it turned from spice to glasses to greetings cards to us being lost. Even if you're not physically lost in Delhi as a Westerner, then you're metaphorically lost.
The Red Fort
We went inside the Red Fort and it was selfie madness. Selfie after selfie after selfie. Nobody really spoke to us, they just jumped in for a picture and then left. Two men walked into our video home, unfazed by the fact we were talking to our family and joined in. They said they were Indian, which probably wasn't necessary but it did amuse those back at home.
The Red Fort didn't impress me as I thought it would, so the next day we headed to Delhi's other two UNESCO sites, Humayun's Tomb and Qutb Minar. They were both much more impressive, especially the beautifully inscribed red tower of Qutb Minar.
There are not many places in the world where you can see three UNESCO sites in two days and they shine a light on Delhi's fascinating history. The distances between the metro stops and tourist sites are huge, so it was a lot of walking while avoiding a shed tonne of traffic with minimal pavements. The sights are definitely worth it though and we didn't have as many selfies at either of those ruins.
Violence outside Jama Masjid
A real low point for me in Delhi happened outside the famous Jama Masjid in Old Delhi (which we couldn't go into as it was during prayer time). While walking past the mosque, I saw a man drag an 'untouchable' away from his car and kick the shit out of him for the crime of sleeping near his car. The man was incensed with rage and it was profoundly disturbing.
I've seen many fights while travelling over various things, but never such a violent and completely unprovoked attack on a vulnerable person in broad daylight. Nobody did a thing and I'll never forget it. I don't understand the caste system but I don't believe that it's a reason for such aggression.
We said that we would never come back to Delhi, but these turned out to be fateful last words because we did come back, twice.
The reason for our return was to visit the British Embassy after my boyfriend had his bag containing his passport stolen on the night bus from Haridwar (near Rishikesh) to Shimla. See my idiot-proof guide to getting an emergency travel document for British citizens for advice on this.
Palpitations at Diwali
Our return coincided with the eve of Diwali so firecrackers were going off, children were running around sugar-blind and every business was coated in neon. The sheer amount of smoke was an entity in itself and the pollution levels hit 65 times the healthy limit. It was fucking terrifying.
There was such a scrum of people getting off the metro station at New Delhi when we arrived that the pushing was reaching dangerous levels. The authorities refused to open the gates for everyone to get through, so we had to get off at another stop and get a tuk-tuk from there.
This short journey contained the inevitable argey bargey over price and several wrong turns despite us shouting out the directions to him.
We sorted out various bits of admin for my boyfriend's passport application, while getting hopelessly lost in Paharganj's busy back streets that were full of Diwali preparations and the occasional ghee-stuffed rat.
In order to watch the fireworks, we took to the safety of our hotel roof in time to catch a very alarmed owl flying fast as it tried to escape Delhi. The thick, smoggy air coupled with our multi-faceted stressful situation gave us both palpitations but I hope the owl made it out.
I have regular panic attacks but I've never had palpitations like that before or since, so it was certainly environmental.
The British Embassy
Some of that stress was relieved when we went to the British Embassy to hand in our documents. There we met a guy who'd left his passport in the back of a cab which made me feel slightly better.
We'd bought a passport photo from a backstreet and despite the guy taking 15 minutes to painstakingly Facetune it on his computer right in front of us, it wasn't the right size. There was luckily somewhere nearby to the embassy where my boyfriend then had to get a new one.
He did joke about cutting the backstreet guy's face off which seemed a bit of a risqué joke to tell at the British Embassy but the guy laughed.
Embassy bureaucracy
Every time we went in and out, we had to hand all our stuff to the guards who kept trying to keep things that we needed, like the driving license. This made the whole thing even more farcical, but by some miracle, we did leave with an emergency passport.
We spent our time waiting for it in the fancy area surrounding the embassy, where many top officials live in massive complexes. It was difficult to kill time here as their overly serious security guards wouldn't let us go down some of the roads, or to stop to look at our map. They whistled and yelled at us until we retired to a fancy park and then a shopping centre instead of walking the streets.
It was a relief to take the train to Agra to see the Taj Mahal and Fatehpur Sikri. But we came back after travelling around Rajasthan for two weeks for one last dose of drama.
We came back so that I could fly to Goa and my boyfriend could fly back to the UK to get his new passport. His emergency one couldn't take him far enough on this trip. It was straightforward, yet Delhi had one last terrifying trick up its sleeve for our third visit.
We got off at a tuk-tuk stand on the main highway to avoid going into the city itself, where the drivers stood together and insisted that the charge was 400 rupees to Delhi Aerocity.
Driving the wrong way down a Delhi highway
With few choices available to us, we reluctantly agreed and the guy asked his mate to come along. His mate spent the journey trying to figure out the route and phoned all his friends to ask them.
They had no idea and we ended up jammed in traffic on the overpass. We would potentially be spending the next few hours on this motorway before the next turning as there were so many vehicles that weren't moving and I felt sick.
The driver had other ideas and not surprisingly decided to get off by speeding against traffic on the slip road. This was hair-raising but not too bad until he overtook a stationary vehicle blindly into oncoming traffic. It was unbelievable.
When it came to pay, they refused to give change because of the hassle we'd been through, despite the fact that they'd lied about knowing where to go. My boyfriend sat in the tuk-tuk and demanded his change which they found hilarious so they gave it to them. We had to have a beer with 22% alcohol tax to get over it.
Leaving the chaos
My boyfriend left for the UK and I covered my head, arms and legs for my walk to the metro station for my flight. Nobody looked at me, or spoke to me, not even the tuk-tuk drivers. I was an invisible woman. Landing in Goa allowed me to take stock and breathe in some sea air.
Delhi is chaos, Delhi is India's heartbeat, Delhi has all the problems and all the solutions all at once. You won't ever forget that you went, and frankly, perhaps that's what it wants. I want to see a better Delhi and this city is a hustler that deserves better than pollution, sexual crimes and a barely-there healthcare system. If coronavirus has taught us anything, it is that public healthcare is essential.
What did you think of Delhi? Share your stories with us in the comments below!
Pin this for later: