Kathmandu was the first city in the first country on our South Asia itinerary and it certainly wasn't what I expected. We ended up coming here three times, we were here for a week to prepare for Everest Base Camp and then we returned afterwards and once more before we left Kathmandu for good.
When you first get to Thamel, which is the tourist district of Kathmandu, it's pretty chaotic and it helps if you have decent accomodation. We stayed at this awful place called Monkey Temple Backpackers that had cockroaches so I would look for reviews and deals on Tripadvisor before you come here.
If you're thinking about visiting Pokhara or rhinos in Chitwan National Park then check out my guides to those places as well as 31 things you need to know about trekking Everest Base Camp and my Everest Base Camp packing list for female travellers as well as the good and the bad about Lumbini.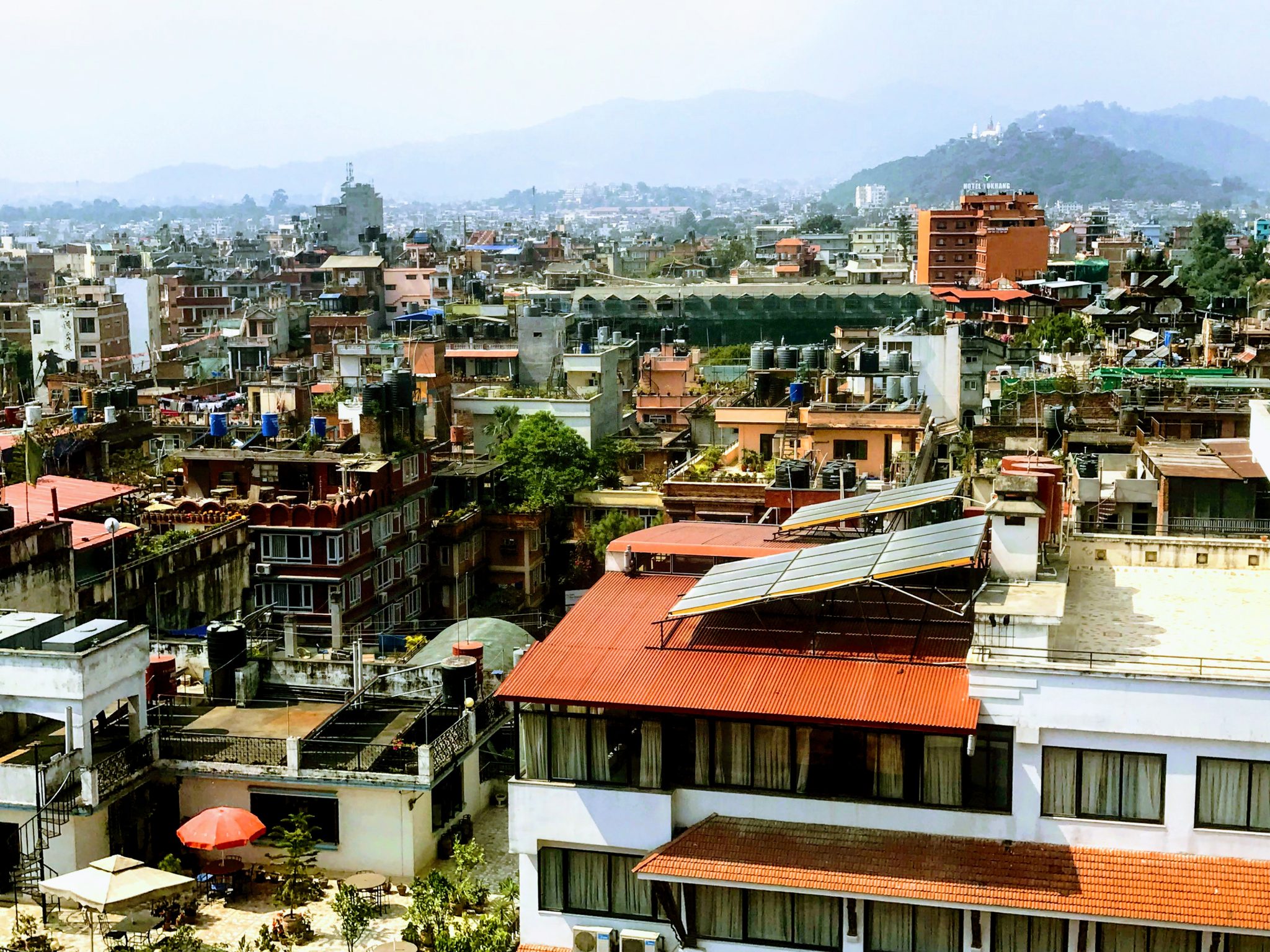 This post may contain affiliate links
Chaotic Kathmandu
Kathmandu was so much more chaotic than I imagined, and the tiny streets are full of motorbikes, rickshaws, cars and people. You'll go to sleep to the evening chorus from the stray dogs and you're never far from a rat or a cockroach. The great thing about Thamel is that you have everything you could possibly need for trekking and there are 'North Face' shops everywhere selling some pretty decent stuff.
There are some good tourist attractions here that will give you an insight into Nepali culture but tourist prices are inflated and some sights have barely recovered from the 2015 earthquake. Nepal is one of the poorest countries in Asia and its strict rules on not having foreign-owned businesses means that you won't find chains here. In a lot of ways, it's very cut off from the rest of the world and unless you have a Nepalese sim card, you won't even get mobile reception here and you can forget about 3G.
Dusty Thamel
There are loads of great restaurants in Thamel and we ate Nepal's famous momos on our first night, my favourite way to prepare them is the cothey style which means half steamed and half fried. On our first full day, we walked to the Swayambhunath monkey temple which is a rhesus macaque stronghold on a hill with lovely views of the city and the black kites that fly above it, as they feast on dead crows and rats.
We walked everywhere in Kathmandu as part of our training, but it isn't a nice place to wander as the pavements are terrible or non-existent and the air is full of dust. Bring a mask or buff to protect you, especially if you're trekking so you don't get sick.
Boudhanath Stupa and Pashupatinath Temple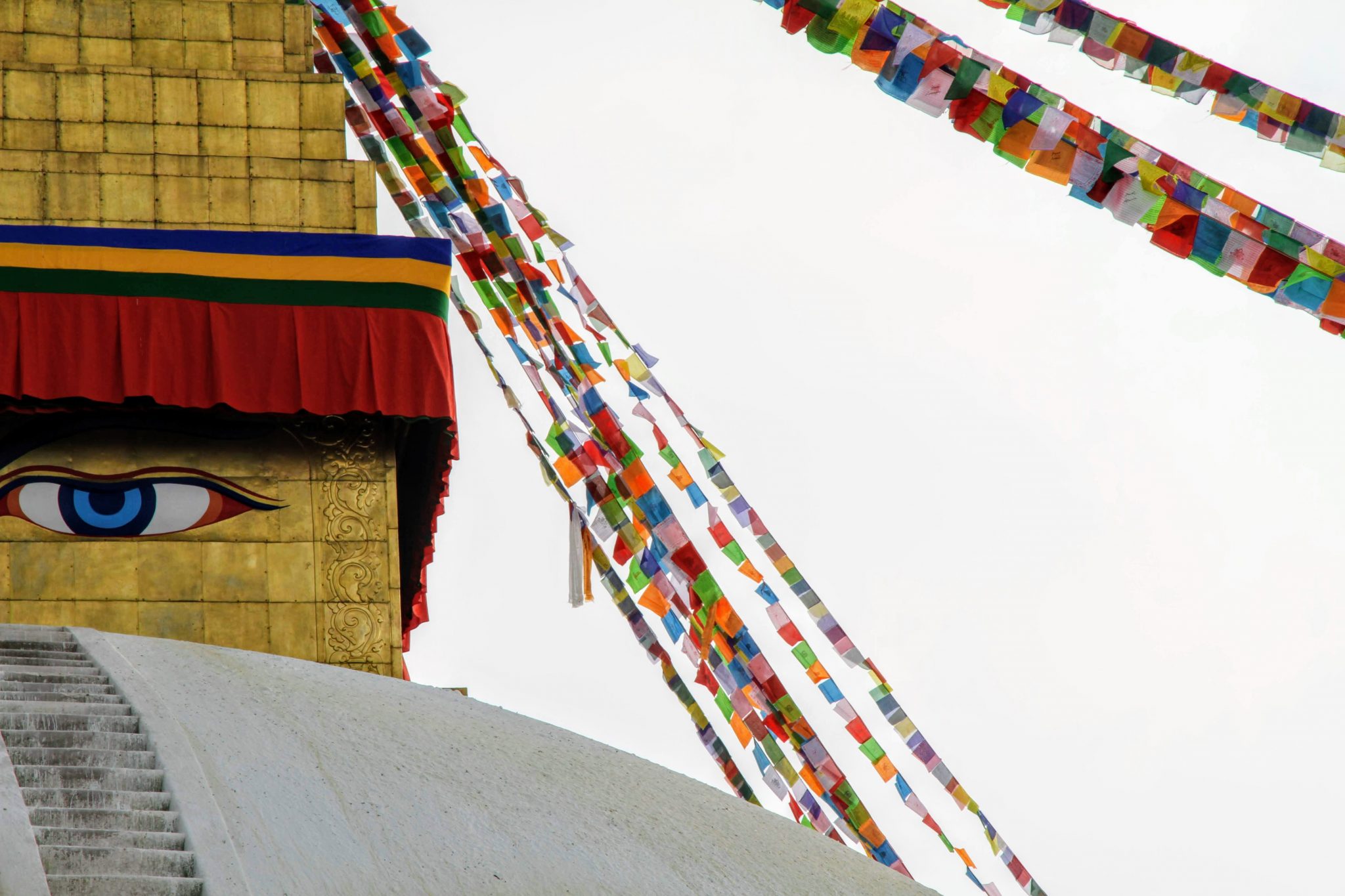 On our second day, we walked to the Boudhanath Stupa, which took us about 2 hours from Thamel with a couple of breaks. The stupa is nice but quite busy and we visited it as we wanted to see the funerals and pilgrim's ceremony at Pashupatinath Temple. We ate at a Skylights restaurant near the stupa where the man took a photo of us for his website which was cute.
We went into the Pashupatinath Temple before sunset and we paid to get in, but I wouldn't bother because you can't go into the Hindu temple so there isn't much point. You can head straight down to the Bagmati River where you can see the bodies being burned in public ceremonies and from 6pm you can sit on the banks and watch the pilgrim celebrations.
I was very anxious about watching the ceremonies as I hadn't seen anything like that, or been to India at this point where it's common. I decided not to watch the burnings but I did watch the aarti where the pilgrims sing and give offerings to the river that runs into the Ganges which is why it's so sacred. When we were there the elaborately dressed holy men or sadhus were being interviewed for a documentary.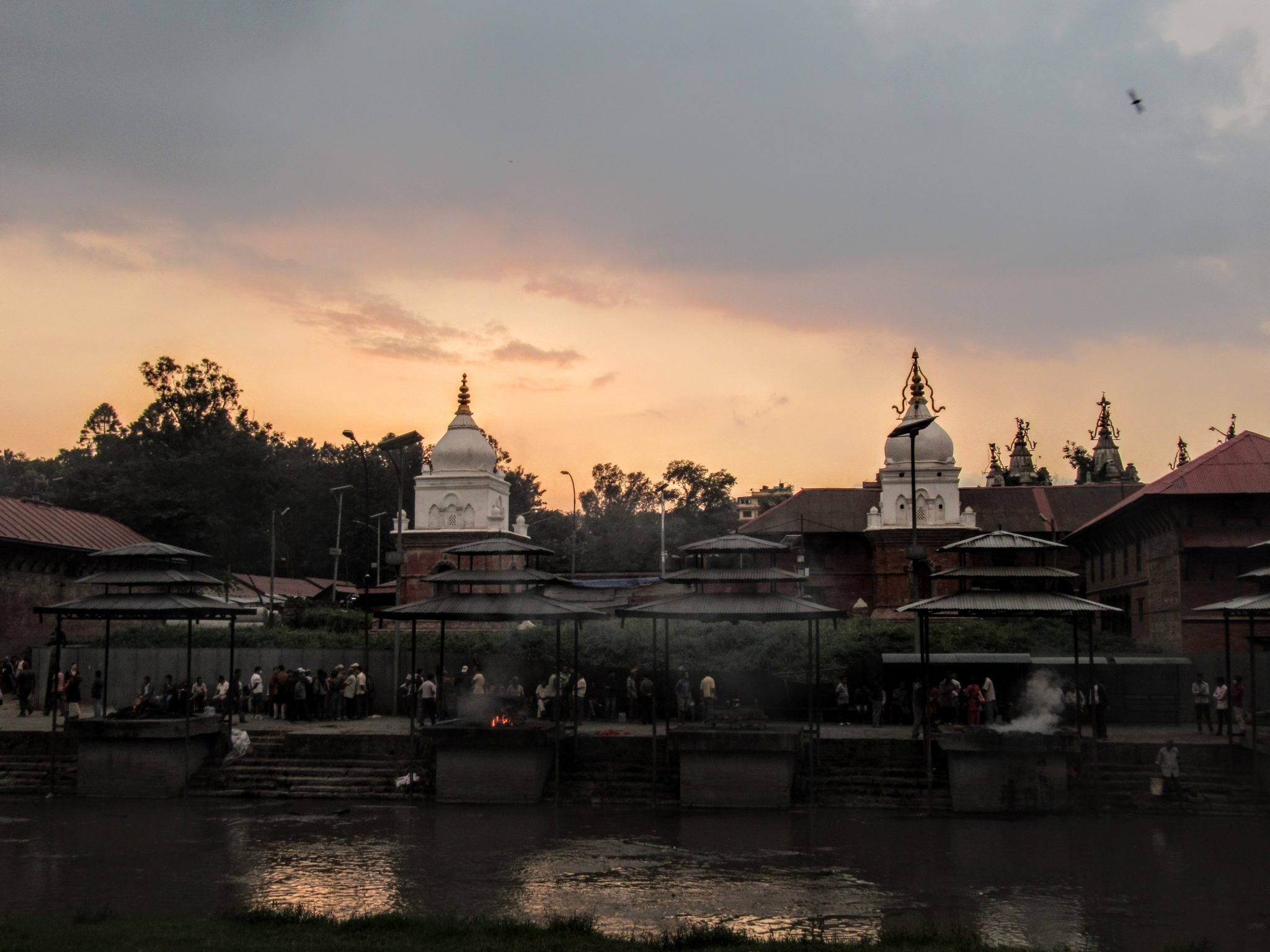 Durbar Square
The most famous attraction of Kathmandu is Durbar Square and there are three in total with one in Bharatpur and one in Patan as well. It's a short walk from Thamel but it really suffered in the earthquake and some of the buildings are now being held up by wooden posts. You can find holy men here but you have to pay them if you want to take a picture of them.
There are also a lot of beggars here and I saw a tourist taking pictures of poor kids and paying them in sweets which was pretty uncomfortable. The mother allowed it but it felt exploitative somehow.
You can see Durbar Square in about an hour and potentially see the living goddess known as Kumari, if she's in as she pops her head out in the morning. She actually went on strike several years ago because she wanted a bigger percentage of the entrance fee.
Garden of Dreams
Another popular attraction is the Garden of Dreams which is on the other side of Thamel. There is a small entrance fee to get in but its quite small so it gets busy with young couples and tourists. Expect to interrupt people snogging in corners. It is nice to see something green in Kathmandu and I saw my first ever palm squirrel here. I assumed the squirrel was a chipmunk at first but they're very cute and found all over South Asia. The garden is a bit run down and I wouldn't call it a 'must-see' attraction by any means.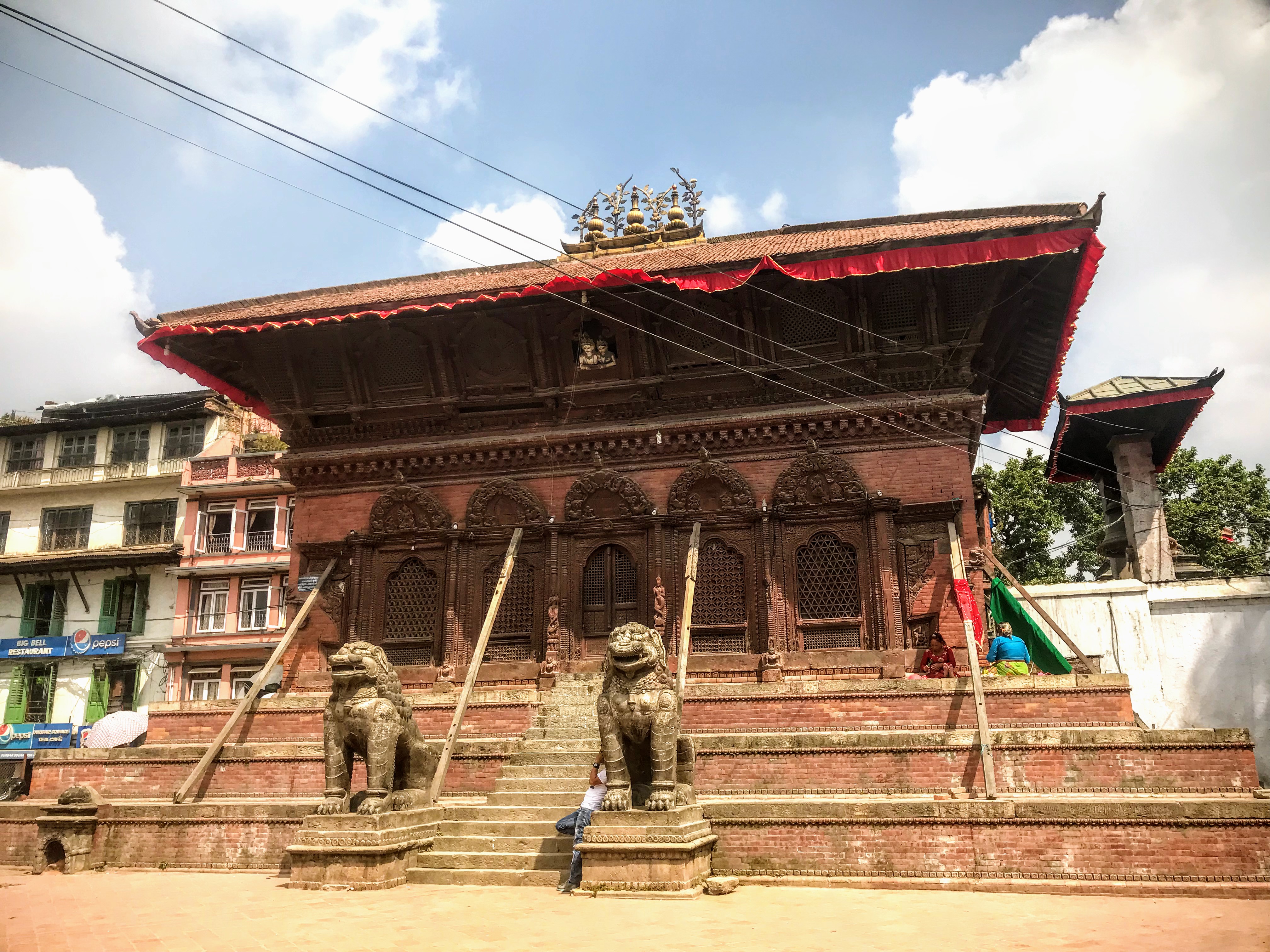 We also saw the Durbar Square in Bharatpur which you can reach on an hour-long-plus bus journey from Kathmandu. Bharatpur Durbar Square is bigger and more impressive than the one in Kathmandu but its also very damaged from the earthquake. It's much less hectic than Kathmandu so I recommend it if you can handle the slow and dusty journey.
My favourite part of Thamel was the food and the naan bread from the infamous Western Tandoori shop were my absolute favourite. When we went there we met an English guy there who had climbed Everest. Actual Everest. It was pretty amazing to meet someone that had done it and we had our kit now, so it was our turn to hike to base camp and see Everest for ourselves.
Kathmandu by air
We returned to Kathmandu by helicopter after trekking to Everest Base Camp, because our flight was inevitably cancelled and you can watch the video of that incredible journey below.
Thamel is much better with friends, and after the trek, we hung out with our fellow trekkers in the bars and restaurants which was lovely. Having my first shower in 2 weeks was also pretty amazing and we also announced our engagement as well as my boyfriend proposed on the trek.
I recommend getting a massage from Seeing Hands after your trek, which employs blind people so its a good massage and a good cause. Our entire group did it after we recommended it and they all loved it. We left for Chitwan National Park, which was one of my favourite places in South Asia after we saw rhinos there.
Night in the airport
For our final time in Kathmandu, we arrived very early in the morning from the night bus from Lumbini. We got a taxi to the airport which was closed as it was so early so we sneaked into a waiting room and slept there with some strangers and stray dogs. An official came in and shouted at us but the other guys just laughed at him which shows how authoritarian the Nepalese can be. We'd spent so much time in the airport waiting for our flight to Lukla, that we weren't thrilled to be there for even longer.
We were ecstatic to get on our plane, but an important person was flying in so they closed down the runway so we had to sit there. Kathmandu airport is a nightmare and air travel in Nepal must be one of the most disorganised factions in the whole of South Asia. While I think it's an amazing country, don't expect anything to work or run on time.
Kathmandu wasn't what I expected, but it is a great place when you peel back the layers. There are interesting cultural places, fascinating people, great food and good times to be had in the evenings. I found it to be much more fun than Delhi and much easier to navigate as it's not too big. Just like Delhi, you do need to look past the dust and chaos and I really recommend escaping to the rooftops as its the best place to take it all in as you watch the black kites soar in the sky.
Pin this for later: