We decided to go to Lumbini on our way to India, as it is close to the border and we wanted to cross overland but frustratingly, our visa restrictions wouldn't allow it. Despite this, we still got a bus from Pokhara to Lumbini, and in the spirit of honesty, I'll tell you the good, bad and the ugly about visiting the birthplace of Buddha.
Most of the accommodation in Lumbini is geared towards pilgrims, and not so much is for foreign tourists, but Lumbini Garden Lodge has decent budget accommodation on the main street.
This post may contain affiliate links
If you're thinking about visiting Pokhara or rhinos in Chitwan National Park then check out my guides to those places as well as 31 things you need to know about trekking Everest Base Camp and my Everest Base Camp packing list for female travellers.
The birth of Buddha
I didn't come with too many expectations of Lumbini, but it is a UNESCO heritage site (although it is 666 which is interesting!?). It has apparently been proven that Siddhartha Gautama, aka Buddha, was born in 623 B.C. under a Bodhi tree here so it's understandably a very important place, revered by the pilgrims that visit. The other three famous Buddhist sites that played a part in his life are Kushinagar, Bodhgaya and Sarnath that are all in India.
Legend has it, that a seer told Maya Devi, the mother of Buddha, that this kid was destined for greatness so he was protected by King Suddhodana as a result. He left the king's custody, saw great poverty in the outside world and achieved enlightenment in Bodhgaya.
There were monasteries and stupas built near Lumbini and Indian emperor Ashoka erected a commemorative pillar there. You won't see any 1000 plus monasteries of the old cities of Kapilavastu and Lumbini as they were partially destroyed by a mysterious cataclysm and then Mughal invaders came and finished the job. When you get here, you may find it very hard to believe there was ever such opulence in the area.
Getting to Lumbini
The journey to Lumbini is long. It's 169km (105 miles) from Pokhara and it took 12 hours to get here. The lack of road infrastructure in Nepal means that we went at the excruciating pace of less than 10 miles per hour. It is an extremely dusty journey and the trees you'll see along the way are covered in dust as people work on the roads but progress is glacial like the journey itself.
There aren't too many restaurants in Lumbini that cater to tourists and we went to Three Vision Restaurant on the main street for all our meals as we struggled to find anything else. As we got to Lumbini quite late, we decided to go the next day as buses were booked up which meant we had to get the night bus to Kathmandu.
One of the worst parts of Lumbini was that it was so dusty and even the main road was unfinished with rock slabs scattered around, so you had to be careful where you walk. When we were there, tankers poured water onto the streets which did little to stop the dust and seemed like a waste of time. Nepal is one of the poorest countries in Asia but I assumed that with it being such an internationally important place the income generated from visitors would be put into vital infrastructure. Lumbini was lucky to not be affected by the 2015 earthquake as it far from the epicentre.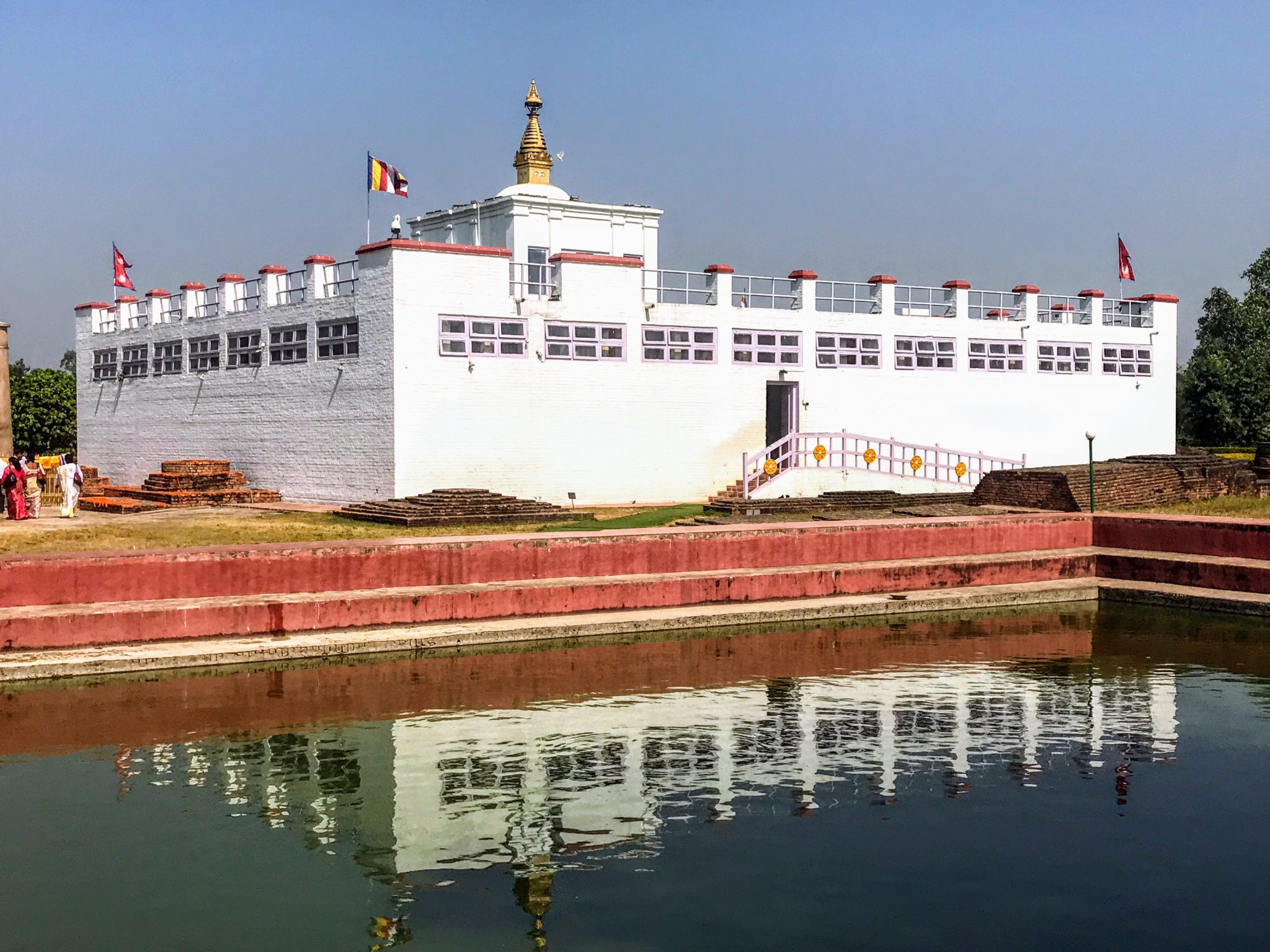 Lumbini Peace Park
The Lumbini Peace Park is 3 miles long and hosts all the Buddhist attractions, the main one being the Maya Devi temple and the secondary attraction being the World Peace Pagoda. It also has plush monasteries representing 25 countries including Myanmar, Thailand, China, Germany and Singapore.
The Maya Devi temple is built on the place that Buddha was supposedly born and costs 600 Nepalese rupees for a foreigner. You have to leave your shoes outside, you cannot take any photos inside and you need to be scanned before you go in. An alarming amount of people had to leave their knives in a dish by the door (presumably for eating and not stabbing!).
The pilgrims all queue up to pay their respects in the temple, but I wandered around the grounds to see the turtles in the pond and the trainee monks having their daily worship. I was on my own as my boyfriend refused to pay to get in, so this is where the selfies and attention began for us. Selfie culture isn't too much of a thing in Nepal, but you'll certainly encounter it from Indian tourists.
A lot of Indian tourists come to Lumbini as its relatively close to the border, so I was accosted by men at the temple and I found my boyfriend on a bench outside having had children thrust onto his knee and surrounded by families of tourists. The selfiemania that started here didn't end until we left India months later.
Problems in the peace park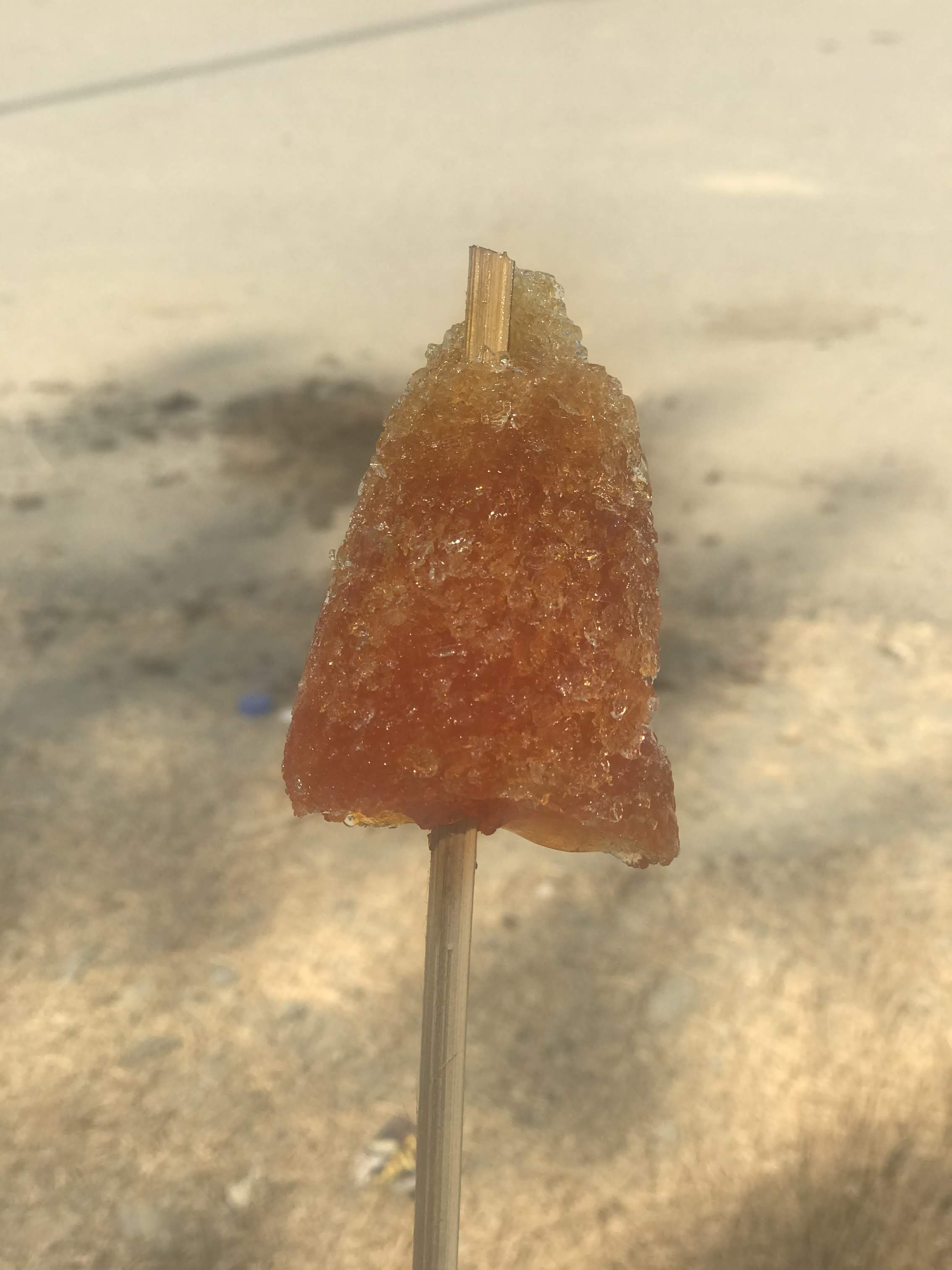 The park is still being built so it's a bit of mess in places, and it's very hot, barren, dusty and not too pleasant to be in. They have started to build covered walkways to make it more bearable to walk around and there are boats but they only take you a short way along the central canal.
There are beggars in the complex and workers will also ask you for money when you walk past them which I hadn't encountered before. One thing that I really don't recommend is getting one of the shaved ice lollipops. I was excited about mine, but honestly, it tasted and smelt like sulphur and was one of my worst food experiences in the whole of South Asia. I'm not sure if it was the ice or the syrup but it was very unpleasant and we didn't eat it in case it made us sick.
World Peace Pagoda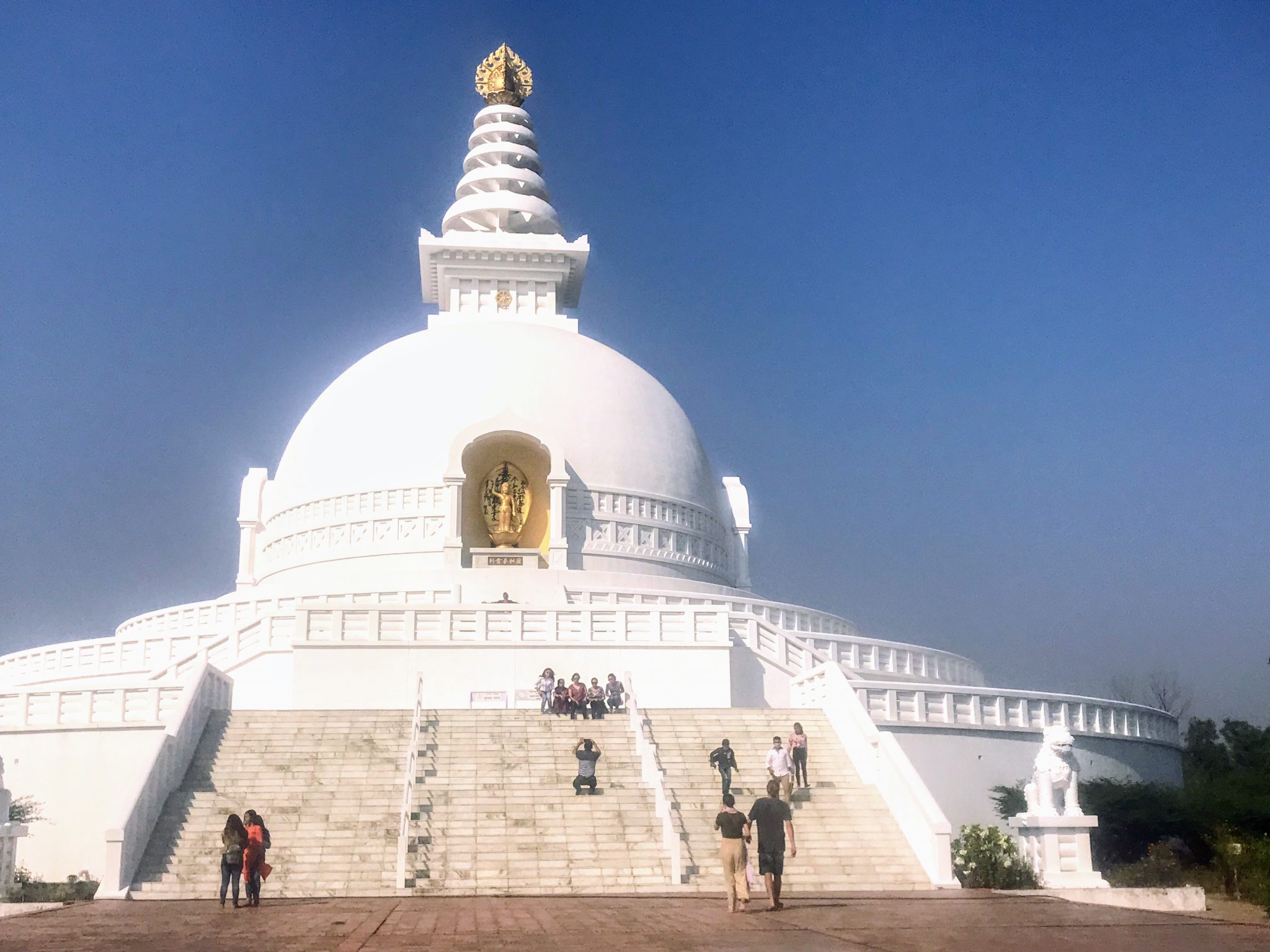 After you've walked up the boulevard through the park, you get to the World Peace Pagoda which is one of the many that you can find around the world. It's similar to the one in Pokhara and be sure to remove your shoes before you go in but be careful of the hot ground.
While Lumbini has its problems, it is such an important part of Buddhist history and that is an incredible thing. The main boulevard is dotted with the modern international temples and monasteries so you can visit them on your way to the World Peace Pagoda to learn more about Buddhism around the world.
Sarus Cranes
Another good thing is that the part of the Lumbini peace park behind the World Peace Pagoda is a sanctuary is dedicated to the endangered Sarus cranes. I was excited about this so I took my binoculars and I saw nothing but I'm glad these beautiful birds are being supported as that is a wonderful thing.
I'm glad I saw Lumbini for myself, but I was surprised at the situation both in and around the peace garden. The international temples in the park must have cost millions to build and yet there is no road that would enable so many more visitors to come and bring money to local businesses. It was a disappointing experience for me, but I do think that if they built roads and improved the experience of the park then people would certainly add it to their Nepalese itinerary and come over from India too.
Click the Tripadvisor link below to check reviews and find good deals for hotels in Nepal:
Get travel insurance here:

Pin this for later:
Have you been to Lumbini or any of the other Buddha sights? How did you experience them? Let me know in the comments below!