As 2021 approaches, its time to look at the beautiful homeware trends that will be lighting up our homes this year.
Utilitarian is coming back after the year we've had but accented by gorgeous colours. Handmade pieces by small artisans are as big as ever and all of these trends can be purchased by small sellers which helps support local businesses.
Unsurprisingly, plastic is very well out and all these trends contain little to absolutely none of the stuff.
We're spending more time in our homes than ever so it's important that they bring us happiness and that we support ethical sellers and upcycling businesses at the same time!
These pieces and trends will stand the test of time and make your home look modern in the process, perfect for all budgets and to help you love the place where you live.
This post contains affiliate links
All things copper
Copper is absolutely blowing up for 2021, and while we've seen this before, it's now more rugged than ever. Handmade copper storage is where it's at – whether its pots, stands or shelves, everything looks good in copper.
Welded copper or piping brings an upcycled yet utilitarian look to any storage, which looks great on plain walls or against a brick wall.
These mountain shelves bring a nature indoors and the copper tips bring a modern edge to the design.
Embrace minimalism with this copper lamp, complete with an on-trend filament bulb. A must for any working from home setup.
Ceramic patterned tiles have been a huge trend for years now and this hallway stand brings them together with copper. Bring style to any corner of the house with a fabulous plant stand. Place a monstera on it to complete the look!
Macrame lampshades
It's hard to believe that something could fall in and out of fashion as much as macrame has in the last few years, but macrame lampshades just work. In fact, they are so phenomenal that there are tonnes of designs to choose from.
Long macrame lampshades can really bring a smaller room together, especially when they have a lot of different features to draw the eye.
Bigger rooms would benefit from these simple yet elegant tasselled lampshades as a centrepiece to base a space around.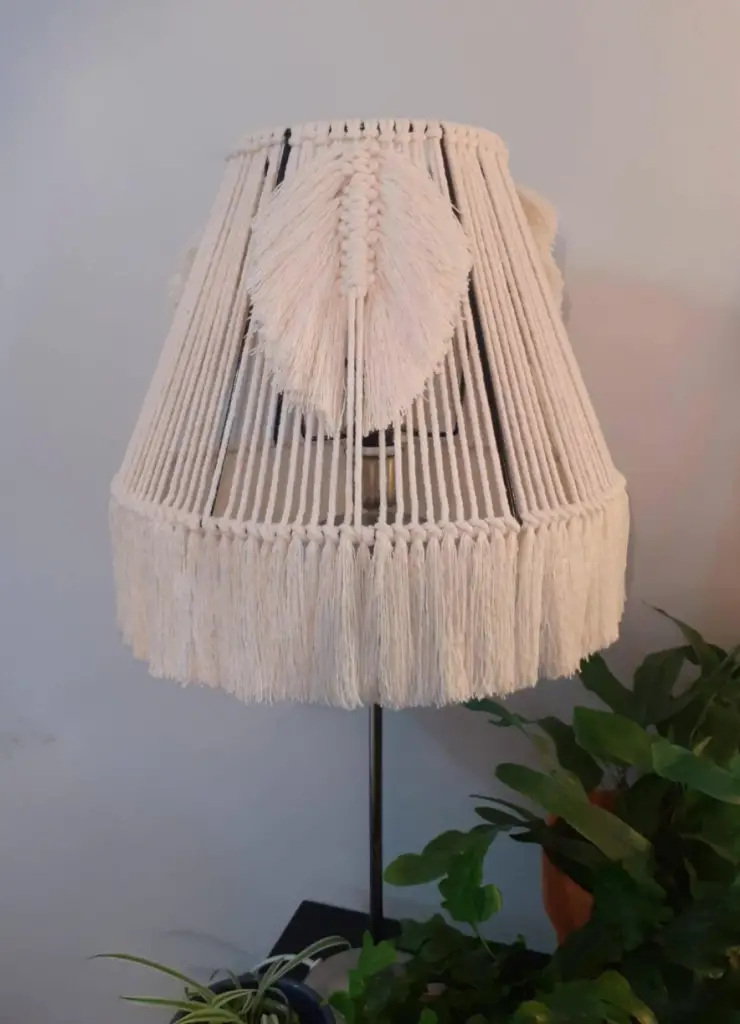 Freestanding macrame lamps also work a treat. Feathers and tassels are the ultimate in fabulous macrame mayhem.
Concrete
As it never got the attention it deserved the first time out, concrete is back in a big way! The imperfections are what makes it so brilliant and any piece cast in concrete is totally unique. Whether you want something useful or purely decorative, concrete is a surprisingly versatile medium.
This concrete duck is so chic and fun, a beautiful accessory for the home that needn't be confined to the bathroom!
Concrete is great without any finishings on it, but it's also gorgeous when painted. These Lego people are a fantastic statement piece for any house and definitely a conservation starter.
If you require something more minimalist then try these concrete door stops. They can be plain or covered in gold paint. Practical and stylish all in one and the weight would keep your door propped open.
Geometric jesmonite
It comes as no surprise that jesmonite is also back with a vengeance. This time muted colours just won't do and its louder and bolder that ever before. This time it's bringing its own style to the party, and its geometric!
Whether it's pots, trivets, jewellery, lamps or trays, jesmonite is a material for all occasions and the brighter the better.
All things teal
Teal is back again and it's not going away. If you're not confident enough to put it on your walls then consider getting a lovely sideboard like this one.
Embrace old and new trends with this monochrome pineapple print against a teal background.
All these homewade trends for 2021 will bring your home together a treat! I hope you love them as much as I do.
Which is your favourite trend? Let me know in the comments below!
Read more:
Pin this for later: