The first time I ever tried a sewing class was with Jo at French Knots craft studio in 2013. It all happened when my friend from work asked me to come along. It was the same week as my 26th birthday and my second year of working at a media company. At this time I was experiencing terrible anxiety and panic attacks. I had many doubts about my career so began to seek out the things I was interested in from a young age. For me, these were making things, exploring new places and watching wildlife.
I was a complete novice at sewing and I'd tried crochet before but really struggled to grasp it. I certainly didn't have much confidence in doing it as an adult. However, in my first class with Jo as my teacher, I sewed a zippy pouch and I couldn't believe it. Jo's studio is in her garden in Sale, and it's entirely dedicated to all different types of crafting. It was the perfect distraction I needed and she had the patience to teach me crochet!
Learning to craft with Jo
When I first started I just wanted to learn basic craft skills. I wanted them as I work in a precarious industry where I never know when I'll be working next. It was my crafting obsession that drew me in but it was the wonderful support and wisdom from other women that kept me coming.
There was really no question that couldn't be solved and it taught me how women can empower each other, just by listening and offering advice, sympathy or just laughing at daft stories. Even 7 years later it amazes me that I can walk into the studio and come out with something beautiful just 2 hours later.
When I decided to create an interviews section for Land of Size, I knew Jo would be the ideal person to inspire you all. Uncertain times have got us all making things, starting businesses and creating communities like never before. Thankfully, these are three things that Jo knows a thing or two about!
Here, Jo Johnston from French Knots Studio in Manchester shares her wisdom with us about starting and maintaining her very own crafting business from scratch, as well as building a network of incredible woman along the way:
How would you describe what you do?
I run French Knots Craft Studio in Sale and my aim is to encourage people to explore their creativity, try something different or learn new skills. I want everyone who comes to a class to feel relaxed, to focus on our project for a couple of hours and forget about the usual stresses of life.
Usually, there is tea and biscuits as well as plenty of chatting and connecting. Many friendships have been made between people who have met at several classes! I am passionate about sharing my skills. The feeling when you teach someone a new skill that you love and they love is fantastic and so satisfying.
What did you do in your previous life and how did these skills transfer into your business? 
I worked as a manager in IT contract recruitment for almost 20 years. It was a fast-paced, competitive sales environment that taught me resilience and tenacity, both much needed when running your own business! I've always crafted for relaxation and can't remember a time when I wasn't stitching and making. These skills helped me to manage the stress of my former career. I want my studio to be peaceful and relaxing for people to leave their stress behind for a couple of hours. 
What were the first steps that you took to build your business?
As I didn't have a bricks and mortar shop that people could visit or see, I decided to do one thing every day to market my business. This included handing out some leaflets (terrifying but nobody ever said no), advertising classes on an A-frame outside my house, sending out a newsletter and using social media to spread the word.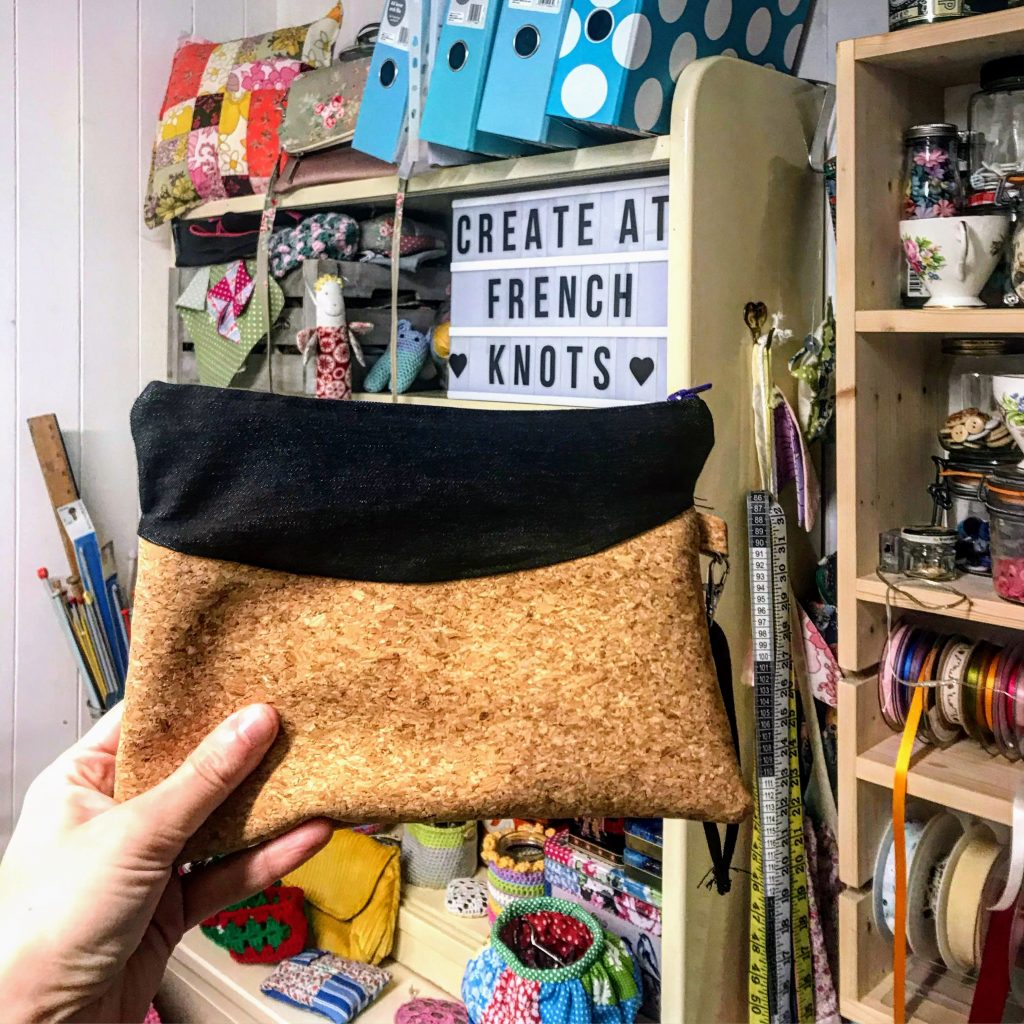 What was the first thing you ever taught and how did it make you feel?
I taught a beginner's knitting class nearly ten years ago. I was overcome with imposter syndrome and came over all hot and sweaty. Once I got into the class I loved it and was delighted that everyone had a good time. 
How has your approach to business evolved over time?
I am more confident when launching something new, like new classes or events and I worry less about whether they will be popular. If nobody wants to book a place at a particular class, I move on and let it go whereas in the early days it really got me down. I'm more relaxed about each individual class and try to look at the bigger picture of French Knots reaching more people and facilitating more workshops. 
What was the biggest challenge that you faced or continue to deal with?
Getting the word out! I love teaching in my garden studio but it's not like having a shop on the high street that people see. I found paid advertising to be a waste of money but luckily my loyal customers tell people about the classes and bring their friends. 
What projects have been your most innovative or made you feel the most proud?
I love my Cruise and Crochet day trips, as they are like a mini holiday! I take a group out on a skippered narrowboat for the day and I teach a crochet project as we cruise along. All the while admiring the changing views out of the window. We stop for a picnic lunch and a walk before cruising back to the marina. It's always a day filled with chatting and laughter as well as creativity.
[I actually went on one of these cruises on the Bridgewater Canal from Stretford Marina to Castlefield and you can watch the video here:]
What is your absolute favourite craft and why?
Embroidery as it was the first craft I tried as a child and it still holds a special place in my heart. I refused to do O Level physics at school and chose needlework instead. I still have the huge, detailed winter scene that I embroidered for my exam piece.
What is the secret to teaching sewing and crafts?
I always hope that I can pass on my enthusiasm for creating and give everyone the confidence to have a go. The worst that can happen is that we might need to get the unpicker out or undo a bit of crochet. In the end, the pleasure I get from people leaving delighted and proud of their finished projects is huge.
Your crafters are very loyal, how do you keep people coming back?
I am so lucky to have wonderful loyal customers who enjoy spending time in my studio. I make sure to choose different classes every month so there is always something to tempt them back! Or maybe it's the delicious chocolate biscuits…
What are some of the most random subjects you've discussed during sewing and crafting sessions?
There have been many wonderful laughter-filled evenings! One particular evening hearing some of the horror stories around internet dating sticks in my mind!
How have you adapted due to having your lessons cancelled because of COVID?
I have been running sessions over Zoom and we did a sew-along last month. Several people commented on how lovely it was to connect with a group again as they had been feeling isolated. Earlier in the year, I ran a free Crochet Along to raise spirits. I've got a few projects planned for what I'm sure will be a long and isolated winter.
I've also designed a range of kits and each comes with access to a video I've recorded explaining how to make the project. It's a bit of a French Knots vibe but in your own home.
I've sewn hundreds of masks and I am planning a Christmas range of Letterbox Gifts to send our love to friends and family who we cannot see. As well as that I'm running some one-to-one workshops in my studio. We adhere to COVID guidelines and it is so good to be sharing the space again and teaching in person.
What schemes and community projects have you been involved in that have helped you as a businessperson?
I think working together on charity projects has really helped build the French Knots community. We've made toys that went to a children's nursery in The Gambia with the School Run. Closer to home, we made drawstring bags and bunting for the Society for Abandoned Animals in Sale. I was also a member of a brilliant business support group for many years. We met in a local cafe to talk about issues or problems, successes and plans. When you work on your own it's so important to have a support network. You need a good sounding board and some cheerleaders.
How has Instagram helped your business and what accounts inspire you?
I love Instagram. It's easy to fall into the trap of scrolling but it's been fantastic for building a community and reaching new people. I have just over 1,000 followers which is relatively small. However, it's great as they are people who are interested in what is going on in my studio and who interact with my posts.
I think that @rhubarbtree creates astonishing work and @bobobun is a dressmaker extraordinaire. @lucylocketland dyes amazing yarn and runs classes in her shop full of temptations. If Julie at @littlecottonrabbits doesn't make you want to pick up the knitting needles nothing will. @janetbell_homestore makes me want to move to Anglesey with her beautiful paintings.
What have the other brilliant businesswomen that you know taught you?
Keep going! Don't be your own worst critic as nobody needs a voice in their head telling them that they are crap. I joined an online group called the Indie Roller run by the amazing Leona and it has been a fantastic source of support. Especially this year when so much of my business has had to change and adapt.
How do you distinguish between work and home? Was it difficult to share your home with strangers?
I love having people round to the studio. They have to come through the house to get down to the bottom of my garden it makes me tidy up the house too! The line between work and home is blurred but I can start work at 7 am and take the afternoon off.
I have a notebook by my chair where I write ideas for classes or events to keep my mind from having too many tabs open. After that, I try to unwind with meditation, a bike ride or a walk with the dog. During lockdown sitting in the garden in the sunshine and watching the apple blossom bloom was a treat.
Your sewing classes have inadvertently brought so many people together through a shared love of sewing and crafting. What has it taught you about creating communities?
I've learnt that a group soon becomes comfortable with each other when working on a creative project! I make sure we have plenty to chat about besides the project. There is always a new yarn shop, book or inspiring Instagram feed to share.
Connection has never been so important, nor has checking in with each other during these unprecedented times. I've got several plans for the coming months to help us stay in touch, the first will be my Letterbox Love Swap. This idea will be to post a small handmade pouch with three little surprises in it. The point is that it pops through someone's letterbox and cheers them up.  
Your classes are attended by about 4-6 people who are there for two hours or so. How do you create a safe space where everyone can feel comfortable?
I once attended a class where the people who knew each other and the tutor chatted amongst themselves and it made me feel uncomfortable as a first-time visitor. In my own classes, I make sure everyone is included if they want to join in any discussion in my studio. Equally, if someone is happy just focusing on the project I want them to feel comfortable too.
One lady told me after the class that her anxiety had been high and she had been very nervous about coming for the first time but had enjoyed herself. This encouraged me as I want everyone who visits my studio to feel safe and welcome. I work with a number of people who might not usually be able to access sewing with a sewing machine. Sewing with them is an experience that I love, especially enabling them to enjoy the benefits and satisfaction of creativity.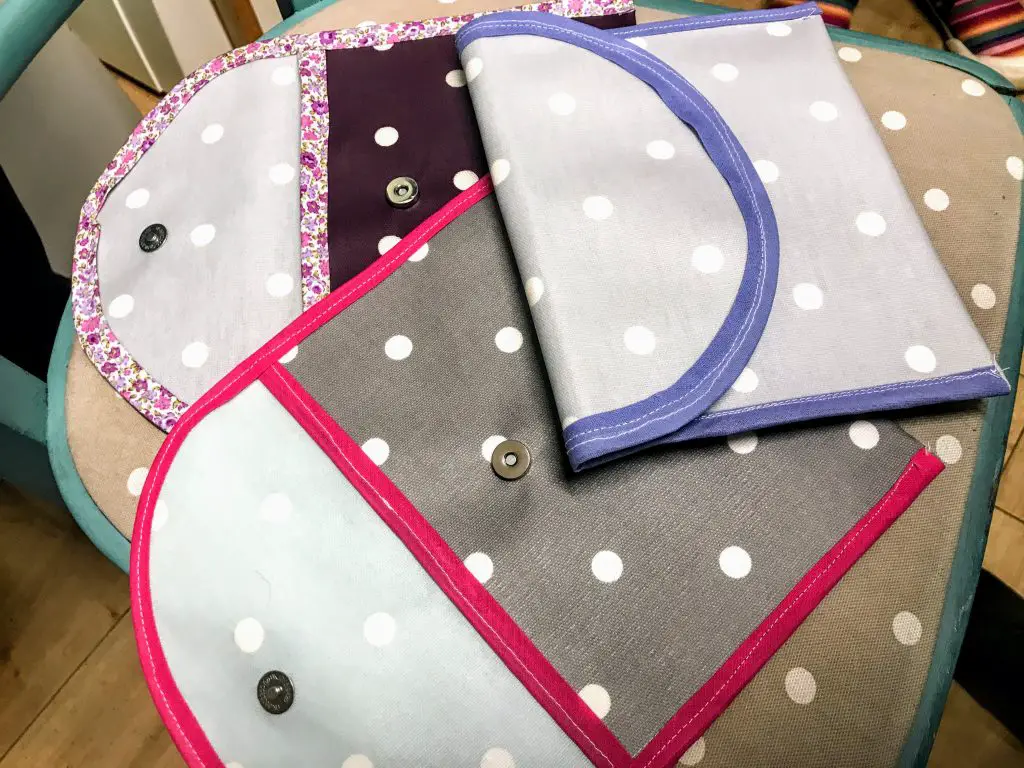 Why do you think that fewer amateur sewers and crafters are men and how do think it would benefit them?
I think sewing and crafting are seen as a homemakers activity and as this was traditionally a woman's role fewer men take them up. In fact, embroidery was a therapeutic pastime for convalescing soldiers after WW1. They created some beautiful work and it aided their recovery. I'm hopeful for the future that this will change. One of the regulars to my children's sewing machine class is a boy and I've taught a couple of men to crochet. It's a shame that men don't explore these creative crafts more. They would benefit from the positive effects on their mental health.
What advice do you have for anyone who wants to create their own creative workshop business?
Go for it! I've spoken to several people who wanted to set up their own business running creative workshops and helped them plan their way forward. If you want to see if it is for you then invite some friends round (or get together on Zoom). Teach them something creative that you are passionate about – then magic happens!
Follow Jo on Instagram, join her Facebook community or visit her website.
Read more like this:
Pin this for later: