Visiting the UNESCO heritage listed Ifugao rice terraces around Banaue in the Philippines is an incredible experience and there are no crowds like there are in Ubud in Bali.
I noticed that there are not really many guides as to how to visit Banaue in the cheapest and easiest way possible, but it can definitely be done!
Here is my complete budget guide to backpacking to the Philippines Ifugao rice terraces:
This post may contain affiliate links
Staying in Banaue
We got the overnight bus to Banaue from Manila's chaotic bus station street, this is the easiest way to get to Banaue and they usually leave at 9PM and 10PM. This gets you into Banaue very early in the morning, usually at sunrise.
Read: Ethical travel: Visiting Manila's Baseco Slum in Philippines
Banaue is quite a rural place, so there aren't loads of hotels and restaurants and there is pretty much no internet either so book your next place in advance. We stayed at Banaue Evergreen Hostel which is run by a lovely woman who arranged for us to get picked up from the Dangwa bus station after our sleepless journey and then we went straight to our room for a sleep! She has a restaurant and there is another downstairs where you can eat.
Check out TripAdvisor for reviews and deals on accomodation in Banaue.
The benefit of staying in a homestay is that they can give you loads of advice about walks in the area and Evergreen even had this handy map.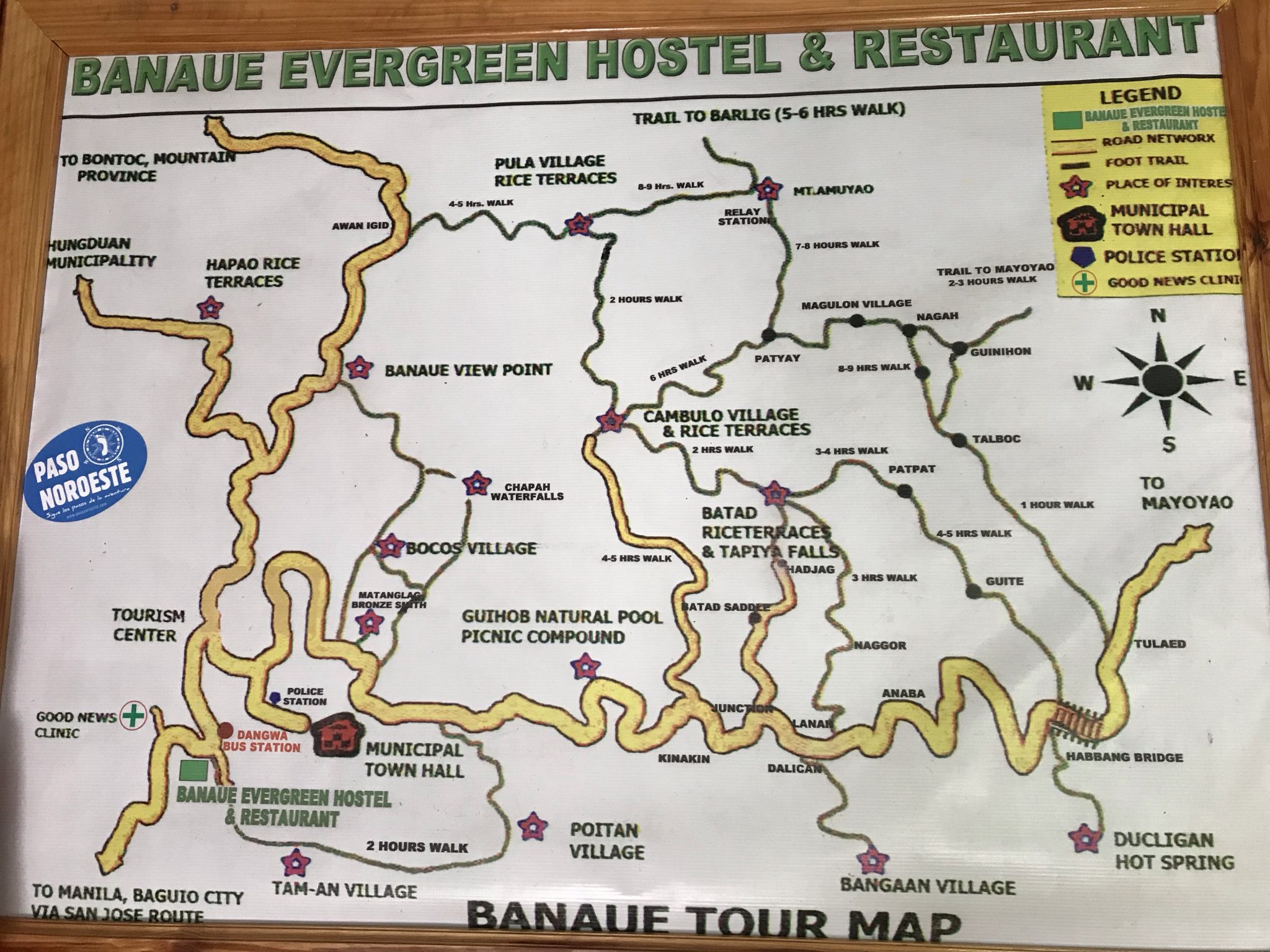 After we'd had a sleep, we decided to go on a walk through the rice terraces, we did a short one but there are loads to choose from. If you are going to go on a walk, then make sure to take waterproof clothing, water, snacks and Maps.me on your phone so that you can see where you are!
Tam-an and Poitan
We walked from Evergreen to Tam-an and Poitan village, then back along the road through Banaue. We followed the loop that you can see on this map but sometimes we had to ask for directions – which was fine as people were friendly and helpful.
Be careful of uneven pathways and be prepared to meet lots of children, people, dogs, cats, ducks and chickens. Occasionally young people may ask for money for directions but this is very much the exception to the rule.
Read: 5 tips for dealing with stray dogs while travelling
At the end of the walk, you can cross over this photogenic suspension bridge into the town, in order to get to the centre.
If you want nice food with a great view, then I recommend 7th Heaven Cafe which is on the road just above Banaue and you can watch all of Banaue from up there.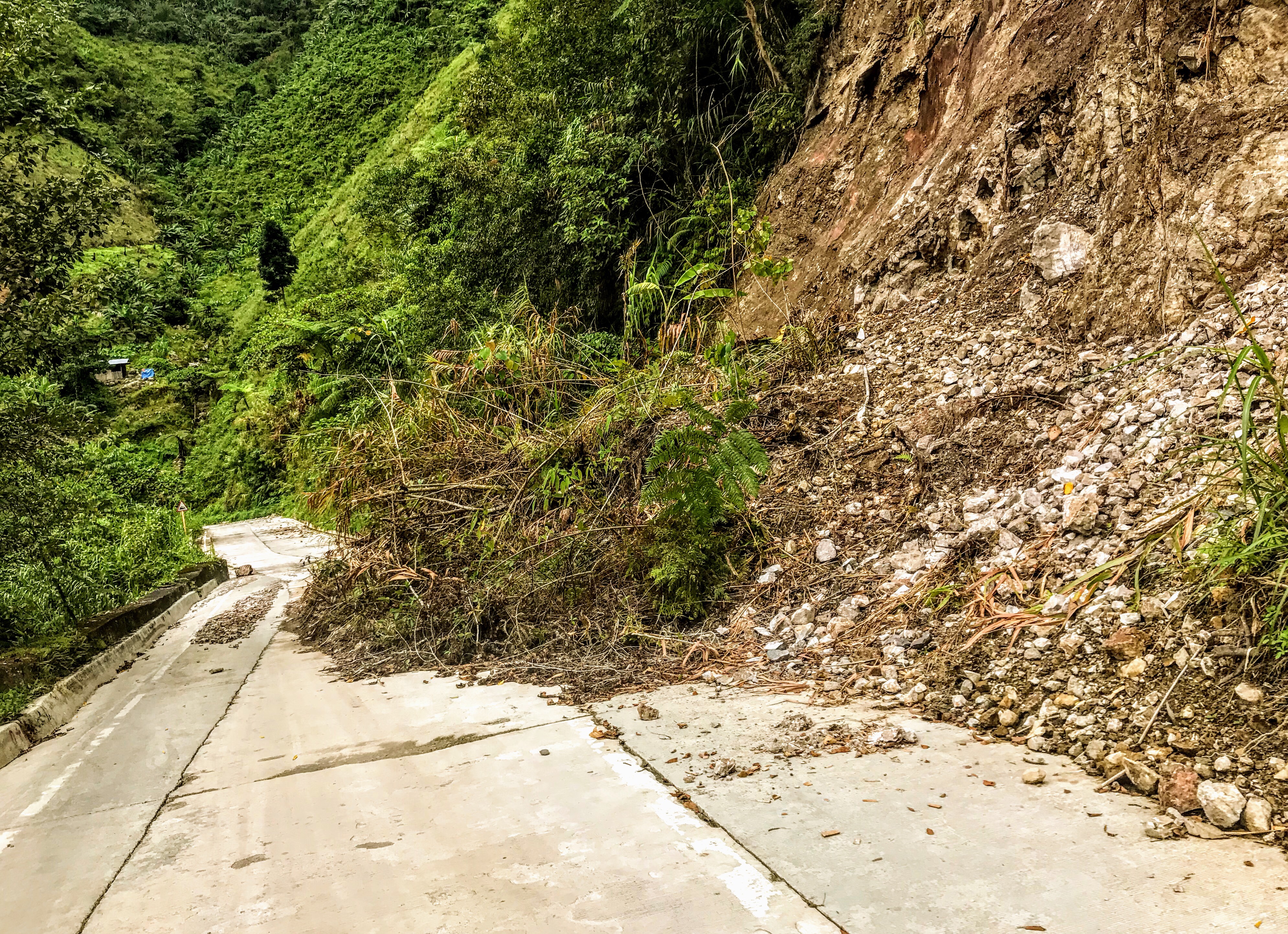 Batad Rice Terraces
The cheapest way to visit the rice terraces is to hire a moped, but only do this if you are a good driver. If you're driving during the wetter seasons, then be careful of landslides. If you don't want to drive then you can easily hire a mototrike with a driver to take you around.
Read: Safe backpacking: How to avoid landslides when travelling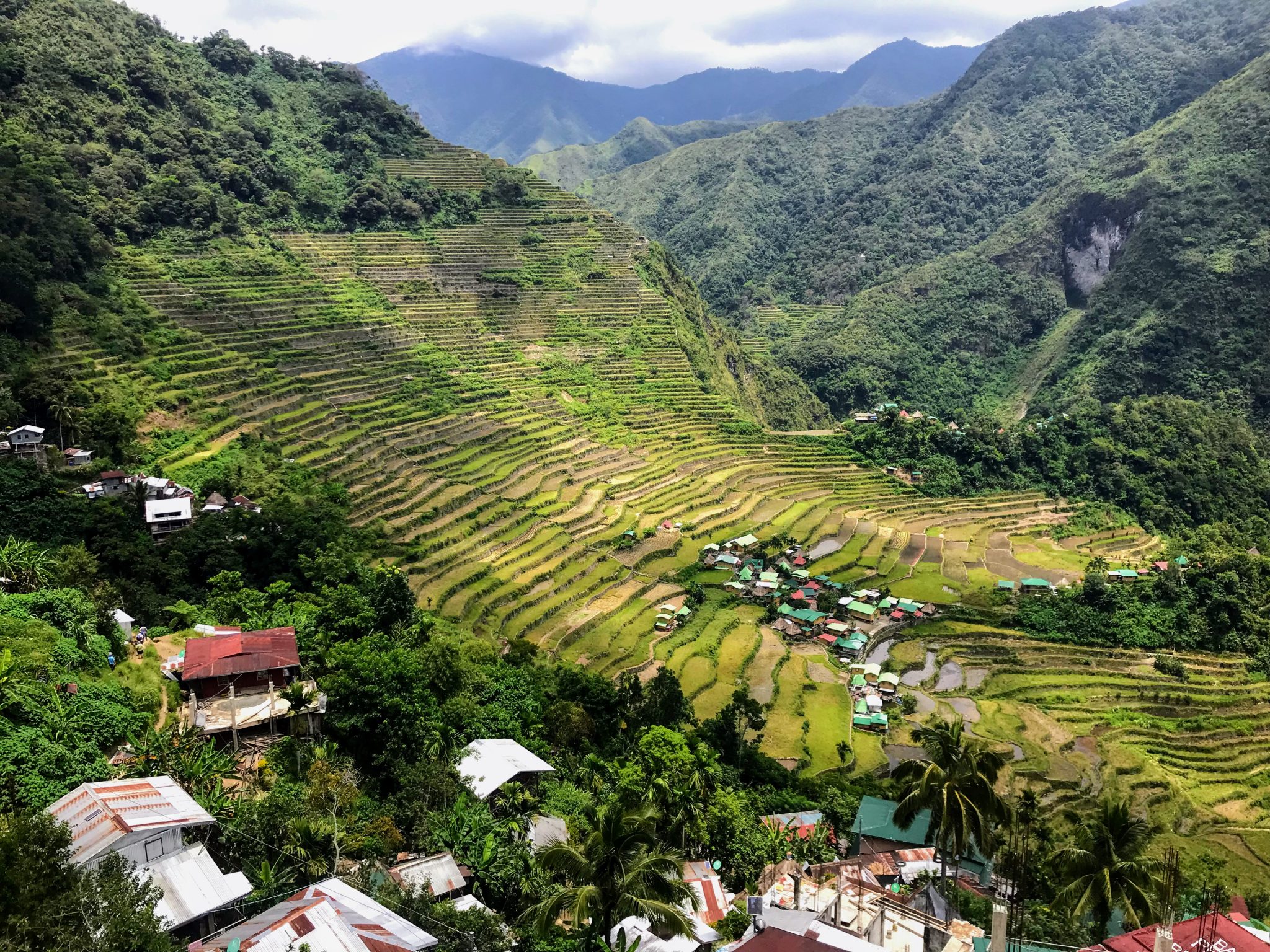 The first terraces that we went to visit were the Batad rice terraces, its a 15-minute walk down to the viewing platform. Parking costs 20 pesos and entry costs 80 pesos. If you're feeling energetic, you can carry on to visit Tappiya falls, which is on the other side of the terraces. It takes an hour to walk to the falls.
After that, we drove a short distance to Bangaan village where you can see more rice terraces and there is a walk down to them too. There are also various viewpoints to see them from the road along the way.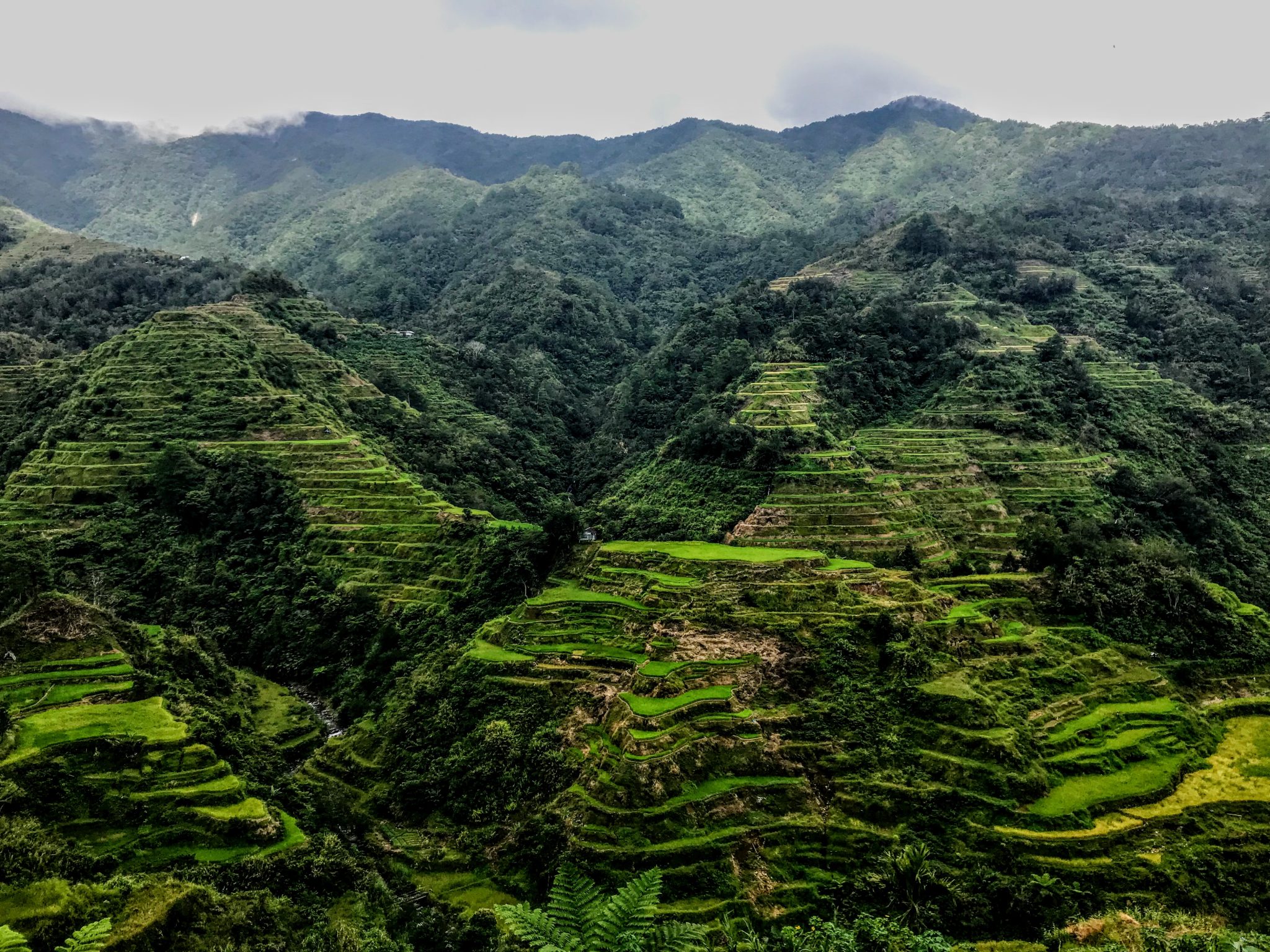 Banaue Rice Terraces
We saved the Banaue rice terraces until last, and in my opinion, they were the most impressive. They are featured on the Philippine 20 peso note and you can see people passing things on wires across the terraces. If you want to walk down them, you can do so at an entrance on the far side of the terraces.
While you're at the viewpoints, you can see the traditional Ifugao dress of the tribal people that is actually taught in schools here. You can take a picture of them for a small fee of 10 pesos or more if you're feeling generous.
I really recommend visiting the Ifugao rice terraces, as you are really immersed in rural life and the natural beauty around you. You meet lots of people and its such a peaceful and surprisingly easy place to visit. There are very few foreign travellers here and you'll have the terraces to yourself most of the time.
Where next?
After Banaue, consider visiting Sagada, as this is another fascinating cultural gem in Luzon's crown with its famous hanging coffins and indigenous history. It only takes 4 hours by jeepney and you can get there via Bontoc.
Have you been to the Ifugao rice terraces? Which were your favourites and are there any walks that you recommend? Share your stories in the comments below!
Pin this for later: