If you're heading to Kinabatangan River, then you'll probably be looking for elephants and orangutans, but there are so many other species that you might see along the way.
Seeing wildlife on the Kinabatangan River was one of the most wonderful experiences that I've ever had, and you can do it cheaply and ethically by lodging in a homestay.
Did we see the 'Borneo Big 5'?
It took us four boat trips to get decent sightings of the Borneo 'Big 5' which are the pygmy elephants, orangutans, crocodiles, hornbills and proboscis monkeys.
We saw loads of other wildlife, which is forced here because the river reserve is flanked by palm oil plantations. Check the resources at the end if you're interested in activism. Avoid going out in the middle of the day as wildlife is less active so you won't see as much.
Where to stay on a budget
We stayed at Osman's Homestay and did all our trips with him in a small boat to avoid erosion of the river banks. Check Tripadvisor for deals and reviews:

Read more: How to see the 'Big 5' at Kinabatangan River on a budget of £100
I've already written about Borneo's Big 5 and how to see them on a budget, but I missed so many sighting to do it! This time I wanted to pay homage to all the other wonderful creatures that you'll see here. I went on 4 boat trips to see the Big 5 so I wanted to share more species and pictures with you this time.
At the homestay
This post may contain affiliate links
You can see a lot of wildlife from your river lodge if you just sit outside for a bit. We saw a fair few birds and reptiles from the porch of our homestay.
My favourite spot was this one-eyed buffy fish owl eating a rat that joined us one dinnertime. Clearly having one eye didn't mess with its ability to hunt! You'll see these owls a lot if you go out at night.
We also saw a fair few pacific swallows passing by the lodge too.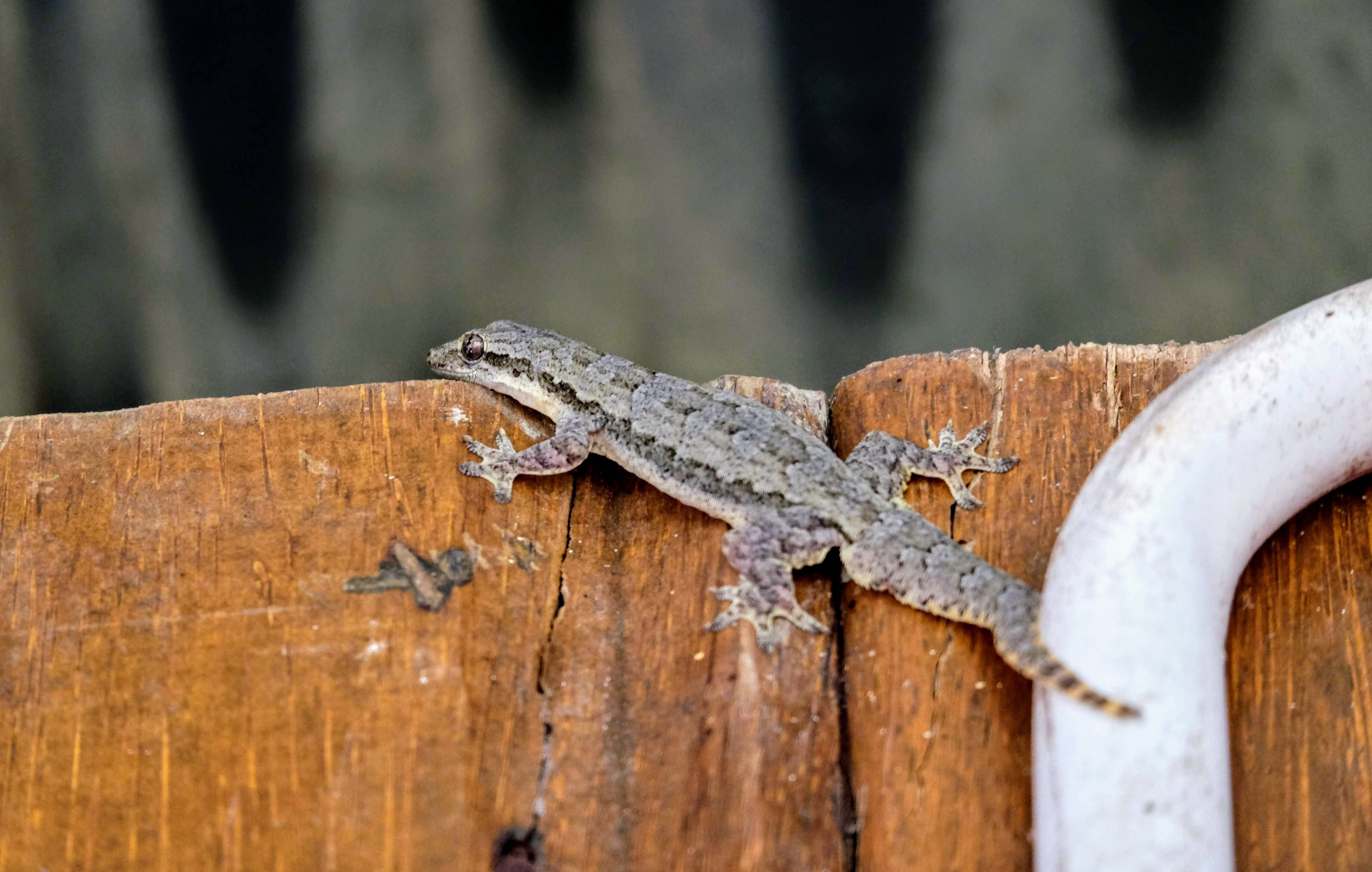 You're never very far away from a lizard in Borneo, and this frilly gecko was absolutely gorgeous.
Morning wildlife cruise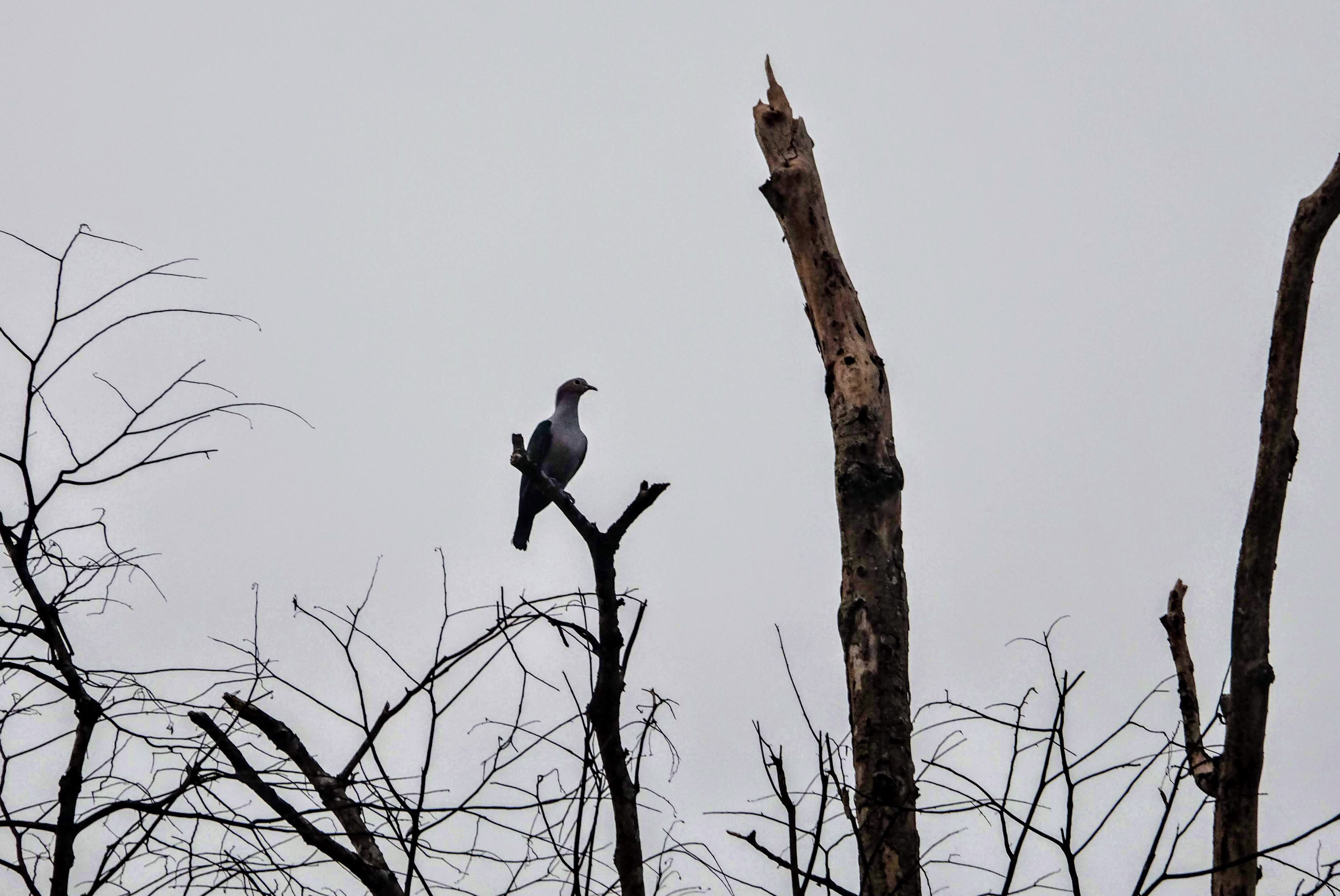 Birds are best seen in the morning on an early boat trip and we saw this majestic green imperial pigeon on one of them.
We saw many lesser fish eagles waiting to hunt on the sides of the river.
Monitor lizards are another common sight in Borneo, and they love to sun themselves on tree branches in the morning.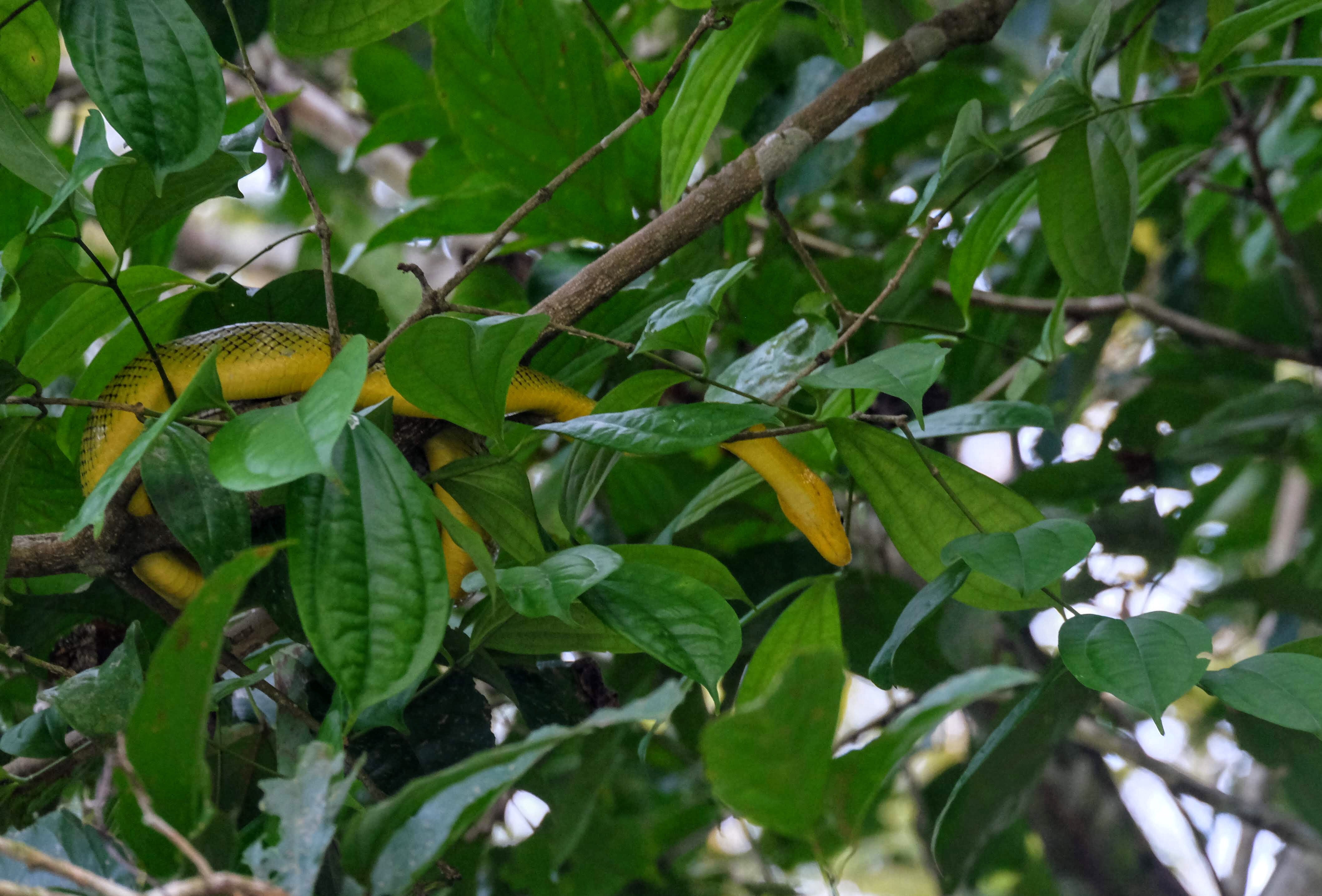 It's not just lizards that love the branches, as snakes like this grey-tailed racer do too, they are known as a 'banana snakes' by Bornean people.
Look up at thin branches to find a type of roller, known as an oriental dollarbird, perched up high.
Cave wildlife
Your guide might take you into small river caves where you can see cave bats. You can find lots of these critters (sometimes getting eaten by hornbills) if you take a trek to Gomantong Caves.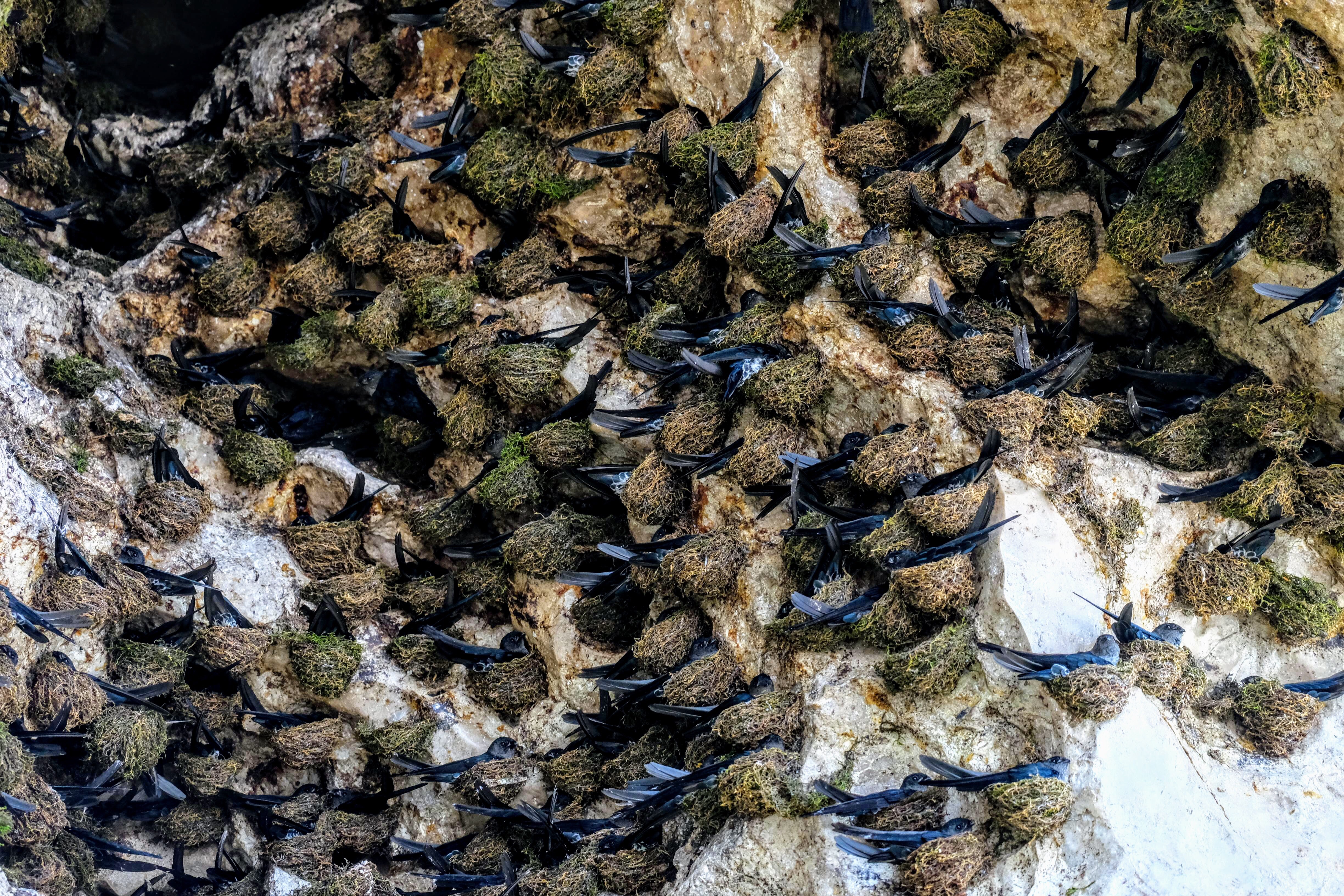 The caves are also home to colonies of glossy swiftlets as well as other kinds of swallows and swifts.
The little nests that they make are just too beautiful for words. These tiny birds were one of my favourite spots!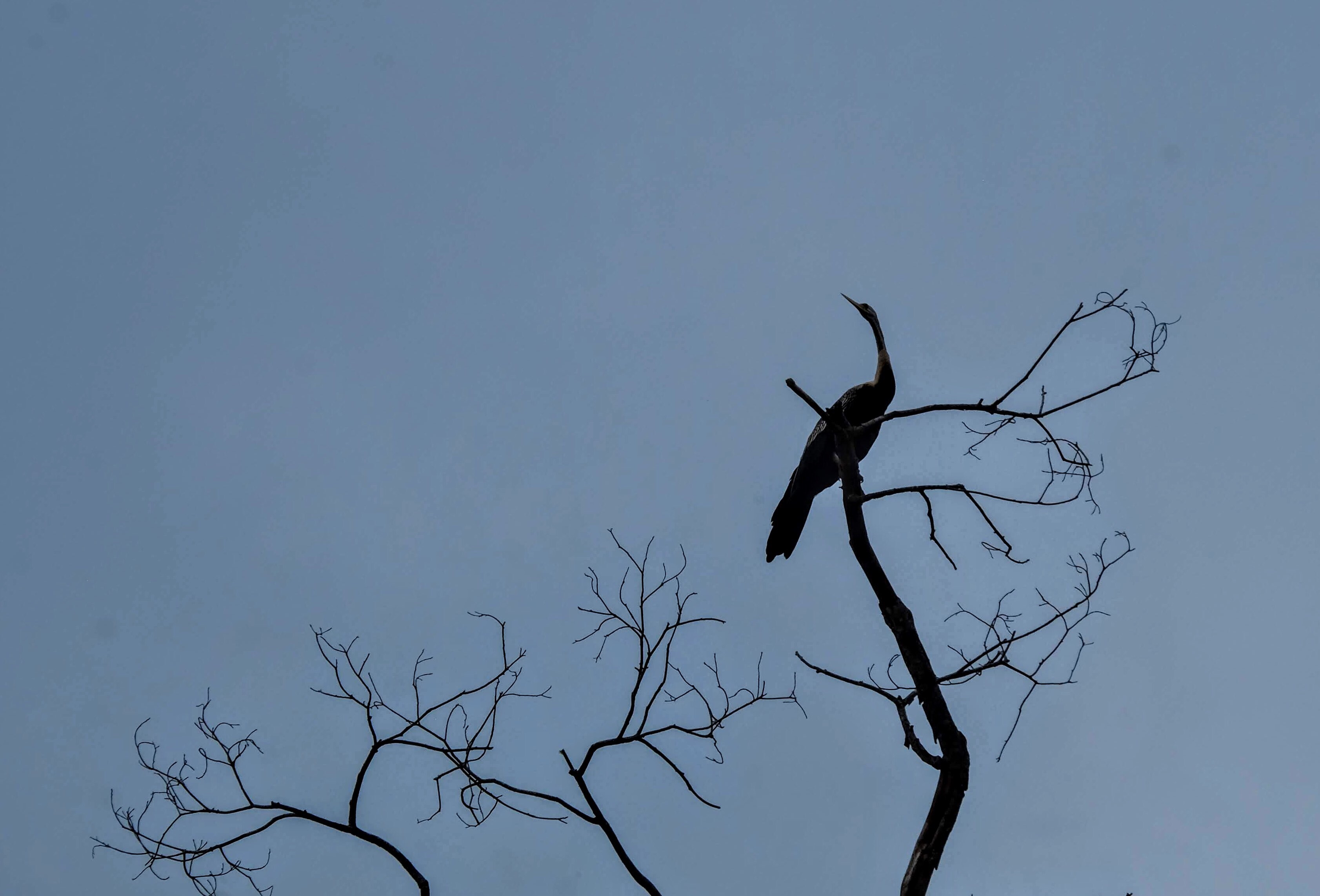 Snakebirds or darters, are another common bird that lives near the water. Look out for their distinctive long 'snake-like' neck.
There are 8 hornbill species to see including the black hornbill, oriental pied hornbill, rhinoceros hornbill, helmeted hornbill and the wrinkled hornbill.
We saw four of these species but not the helmeted hornbill.
Macaques on the evening boat trip
Going on a river cruise is a great way to see baby animals, including baby macaques. Long-tailed or crab-eating macaques are very common in Asia but you can see some interesting behaviour.
We saw a mother macaque looking after a very sick baby which was sad but fascinating due to the parallels with humans, as we thought she was mourning the baby at first.
I loved watching the long-tailed macaques eat and as they're not fed by humans, they don't try and get on the boats like they do on Langkawi Island.
One monkey to avoid is the pig-tailed macaque, as they're much more aggressive than long-tailed macaques. They're still just as interesting to watch from a distance!
Read: 11 top tips for dealing with monkeys while travelling in Asia and beyond
As well as the famous male proboscis monkey with the big nose, you'll see the females. They have significantly smaller noses and sometimes have babies with them.
There's always birds of prey to be found and we also saw a pair of Wallace's hawk eagles keeping a low profile in the trees.
Night boat trip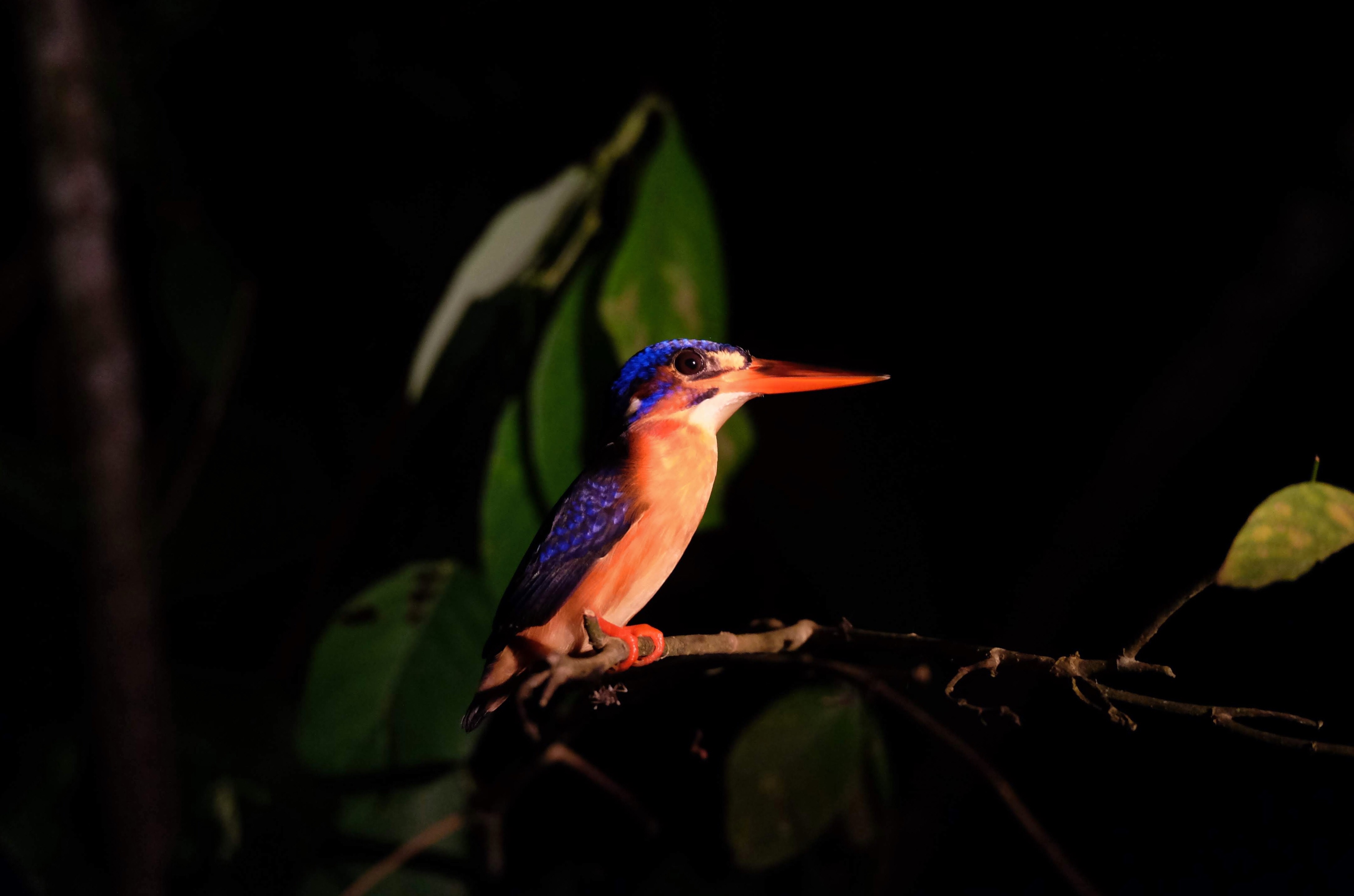 Night boat trips are a great place to see sleeping kingfishers and we saw a blue-eared kingfisher up close on a low branch.
On a night boat, we saw two species of civet but I didn't manage to get a decent photograph of either. We saw this Malayan civet hunting for food on the forest floor and we saw two palm civets loudly fighting in a tree.
Our night boat trip was topped off by seeing a lovely mouse deer through the trees.
I was happy that we saw so much wildlife, including the Big 5, but I'd still look to see a tarsier or a slow loris! We still saw plenty of mammals, birds, bugs and reptiles so we were very happy with our trip all the same. I would return tomorrow if I could.
Just before we left, we got to see a leech, which is not a very popular creature, but still so fascinating to see!
Activism for endangered Borneo wildlife
If you're interested in finding out more about the conservation projects that are aiming to protect Borneo's forests, or you want to make a donation, then these are some of the organisations and petitions to look out for:
Whether you spend an hour, a day or a week in Borneo's rainforest, you can't help but be moved by a landscape that is well worth fighting for. I'll certainly never forget the two days that I spent in Kinabatangan River and its incredible wildlife. Let's hope we can save it, as it's very nearly too late.
Read: Where to find wildlife on Langkawi Island in Malaysia
Have you been to Kinabatangan River? What did you see while you were there? Share your sightings in the comments below!
Pin this for later: