If you want to see giant red flying squirrels while you're in Borneo at Sepilok, and you're on a budget, then this is the guide for you.
Visiting the Sepilok Orangutan Centre was a life highlight for me, but that's not the only incredible wildlife encounter that you can have while you're in the reserve.
Instead of going on a day trip from Sandakan, stay in Sepilok, then you can visit the orangutans and sun bear sanctuary during the day then enjoy a night walk in the evening.
This post may contain affiliate links
We stayed in Sepilok at Sepilok B&B which was a really great budget option, close to the Rainforest Discovery Centre which is where the night walk takes place. Check Tripadvisor for deals and reviews:

To get to Sepilok from Sandakan you can take a bus or a taxi. There are more buses in the morning and it takes 45 minutes. A Grab taxi takes about 30 minutes. If you're coming from Kinabatangan River, it takes a couple of hours and you can flag down a bus on the main road or organise a car to take you.
*Trigger warning – this post contains a photograph of a spider*
Read: 9 best apps for travelling Southeast Asia on a budget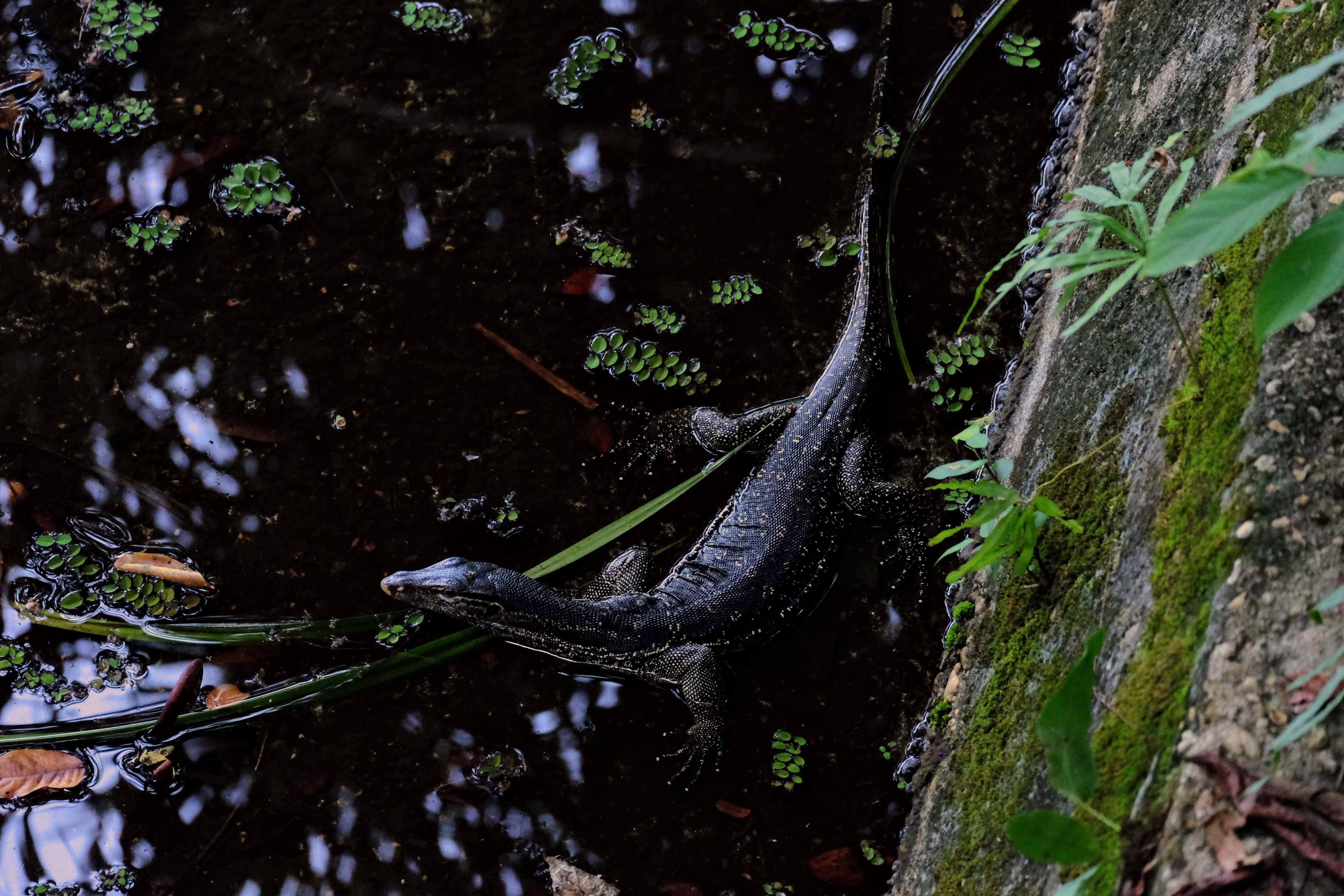 The discovery centre is also a good place to go birdwatching in the daytime to see endemic bird species like the Bornean Bristlehead and more.
To go on a night walk you need to book at the office during the day, it costs 30RM per person to join a group, but if they don't get enough people then you may need to pay more. There were plenty of people when I went so I doubt that it will be a problem.
The walk starts at 6pm, there are groups of 10 and you go with a guide and a spotter who are very good and dedicated to finding animals for you. It lasts about 2 hours in total and the paths are very easy but wear closed shoes because of the ants!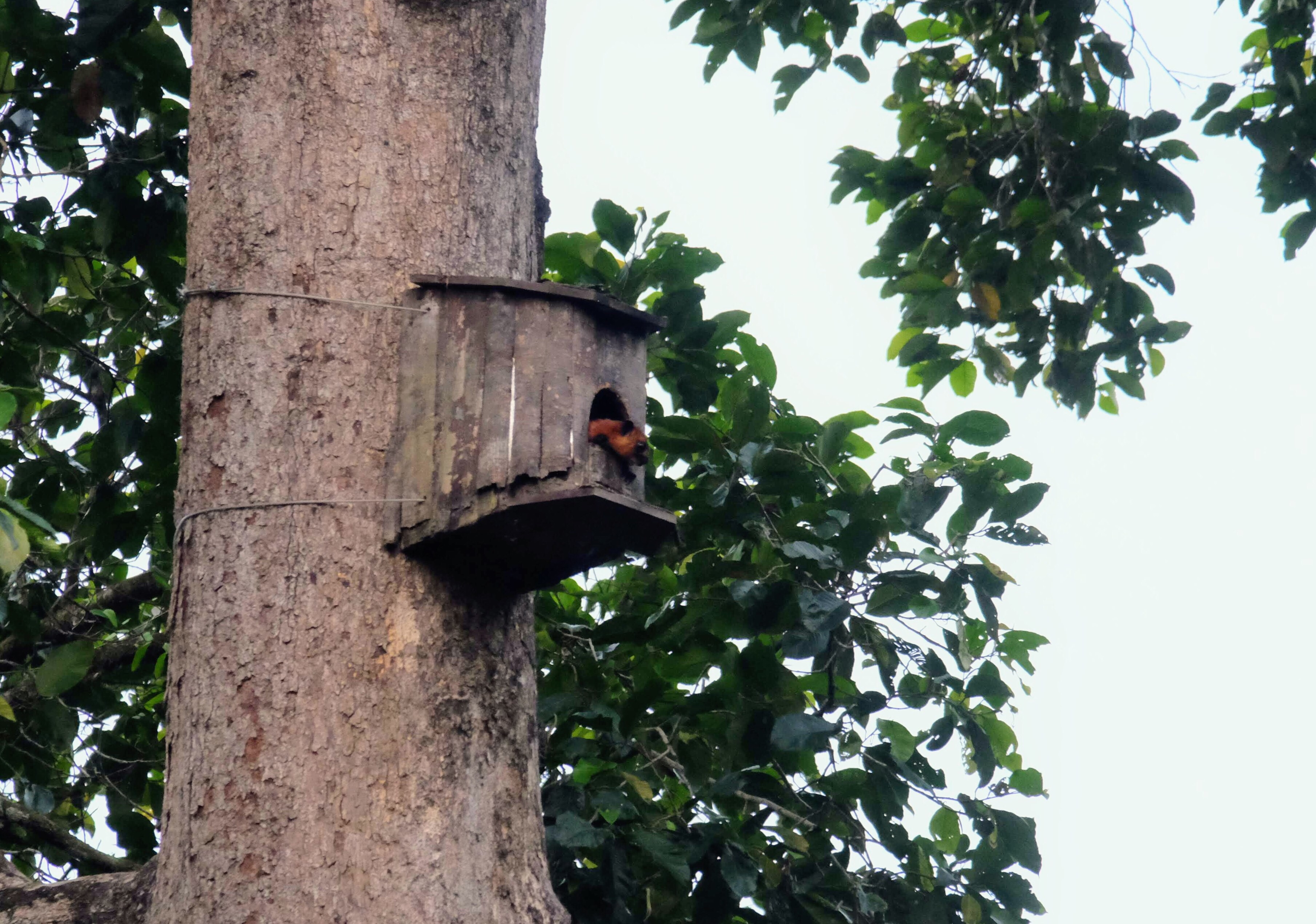 If you just want to see the squirrels then you don't even need to go on the night walk and you can pay to get in before 5pm closing, then wait on the suspension bridge for the squirrels to start flying (it is gliding but flying sounds more exciting, it is beautiful to watch).
They're easy to find as they emerge from their 'bird boxes' at about half 5 to look around before they jump out and glide to the trees below. We saw quite a few flying before it got dark so I highly recommend it. As you can see from the photographs, you get a great view!
Read: The easiest, lightest and cheapest wildlife photography kit for travelling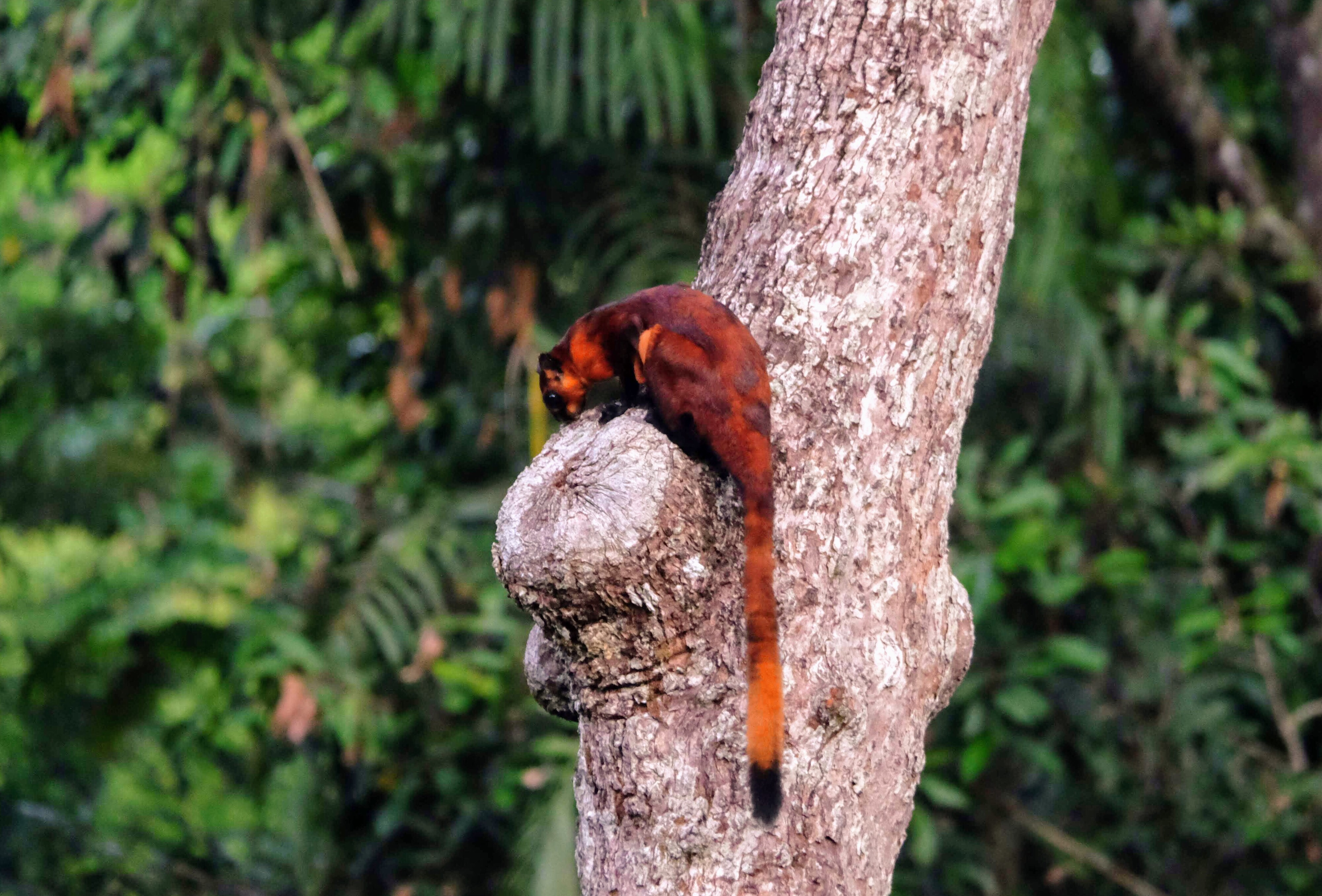 When you're on the bridge, look out for the pig-tailed macaques going to sleep in the trees. They're much more aggressive than long-tailed macaques so keep your distance from them, they've even ripped the signs off the trails.
Read: 11 top tips for dealing with monkeys while travelling in Asia and beyond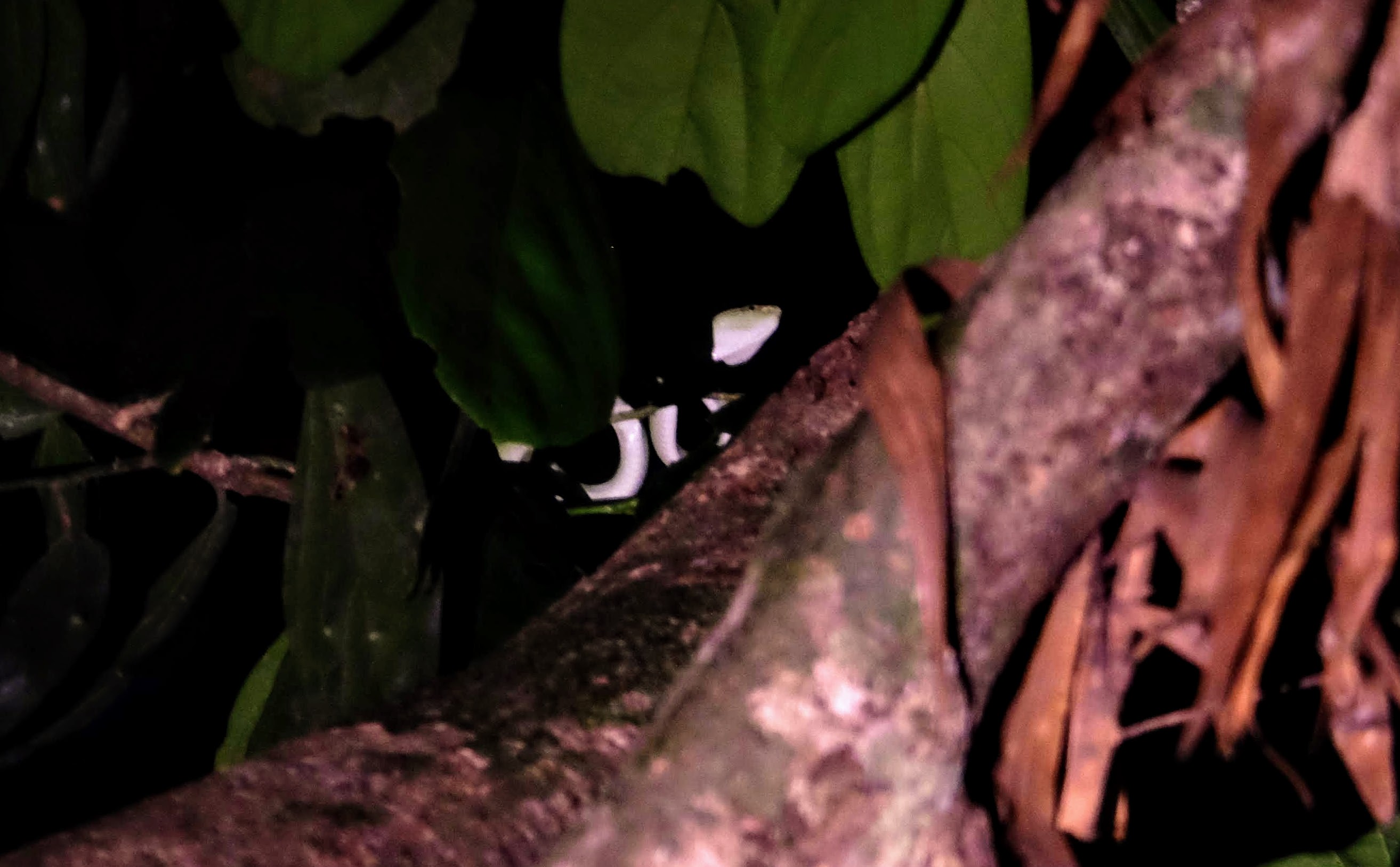 After the flying squirrels, the guided night walk officially begins, we also saw a water monitor lizard taking a bath on our way to the bridge as an added bonus. The first thing our guide found was a viper in a tree. Borneo is great for vipers as we saw them in Bako National Park, and at the bear sanctuary.
Next was a different species of flying squirrel, the black flying squirrel peeping out of its tree hole, ready to find its food for the evening. I guess that they sleep in the same place so you're likely to see one.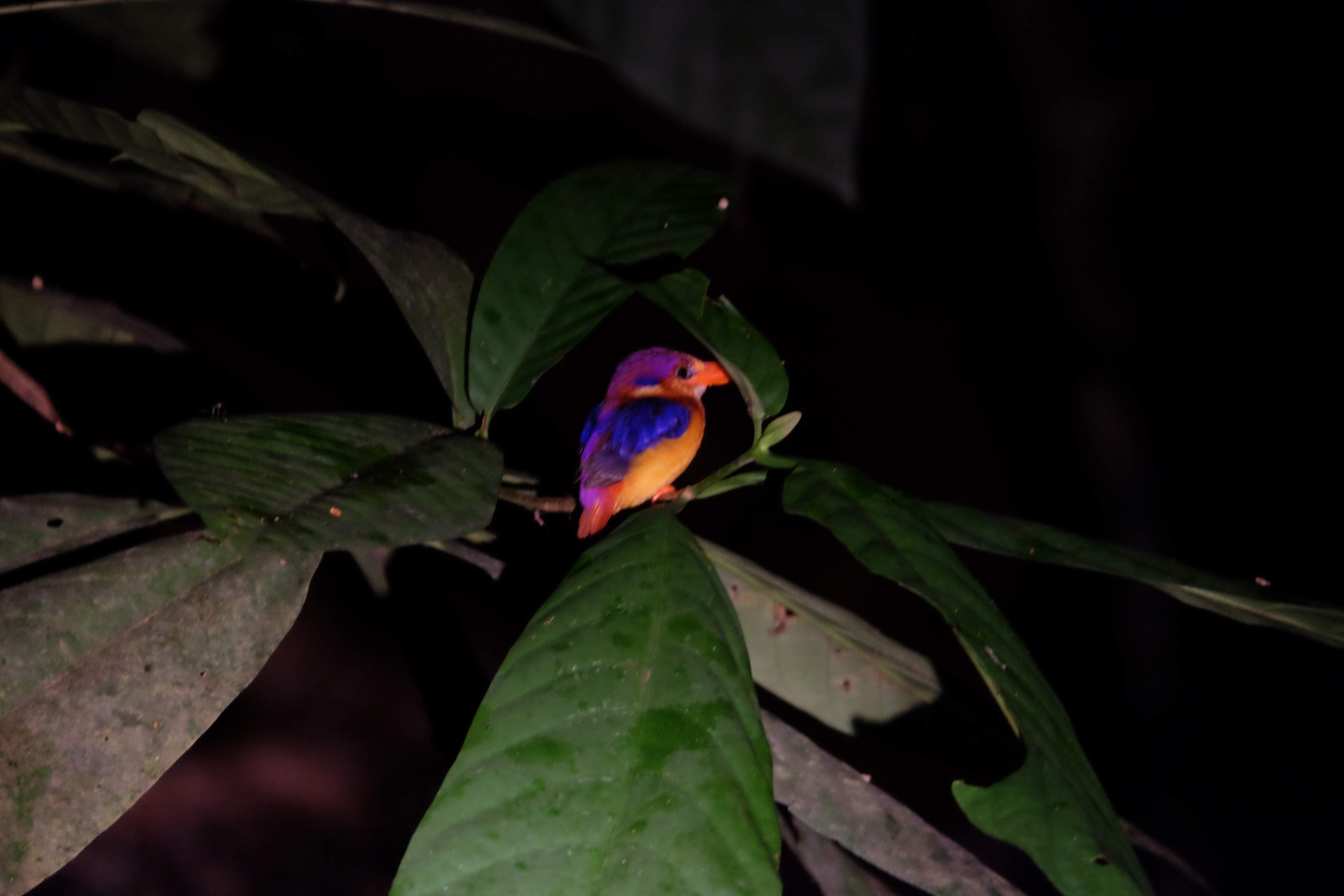 Sepilok is a great place to find sleeping kingfishers, like this oriental dwarf kingfisher which is one of the most beautiful birds I've ever seen in real life.
I think that the kingfishers tend to sleep in the same places as we saw quite a few in Sepilok and in Kinabatangan River.
We saw this equally awesome chestnut-collared kingfisher having a snooze on a branch close to the oriental dwarf kingfisher.
This is a night walk so be prepared for creepy-crawlies! I love bugs but brace yourself if you hate spiders as there are some big ones to be found in Borneo!
As well as spiders, you'll also come across scorpions, but this one didn't look too scary!
I was fascinated by lantern bugs, as they're one of the most beautiful insects I've ever seen!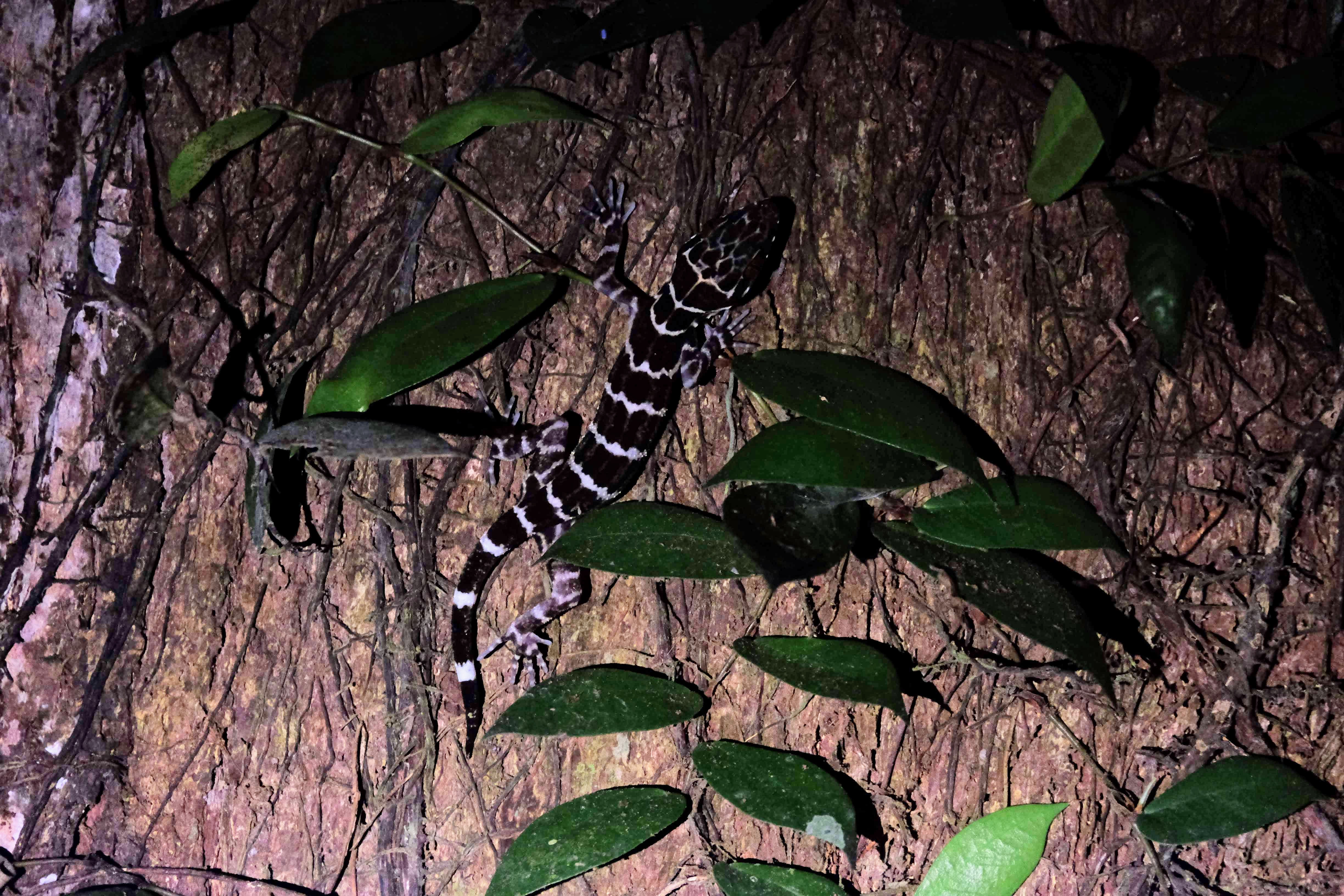 We started with a monitor lizard, and we ended with this snoozy banded forest gecko on a tree. You never know what you might get on a night walk in Borneo and thats the beauty of it!
Our night was topped off by seeing a lovely mouse deer in the RDC garden and a woman from our lodge saw a civet and a slow loris on the walk with another group.
I was happy that we saw a deer but the slow loris, civet and tarsier are the 'big ticket' animals that the guides are trying to find. We still saw plenty of birds, bugs, reptiles and other mammals so we were very happy with our evening. I would return tomorrow if I could.
If you're interested in finding out more about the conservation projects that are aiming to protect Borneo's forests, or you want to make a donation, then these are organisations and petitions to look out for:
Whether you spend an hour, a day or a week in Borneo's rainforest, you can't help but be moved by a landscape that is well worth fighting for. I'll certainly never forget the two days that I spent in Sepilok and the wealth of wildlife and conservation efforts that I saw there.
Read: Where to find wildlife on Langkawi Island in Malaysia
Have you been to the Rainforest Discovery Centre in Sepilok? What did you see on your night walk? Share your sightings with me in the comments below!