Phu Quoc Island is beautiful but it hasn't quite made it onto the backpacker's trail just yet, so I've written this guide to getting from the island in Vietnam to Kampot (or elsewhere) in Cambodia via the Ha Tiên border.
Travelling overland is the cheapest and most eco-friendly way to travel and this itinerary will probably take you about half a day.
*This post may contain affiliate links*
You can do the crossing one of two ways, you can book a combo ticket for $18 from a travel agent or you can do the stages independently.
First of all, you need to get a taxi from your accommodation to the ferry port (this isn't included in the transfer). Your hotel will be able to arrange this for you.
Ferries to Ha Tiên
The ferries to Ha Tiên go from the port at 7.30am, 8am and 9.45am and 13.35pm and the journey takes about 1 and a half to 2 hours. We took the Superdong ferry which was comfortable and had WiFi. Check the schedules here.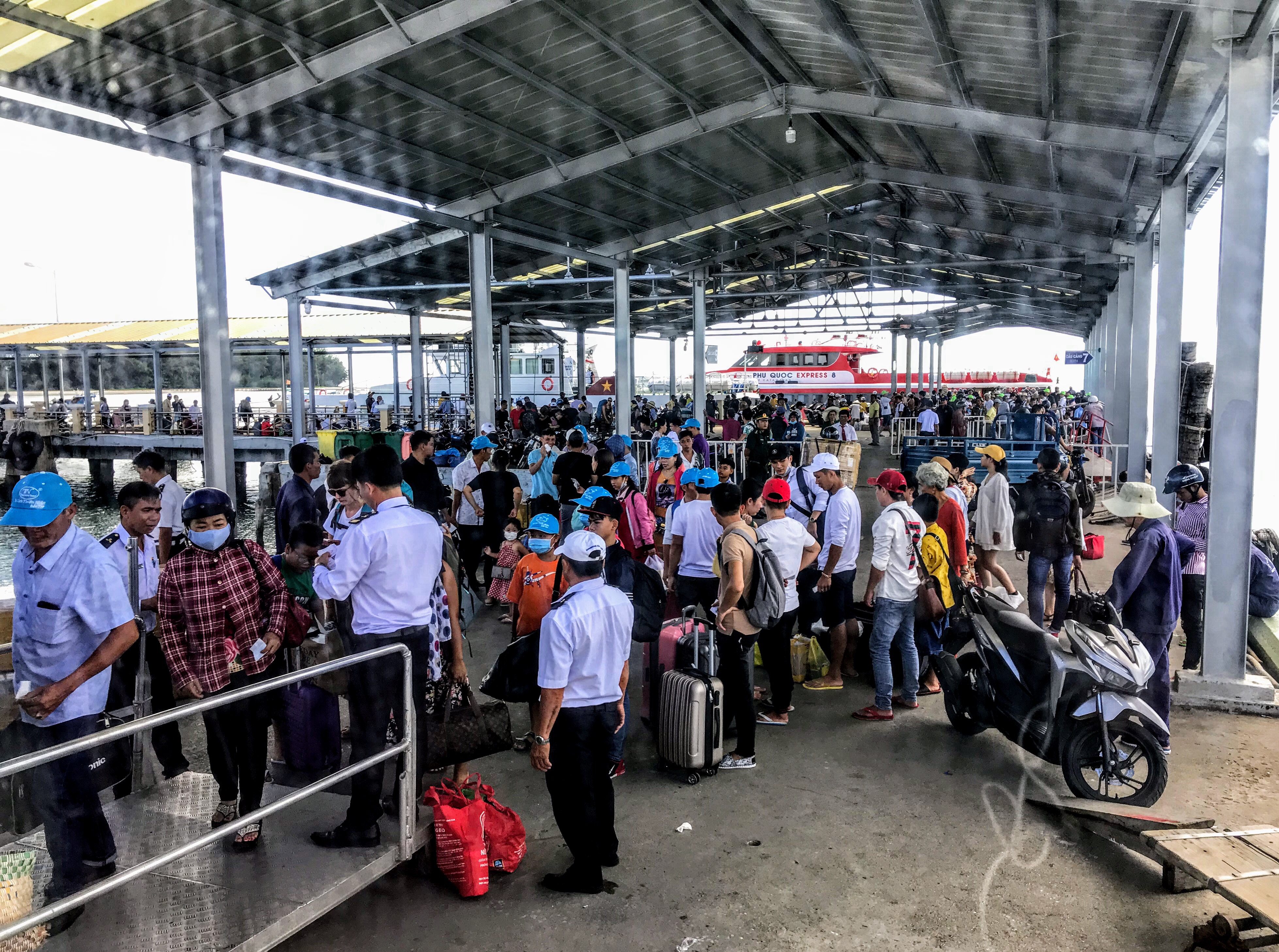 Once you get off the ferry, you need to join your driver or ask one of the taxi drivers that meet the ferries to take you to the border. If you need to book a bus on the Cambodian side then ask them to take you to a travel agent.
At the Ha Tiên border, you need to get stamped out of Vietnam which is straightforward and then continue on foot to the nearby Cambodian border.
You cannot yet get a visa in advance for Cambodia to use at a land border crossing and not an airport (apparently it's coming) so you have to get a visa on arrival.
To enter Cambodia, you'll need a passport photo and $35 for visa on arrival depending on your country. You pay your fee at the booth first and then you'll get stamped in at border control opposite.
Entering Vietnam
If you're entering Vietnam, you will need to get a visa in advance. It costs $25 and this can be used at a land border if you specify it in your application.
If you've booked a transfer, then you need to join your bus on the other side. This will only take a couple of hours to Kampot.
If you don't have a transfer included, then you can either book a bus in advance online or from an agent on Ha Tiên side. This will take you from the border to Kampot or Phnom Penh.
Otherwise, you can get a taxi from the Cambodian side that will take you straight to your hotel or you could get a bus in Kep. Kampot is very small and hotels in Phnom Penh or Siem Reap can collect you from the bus station if you request it in advance.
Where to stay in Kampot
I stayed at the Elephant's Dream Guesthouse in Kampot, which was a good budget option near the salt worker's roundabout. Check for reviews and deals and Tripadvisor before you book:
If you're travelling further through Cambodia, then check out my guide to Battambang in Cambodia, as well as my guide for how to travel to and from Koh Chang independently from Cambodia.
Have you travelled from Phu Quoc Island to Cambodia? How did you find it? Let me know in the comments below!
Pin this for later: