I first heard of goat yoga in Manchester when my friend saw a couple doing on the Indian Matchmaking show on Netflix, she went online and found it in Rossendale.
After lockdown and with my birthday coming up, we were overjoyed to find goat yoga which was something fun we could do while social distancing.
As I lived in South Manchester at the time, I had no idea of how wonderful North Manchester is or how much countryside you can find there.
It makes sense that there are many farms to be found on the outskirts of Manchester and the one offering goat yoga was Cronkshaw Fold Farm.
North Manchester countryside
The farm was positioned right next to green hills and I could see and hear buzzards hunting over the fields.
We were advised to wear old clothing and bring an old mat or towel to put on the floor, in case it got dirty or nibbled by the goats during the yoga. They also suggested tying up long hair, as the goats especially liked to chew ginger hair.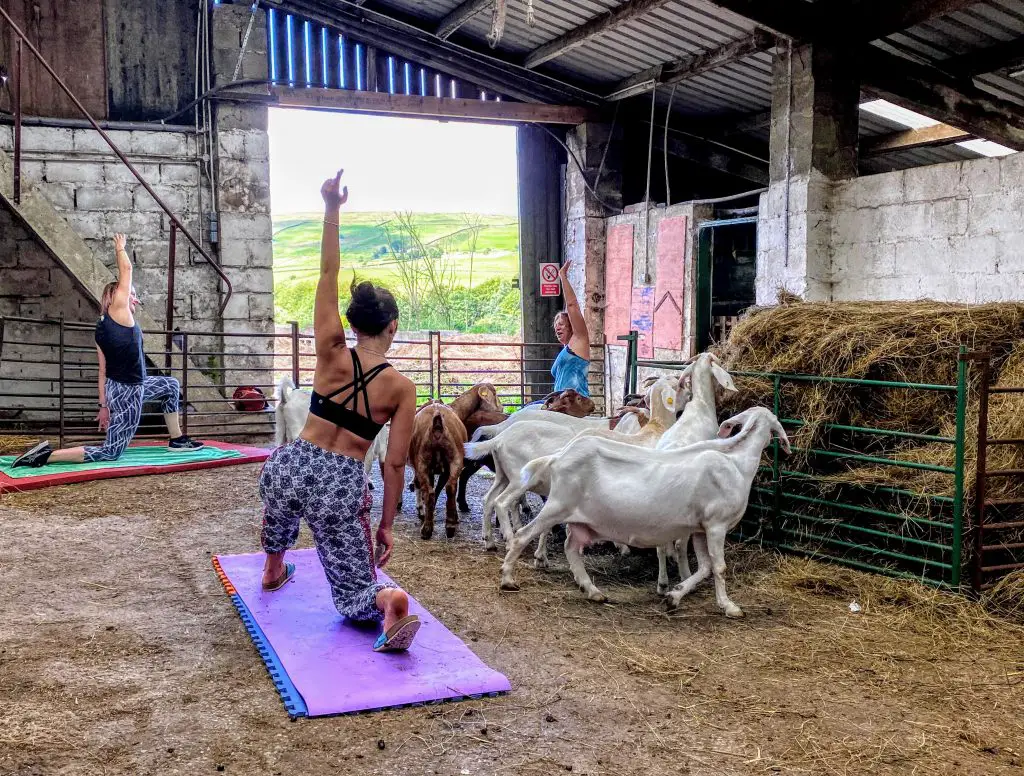 As we came during COVID, we naturally brought our masks for if we came within a metre of each other.
The owners of the farm have big dreams to be sustainable in their practises and put their goat yoga profits into renewable power technologies. They were also looking at the ecological benefits of grass-fed goats.
The yoga took place in their barn and as there was only 5 yogis plus the teacher, it was easy to distance from each other.
Yoga with the goats
Thankfully, the goats didn't distance from us and they ran out with excitement as soon as their gate was opened.
Everyone was given pellets on their mat to feed the goats throughout the session so they would come to visit. Goats eat almost constantly as grazers so they do poo a lot! They did poo on my mat but herbivore dung is quite dry and not as unpleasant as human, dog or cat faeces. It's more like giant rabbit poo than anything else.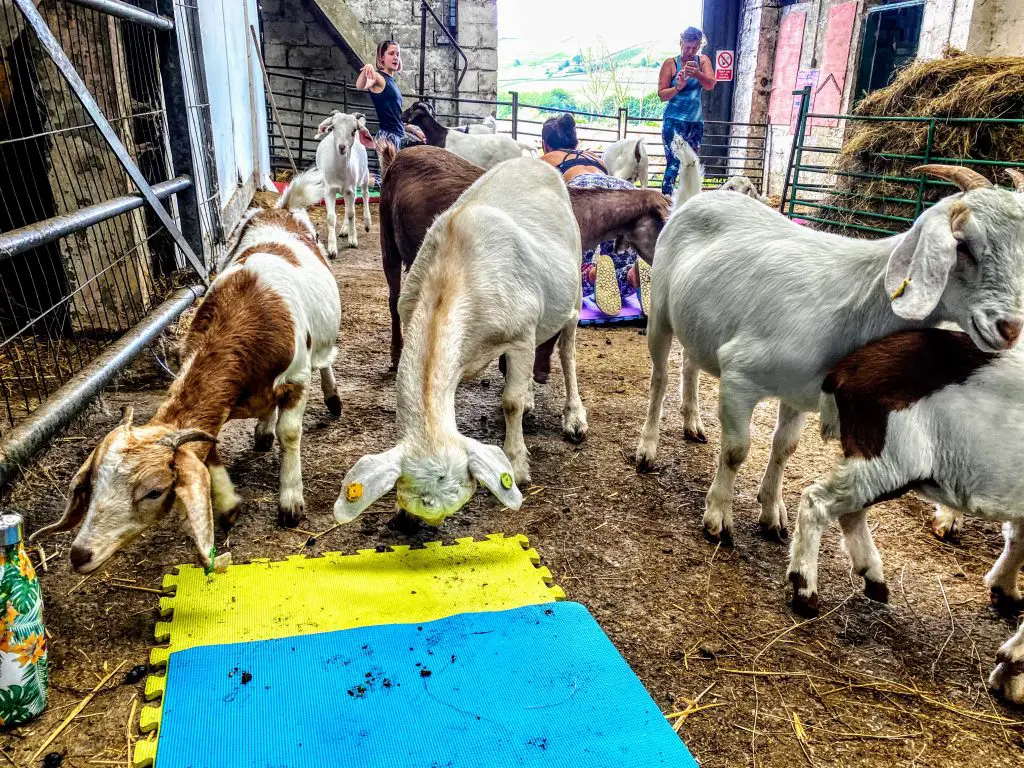 My friend emailed the yoga teacher in advance to say she wasn't good at yoga, the response was that most people came for the goats and not the yoga!
The yoga itself was good, even if we did get constantly distracted by the goats! After being in lockdown, it felt so good to stretch myself. The session was about 1 and a half hours long and there is a meet and greet with even more goats afterwards.
Meeting the goats
Goats are naturally very curious and they love to interact with people. While they butt heads with each other they don't do that with humans. You do get to see their natural behaviour like this mother goat feeding her two kids. The goats were obsessed with my water bottle and kept sniffing it and knocking it over.
When the yoga is finished, you can go and meet some of the other goats that live in the other side of the barn. They're just as friendly and they love to receive visitors and get head strokes.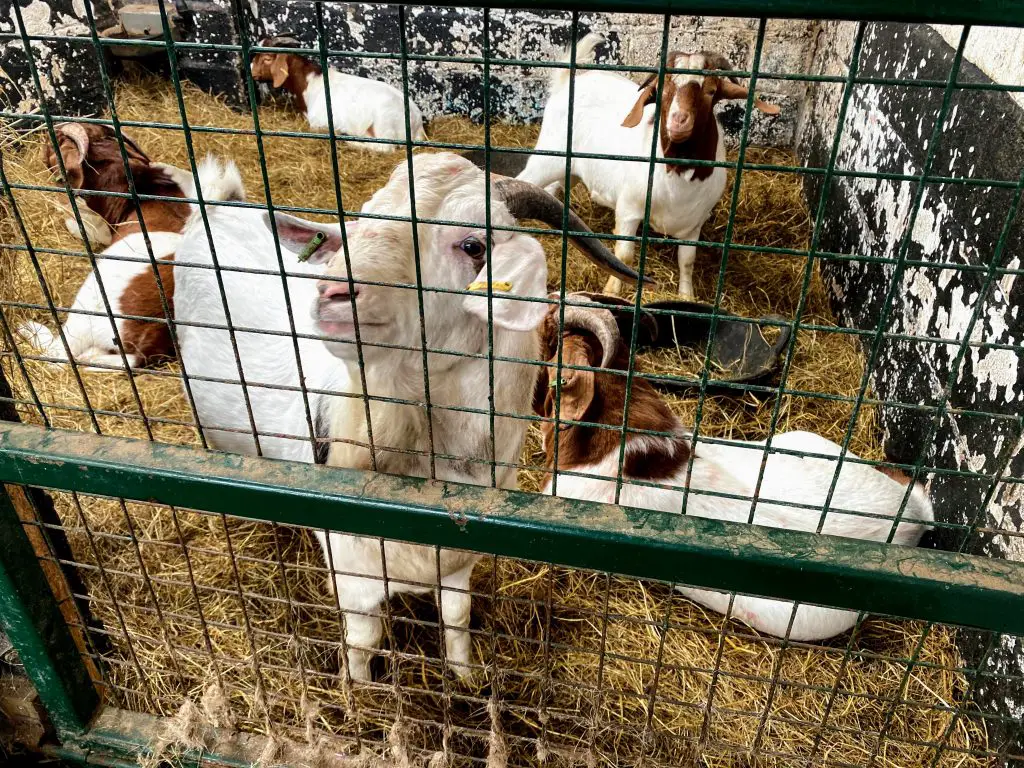 The farm even rescued some goats that had been abandoned on the road after being bought for a religious ceremony. They took them in and had to keep them in a separate pen to avoid spreading diseases. As we left we saw two people who had travelled from Liverpool, goat yoga is clearly attracting people from far and wide!
I certainly recommend goat yoga as its a great way to experience the countryside, wildlife, friendly animals and yoga all at the same time. In a period where travel abroad wasn't possible for many of us, it was the perfect way to enjoy fitness and company at the same time. Goats are wonderful creatures and I'll never look at them the same way again.
Have you tried goat yoga? What was your experience like? Share your stories in the comments below!
Shop sustainable yoga wear:
Read more like this:
This post may contain affiliate links
Pin this for later: