Vietnam's demilitarised zone or DMZ is a fascinating part of world history but unless you book a tour, it's not the easiest place to visit independently but it is possible. This easy guide will tell you how to do just that, plus an overview of the places so you can decide whether they're worth visiting or not.
A guide will be able to give you more information, but if you can't afford to do that then you can hire a moped and do it by yourself. We stayed in Hu? and spent a full day driving from there, or you can do it from Dong Ha which is much closer. The entry prices are pretty cheap or free so you won't spend more than $10 in total on the attractions.
The sights that are on the main itineraries are the Da Krong Bridge, the Ho Chi Minh Trail, the Khe Sanh Combat Base, the Hi?n L??ng Bridge and the V?nh M?c tunnels.
I suggest starting with the furthest away part of the tour, and this western half covers the Da Krong Bridge, the Ho Chi Minh Trail and the Khe Sanh Combat Base that you can see on the map below.
TOP TIP: You will be charged more for bike hire if you say that you're going to the DMZ so you could say that you're visiting local attractions instead, but make sure the bike is powerful enough. If you break down, many people are quite adept at fixing bikes but otherwise, you'll have to 'fess up to your provider if you get stuck somewhere. Driving around the DMZ is a long day so make sure you have drinks, snacks and suncream.
*This post may contain affiliate links*
When you're driving to Da Krong you're following the old Ho Chi Minh Trail which is the military supply route make up of roads, paths and trails that spans North and South Vietnam as well as Laos and Cambodia.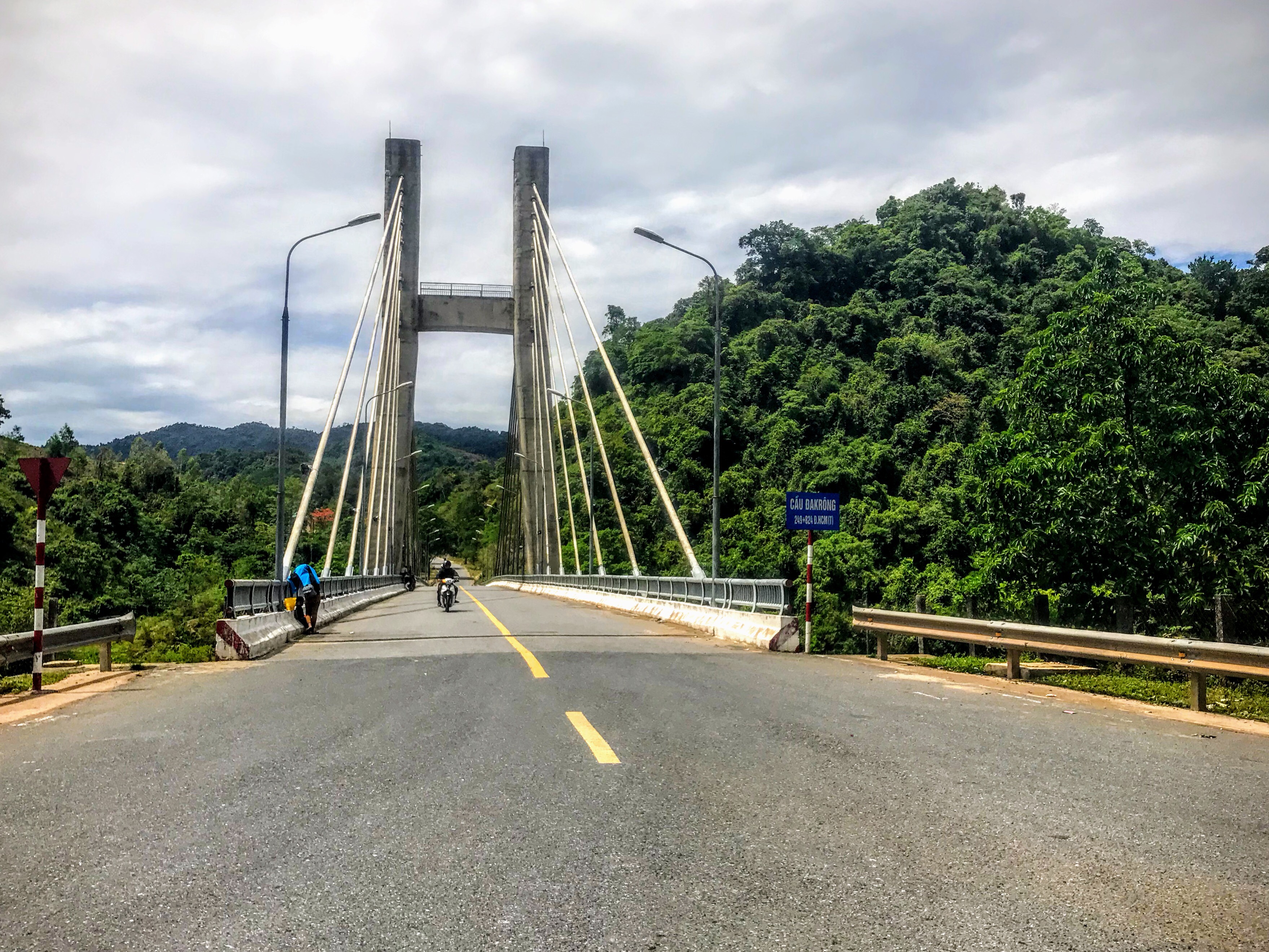 The Da Krong bridge over the Da Krong River was an important part of the Ho Chi Minh trail and you will drive past it on the way to the Khe Sanh Combat Base.
The Khe Sanh Combat Base is in a such a nice setting, that its hard to believe that such a bloody battle was fought here, but even though the base didn't fall, around 10,500 Vietnamese and American soldiers died here. As this soldier wrote on his uniform, 'Being a marine in Khe Sanh may be hazardous to your health'. Entry price is 50,000 VND.
One thing that I enjoyed in the three museums that I visited on our DIY tour was the anti-American sentiment, purely because I grew up in the UK so it's nice to see the bias from the other perspective. So much of history that I've learned is white-centric that seeing fun being made of American soldiers in museums is exactly what I would expect from Vietnam's excellent sense of humour.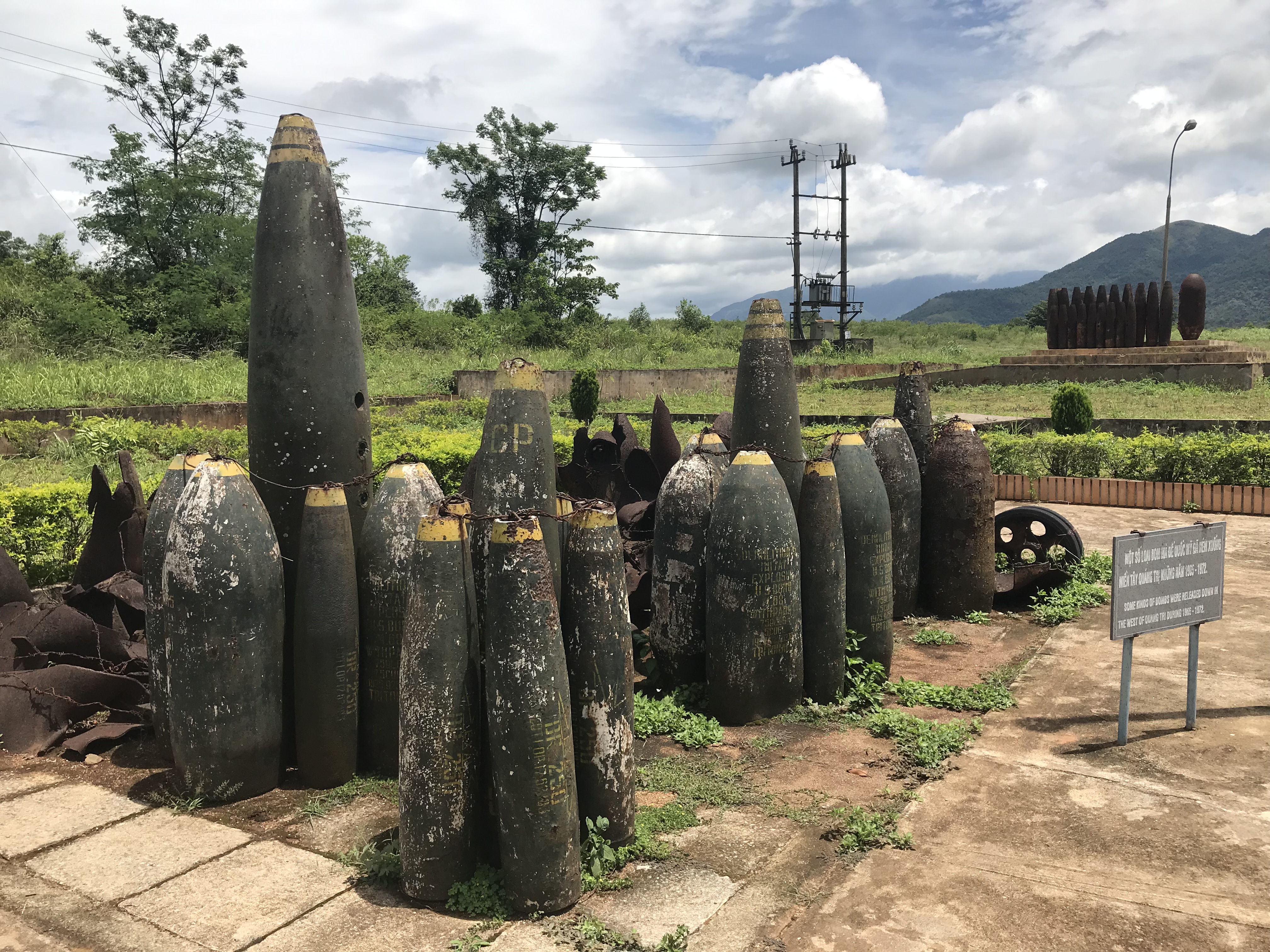 The Khe Sanh base contains a small museum, heavy artillery, a large plane, a helicopter, a small tunnel network, army buildings and some lovely views of pepper plantations. There is a small cafe selling local coffee, parking and a toilet so you could spend 1-2 hours here. When you are sat in the cafe, you'll probably be approached by vendors selling war memorabilia like coins and cigarette lighters.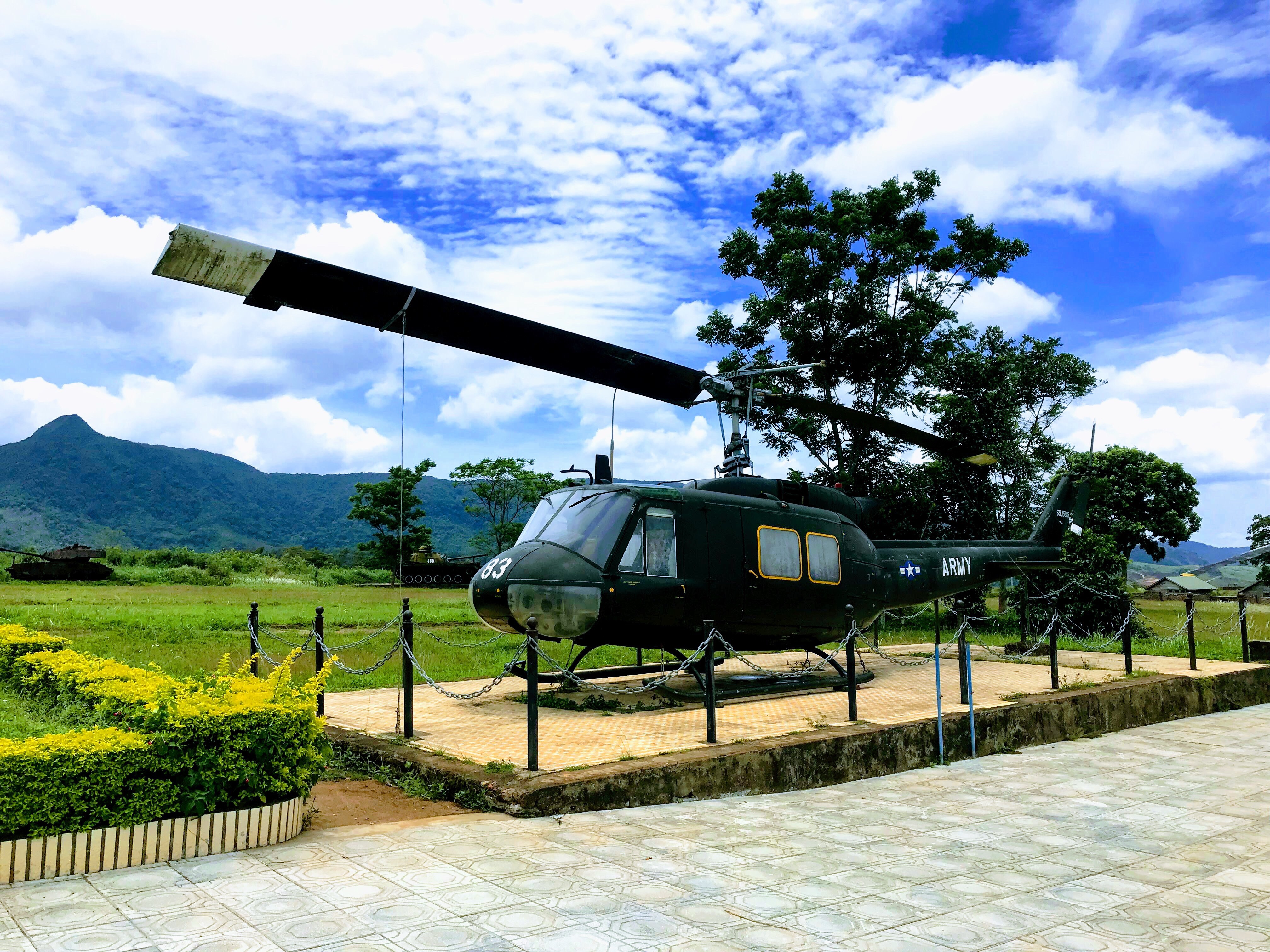 The second half of the tour is on the eastern side of Vietnam, so you cross over to the other side of the country. This journey can take over an hour so you might get a little saddlesore. On this side, you have Ben Hai River with the Hi?n L??ng Bridge and the V?nh M?c tunnels.
You may pass the Rockpile which is a karst rock that was used by US marines as a strategic military base, but you cannot go up as its quite dangerous. There is also the Truong Son National Cemetery on the way, dedicated to the thousands of North Vietnamese soldiers that died on the Ho Chi Minh Trail.
If you're hungry by this point can go eat at Tam's Cafe in Dong Ha by the river, which makes lovely bánh mì and other great snacks.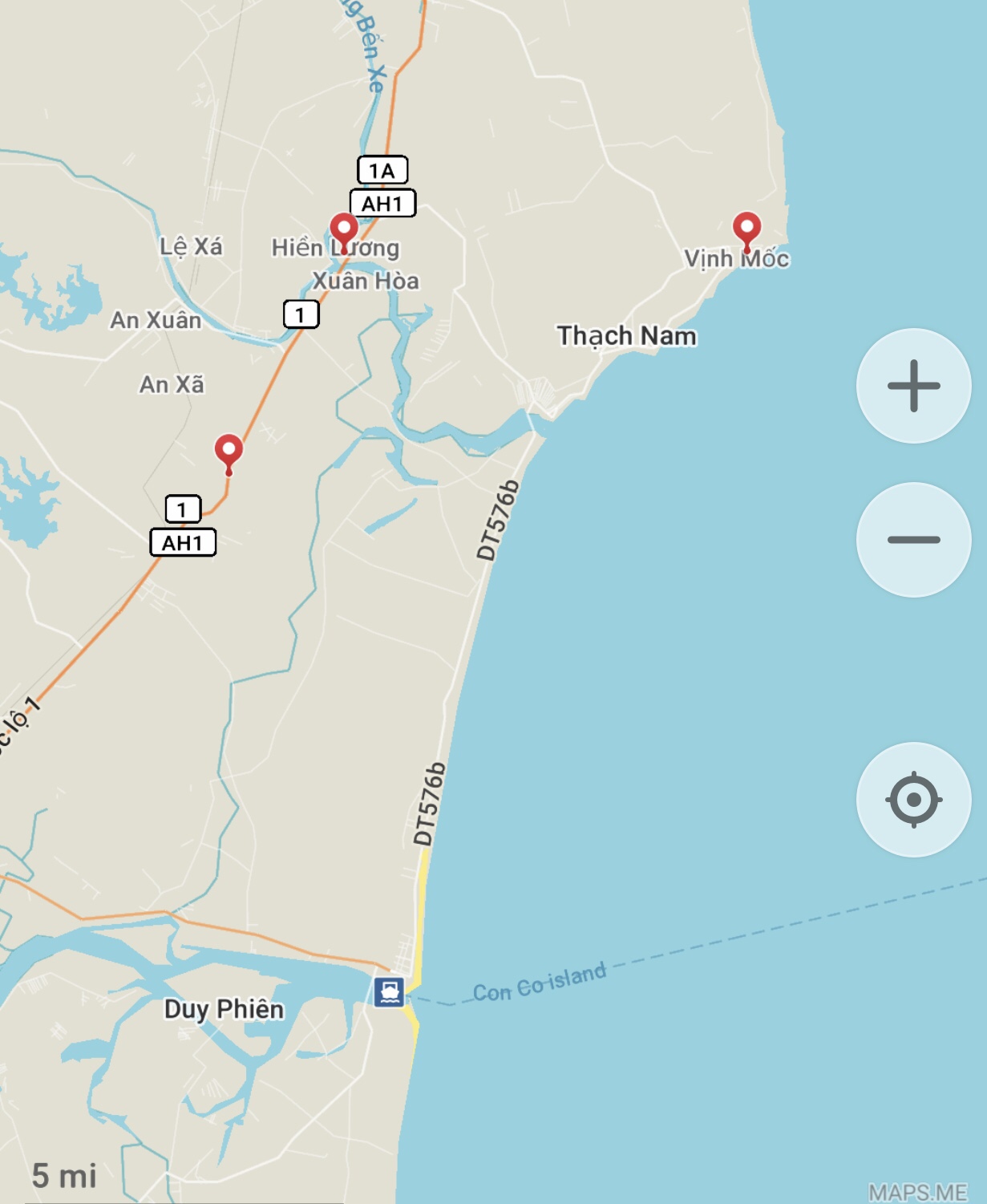 The main highway (in orange on the map) that you will travel on to get to the Ben Hai River was known as the Highway of Horror as thousands of people were killed here whilst fleeing Quang Tri on the 1st May 1972. Their deaths are marked by graveyards and monuments. There is also the remains of the Long Hung Church which was a North Vietnamese base that was shot up by the Americans and South Vietnamese.
Remember to also look out for the Doc Mieu monument on your left-hand side. It was closed so we couldn't go up it, but it commemorates the telecommunications officers from the war.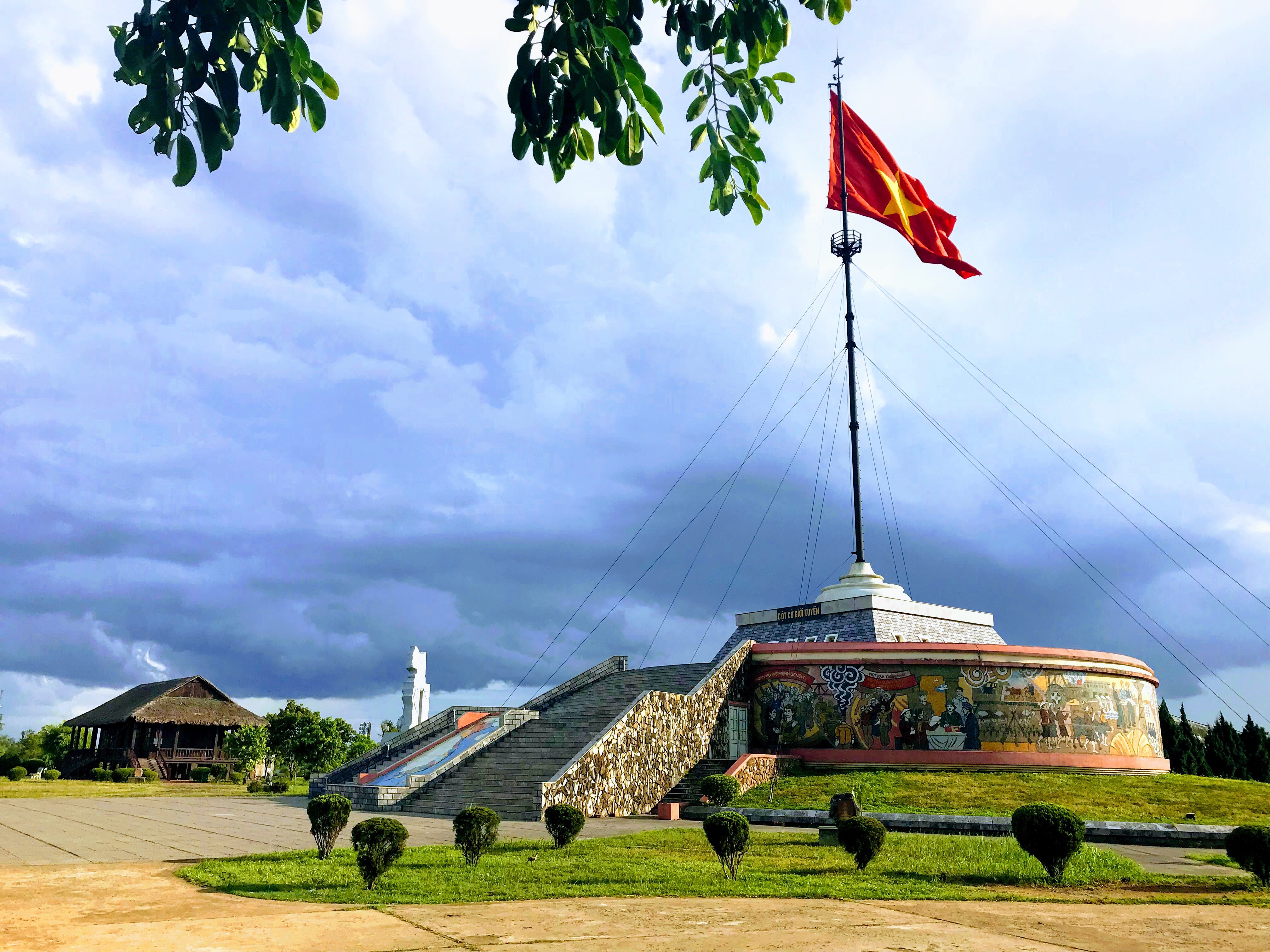 You'll know when you're at the Ben Hai River because you'll see the flagpole, surrounded by a mosaic mural. Behind the flagpole is the old United Nations building. This area is important because the river bisected the North and South of Vietnam during wartime.
On the other side of the river is the Hi?n L??ng Bridge museum and you buy your ticket for 50,000 VND from the booth next to the flagpole. The museum is just one big room but it does contain graphic and disturbing images so be aware that it may distress you.
From the museum, you can see the old bridge, one that's been rebuilt and runs parallel to the road bridge. On the other side is a Memorial Park containing the Memorial of Desire for National Reunification.
The Vinh Moc Tunnels were lived in by villagers who were relentlessly bombed by U.S. troops during the war, a bit like the Vieng Xai caves in neighbouring Laos that were bombed during the Secret War.
I didn't find the tunnels too claustrophobic as we were the only ones in there, but I imagine it gets much anxiety-inducing when it's full of tour groups as you're probably quite cramped. There are a few entrances and exits so it's quite nice to explore and feels safe. Entry price is 50,000 VND.
The most surprising part of the tunnels for me was that you emerge at a beach on the other side! There aren't many people around and its a nice place to end your DMZ tour.
We stayed at Hu? Nino Hotel in the centre of Hu?, which was great, with nice staff and a decent location and breakfast. Check for deals and reviews by clicking on the Tripadvisor link below:
I loved the historical importance of the DMZ and it's an intriguing place to visit in Vietnam, if you can fit it in. If you're going to Ho Chi Minh City then you can visit the Cu Chi tunnels instead for a glimpse of Vietnam's history in the south. Share your experiences of visiting the DMZ in the comments below! I would love to hear about them.
If you're travelling around Vietnam, I also have guides to taking a vegetarian cooking class in Hanoi, seeing a water puppet show in Hanoi, visiting Cuc Phuong National Park without a tour, 7 things to do in Da Lat on a budget and visiting Hue's abandoned water park.
Pin this for later: