It was hard to decide whether to visit Myanmar's ghost capital of Naypyitaw or not, as we'd heard that it was pretty much deserted and not too many backpackers come here. Despite this, I was intrigued by Naypyitaw because the Burmese government has spent so much money on it and because I'd read about it in the book Everything is Broken.
We decided to go on our way to Hpa-an, as it is always nice to visit a country's capital – even if it doesn't represent the country itself. There is only one bus per day from Inle Lake for the 8-hour journey that doesn't leave until 6pm from Nyaungshwe.
The partially deserted hotel that we stayed in was the New Aye Yar Hotel which was cheap and fun to be in with a big pool and not many people! Check the Tripadvisor link below to check reviews and find good deals for hotels in Naypyitaw:
If you're travelling around Myanmar, then check out my posts on travelling to Ngapali Beach to Yangon via Pyay, Ngapali Beach, crossing the border to Mae Sot in Thailand and my travel warning on Mrauk U after I got caught up in civil conflict there.
Empty bus terminal
We arrived in at 1am at a random empty bus terminal that wasn't near anything and took the only taxi that was there to our hotel. Driving around empty highways is so surreal when you're so used to being surrounded by Asia's notorious traffic. While Myanmar generally doesn't have much traffic, this was another level.
We had the whole fifth floor to ourselves in the hotel and when we looked out of the window all the could see were other hotels with few people in them and trees. If I'm being honest, we had little interest in the sights, especially not the zoo whose penguins died when they overheated in spite of their air-conditioned pen.`
'Royal City of the Sun'
Naypyitaw can be translated as 'Royal City of the Sun' and the Lonely Planet describes it as 'Canberra meets Brasilia with a peculiar Orwellian twist'. I've never been to a purpose-built capital before but it really reminded me of the town of Pripyat in the Chernobyl Exclusion Zone, in the way that it had all been planned out.
Perhaps it was because of the communist elements of how everything was created – the hotels, recreational areas and housing arranged in such an organised yet soulless way. Also, the fact that this place was meant for human habitation, but not really used people just like Pripyat.
On a small scale, it might work to build a town to house people working on a large project like the Chernobyl power plant but Naypyitaw is massive with barely any impetus for anyone to move there. That is with the exception of government ministry staff who were told to move here whether they liked it or not – although some diplomats are still refusing to leave Yangon (formerly Rangoon).
Yangon is still treated as the capital
Ex-capital Yangon has a lot of more soul, probably because it has people, culture, a history and a river. Everything a good capital needs, except that title was taken away from it for mysterious reasons known only to a shady military dictatorship run by Than Shwe.
Construction began in 2002 and the capital was moved in 2005. The name was announced on Armed Forces Day in 2006 with a military parade on the anniversary of the 1945 revolution against Japanese occupation, in a classic show of bravado from Myanmar.
Football matches and dogs on the road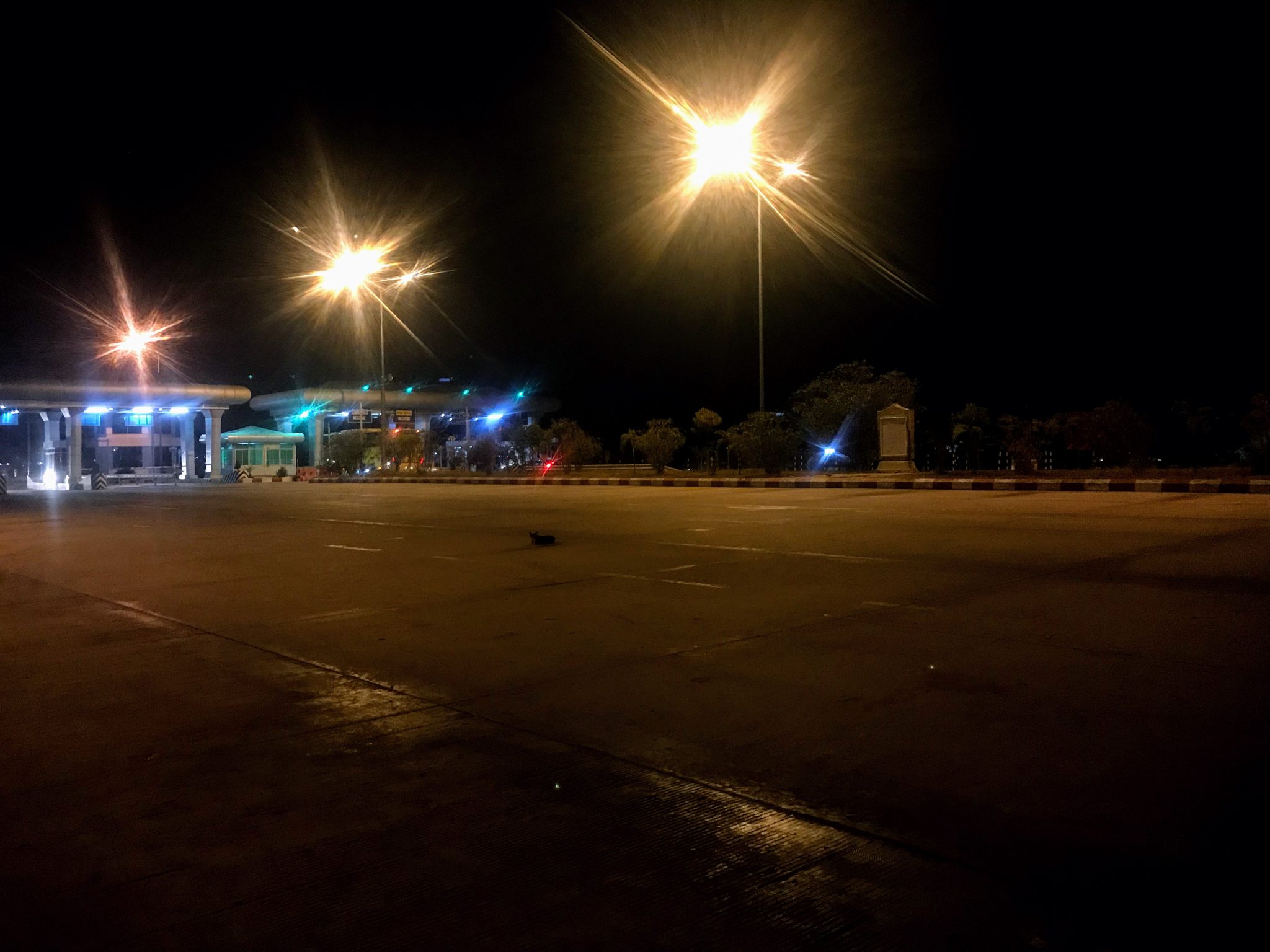 There are numerous theories about why the capital was created, ranging from vanity to paranoia about U.S. invasion. There are also rumours that the massive deserted highways were built so that planes can land on them. The presenters from Top Gear actually played a football match against the police on these highways. We even saw a dog sleeping in the middle of the highway while waiting for a bus by the side of the road.
Myanmar's troubles
It is thought that the city cost $4 billion to build by a regime that left its citizens to die in the aftermath of Cyclone Nargis by refusing life-saving aid from international agencies. It's incredibally hard to fathom, especially as in these more democratic times, aid is still denied for the Rohingha Muslim refugee population.
Sitting by the side of the road, it struck me that although this city that boasts of 24-hour electricity and super-fast wifi, its main asset for the country is having a chunk of decent highway in a land of crappy roads and that's about it. There isn't even a proper bus station in a place that allegedly has 1 million residents (it definitely doesn't).
As a tourist, I enjoyed having a teak-encrusted hotel with a swimming pool, a gym, a basketball court and a floor to myself but its horribly wasteful, just like the city itself. When I poked about there were unfinished floors, a bar sign with no bar, plastic tiles falling off the walls and the spa had been set up in a bedroom as they'd run out of money. All veneer and no idea, again like the city itself.
When we left, I asked my boyfriend what his thoughts about Naypyitaw were – he asked what exactly I wanted to know, so I said 'well, what about the vibe?'
He said there was 'no vibe' and that about sums it up.
Have you been to Naypyitaw in Myanmar? What did you think of it? Let me know in the comments below!
Pin this for later: