Sigiriya Rock and the Dambulla Caves are two of Sri Lanka's most impressive historical sights and if you're really short on time you could see them both in one day.  If you are travelling independently on a budget using public transport then I recommend taking 2 days to see them both so you can take more time to enjoy them. Find out how to see them as cheaply as possible by reading this guide!
I stayed in Dambulla as there are more accomodation options and transportation to other places is better than Sigiriya which is quite small. Dambulla has quite a busy main road so if you like the quiet then I would stay in Sigiriya.

There are loads of tours that can take you from popular tourist places like Kandy if you're really short of time and may include the Polonnaruwa ancient city.
There is some decent budget accommodation in Dambulla and Sigiriya, but we stayed at  Pivisuma Dambulla because it had a pool. Be sure to check hotel reviews before you book by clicking on the Tripadvisor link below:
This post may contain affiliate links
If you're thinking about visiting Polonnaruwa, Mihintale, Ella, Yala National Park, Kandy or Adam's Peak then check out my guides to those places as well!
The foreigner price for the caves is 1,500 rupees ($10) so it is a little bit expensive. One annoying thing is that as a foreigner you can't enter from the Golden Temple which is on the Dambulla main road like the Sri Lankans do.
You have to walk past the temple and around the back (on the left) in order to pay more at the ticket office. The walk to the ticket office is about 20 minutes and then you go up the steps which takes about 10-15 minutes and can get a bit sweaty.
At the top of the steps you need to pay to put your shoes in at the booth (20 rupees) and you can enjoy the wonderful views, including Sigiriya Rock, before going into the small cave temple complex.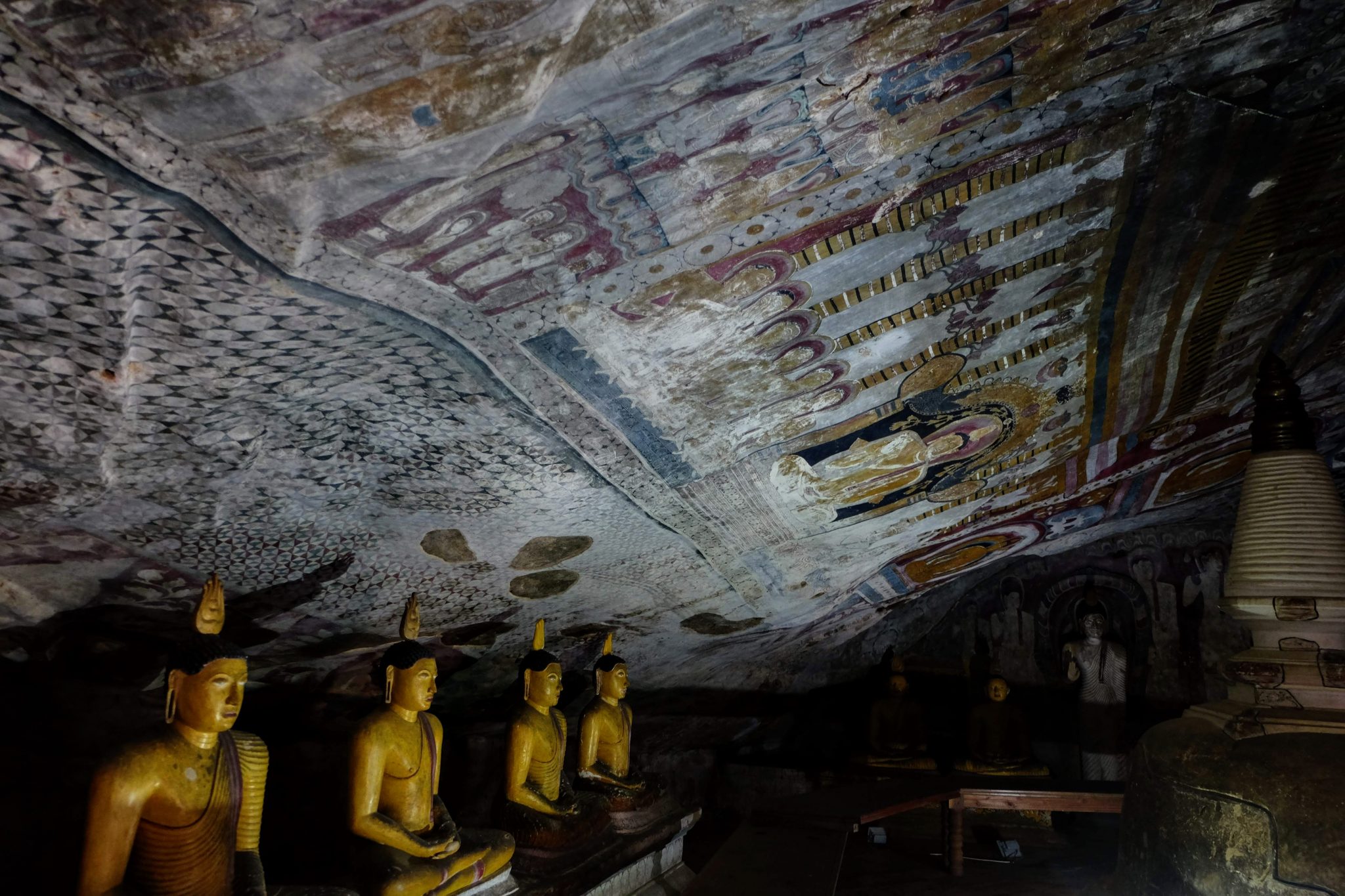 There are five temples to see in total, so it's nowhere near as overwhelming as the massive cave complexes of Ajanta and Ellora in India. These UNESCO-listed cave temples are over 2,000 years old and they contain 150 Buddhas. They are incredibly beautiful and the most impressive is the second one, known as the Temple of the Great King (Maharaja Viharaja). It takes about an hour or so to see all the caves but it can get busy with tour groups.
On your way back, you climb down the steps toward the main road and the Golden Temple. You can visit the temple and your fee gets you into the small museum of Buddhism next to it. Now you're ready to see Sigiriya (or you could see Sigiriya in the morning if you're doing it in one day).
There is a separate bus terminal in Dambulla that goes to the UNESCO site of Sigiriya which is further up than the main terminal but clearly labelled on Maps.me. Depending on where you're staying, you may need to get a tuk-tuk there as it is about 2km from the caves. Sigiriya Rock is about 20km away and the journey takes about 45 minutes and costs 45 rupees with frequent departures every half hour or so.
It's clear where you get off in Sigiriya and again, you have to walk around the left-hand side to get to the ticket office which takes about 20 minutes instead of going straight ahead to the rock in front of you! The canals surrounding the rock do contain crocodiles so be careful. There is a small museum and a ticket office where you pay your extortionate $30 foreigner entry fee.
If you're here early then head straight the rock and then you can explore the garden area afterwards as it gets very busy at the top. It isn't a sacred site so you don't need to cover up but sunscreen and water are essential as it is hot!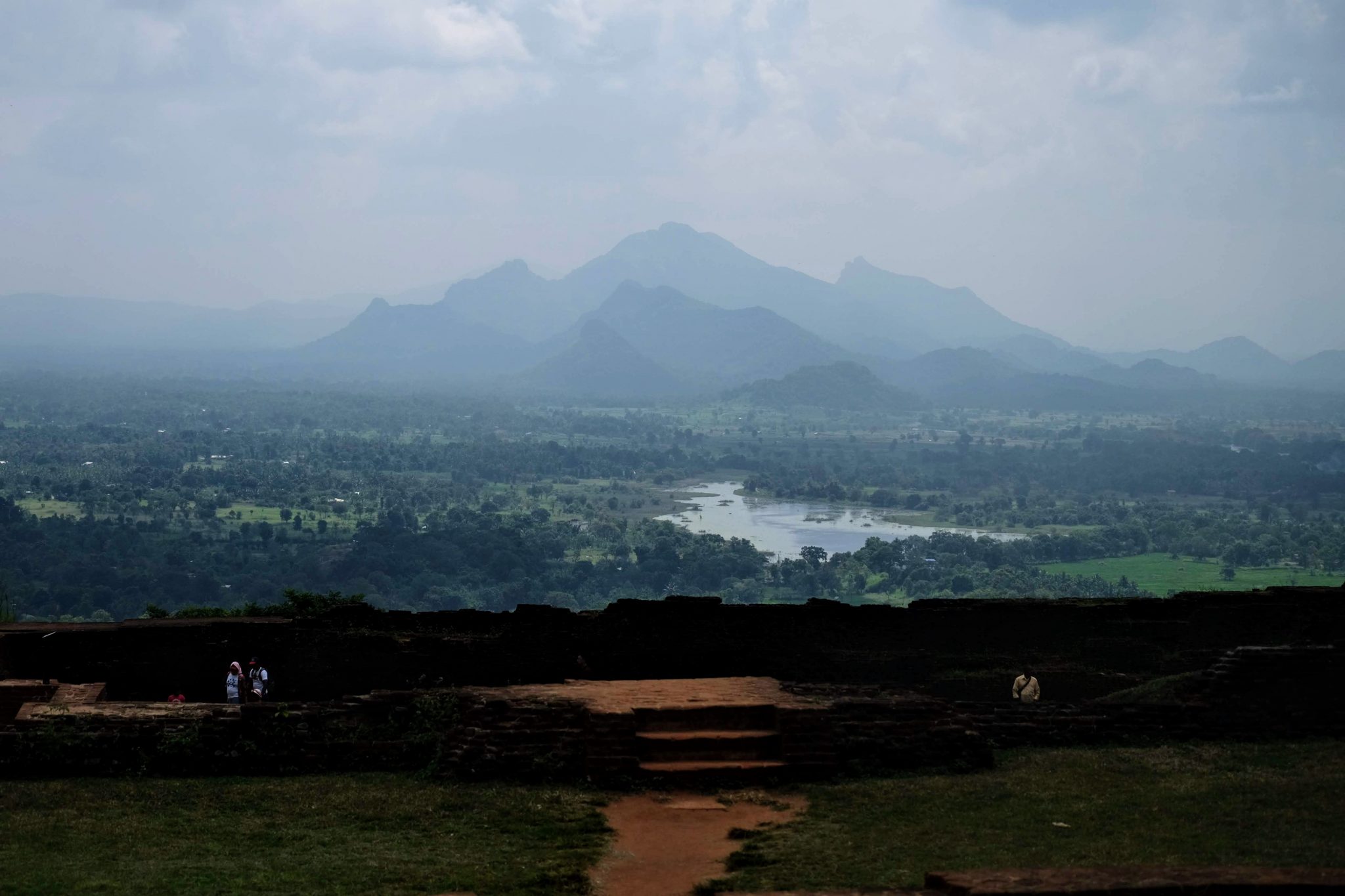 Be aware that many of the people climbing the rock may not be very fit and you'll get stuck in traffic jams. Head up the steps to see the cave paintings of bare-breasted women that you're not allowed to photograph, then you have to go back down and around, past the mirror wall and up to the lion's feet to reach the summit. It takes about 30 minutes, depending on traffic but there is a handrail to hold onto to avoid slipping.
Be careful of the stealy toque macaques that are everywhere both at the top and on your way up. Look out for the cool lion's feet at the bottom of the steps to the top and enjoy the wonderful views once you're up there! Shade is minimal on the top but there is space to try to avoid other tourists and get some photographs. If you need shade then you can get some on the next level down and it takes no time to get down to the gardens when you have no queue of people in front of you!
If you have time and want to get some better views of Sigiriya Rock then you can get a tuk-tuk along the road or to the left of the entrance that will take you to Pidurangala rock (or hire a bicycle). The walk to the top takes 25 minutes including some scrambling and a ticket costs 500 rupees ($3.50).
To save money some travellers just go up Pidurangala rock to see the views and don't climb Sigiriya itself. There are also decent views from the white Buddha statue that faces Sigiriya.
If all that has made you hungry then there are a collection of reasonably priced restaurants outside the entrance and then you can cross over the road to flag down a bus that will take you back to Dambulla for your hotel or onward travel to your next adventure.
Sigiriya Rock and the Dambulla Caves are two quite unique and beautiful Sri Lankan attractions but if I had to choose I would visit Sigiriya Rock. My two favourite cultural triangle attractions were Polonnaruwa and Sigiriya Rock as they were both very iconic as well as being nestled in gorgeous settings. I'm very glad I did take the time to see the caves though, as they're wonderful to photograph.
Sri Lanka is an incredible country and we spent a month exploring and it's one of my favourite countries because it has ruins, beaches, wildlife and Kandy, which I loved so I hope you enjoy your time here, whatever you do.
Have you been to any of Sri Lanka's cultural attractions like Sigiriya Rock, Dambulla Caves or Polonnaruwa? Did you see any wildlife at the ruins? What do you think about foreigner prices in Sri Lanka and beyond? Let me know in the comments below and let's have a chat about it!
Pin this for later: