If you are in Sri Lanka's cultural triangle and visiting Anuradhapura but can't afford the expensive foreigner ticket for the ancient ruins, then I recommend visiting Mihintale instead, which is a lovely mountain pilgrim site complete with ruins and religious monuments.
As a budget backpacker, I'd been to Sigiriya Rock and the Polonnaruwa ruins, and I'm sorry to break it to you if you don't already know, but the tourist prices for these sights are $30 and $25 respectively. They're impressive sights, but $55 is a lot of money and more expensive than any sight in neighbouring countries of India or Nepal.
Anuradhapura is also $25 for a ticket, but there is a lot less to see than Polonnaruwa. If you want to read a story about a backpacker who unwittingly paid for a rip-off tour that didn't include the main Anuradhapura sights, then check out this post by Spin the Wind Rose.
We did drive around the Anuradhapura ruins on our moped, and we could see a few stupas but most of it is fenced off (including the roads) unless you have a $25 ticket. We consulted our guidebook and decided to go and see Mihintale instead, which is interesting and much cheaper at 500 rupees (under $3) so I decided to write this post for other backpackers doing the same!
If you're coming to Anuradhapura from Polonnaruwa, it takes about 2 hours on the bus (cost: 90 rupees) and the train station has frequent trains to Jaffna and Colombo. The train timetable is on the Sri Lankan Railways website. Unfortunately, you can't book online yet and you need to get your ticket up to 30 days in advance from the train station.
There is some decent budget accommodation in Anuradhapura, we stayed at Traveller's Port which was a lovely guesthouse but be sure to check hotel reviews before you book by clicking on the Tripadvisor link below:
*This post may contain affiliate links*
If you're thinking about visiting Ella, Yala National Park, Kandy or Adam's Peak then check out my guides to those places as well!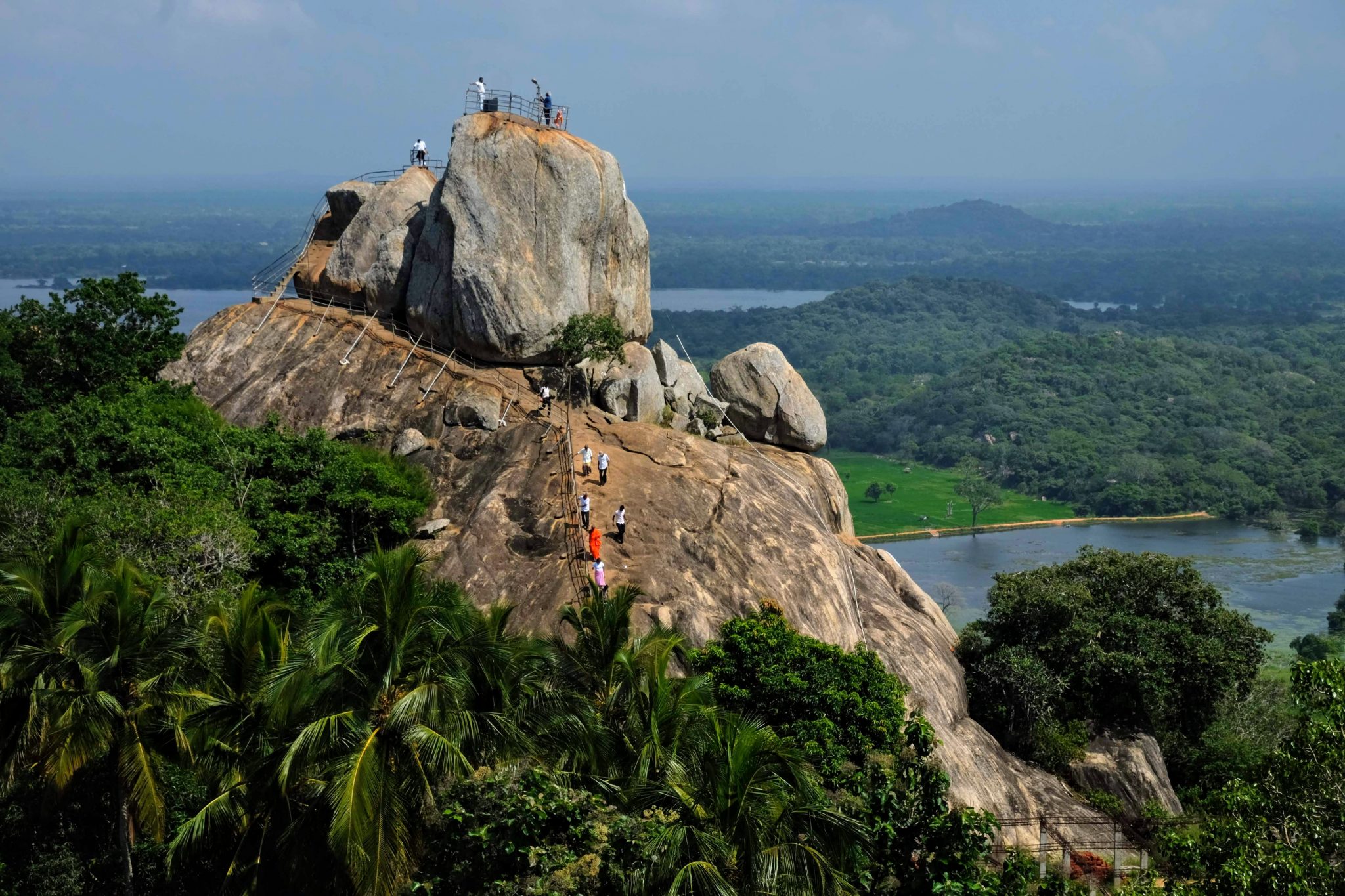 There are a few ways to get to Mihintale which is only 13km from Anuradhapura, it's pretty much along the Trincomalee Highway so it's pretty easy to find under your own steam.
We went on a moped which we rented for 1,500 rupees which wasn't too expensive between the two of us, it took about 25 minutes to get there and we parked at the bottom of the steps. There is a public bus from the new bus station (30 rupees), a taxi costs about 2,500 rupees, a tuk-tuk is around 1,500 rupees or you can cycle yourself which is about 400 rupees for bike hire. There are also several trains from Anuradhapura to Mihintale.
Mihintale is a famous site in Sri Lanka because it is thought that the Buddhist monk Mahinda and King Devanampiyatissa met here, bringing Buddhism to Sri Lanka. There are a few foreign tourists that visit but it is mostly pilgrims and Sri Lankans so it's quite peaceful.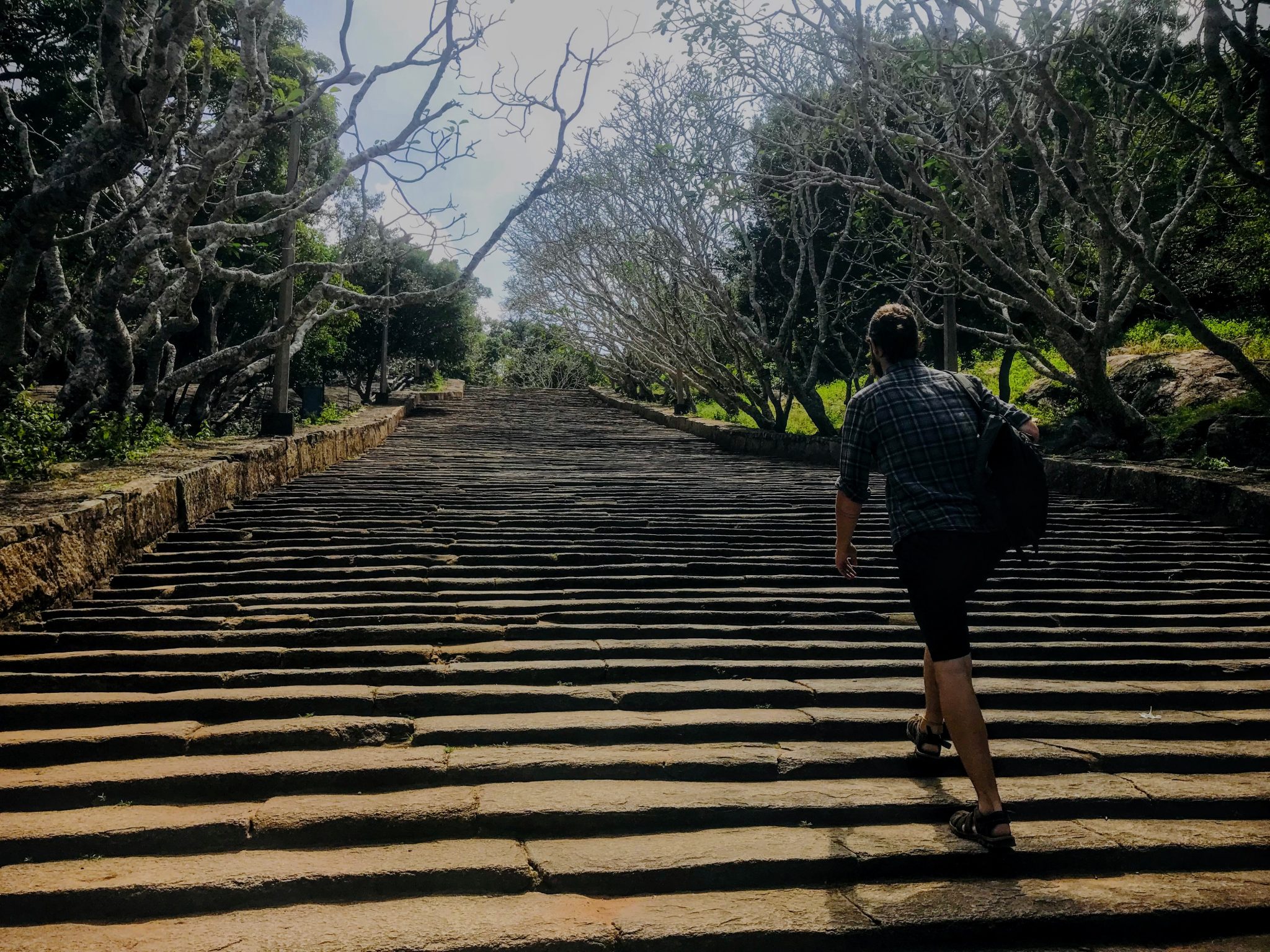 It can get quite hot up here, so I recommend coming earlier or later in the day as there are quite a few steps to get here (1,800 if you're asking)!
There are several sights to look out for on the way to the main sight of the Aradhana Gala, beginning at the base of the steps and continuing along them. It starts with the hospital ruins at the bottom, various stupas including the Kantaka Cetiya, the refectory area, the Cave of Arahat Mahinda, Naga Pokuna and the Kaludiya Pokuna pool. When you're halfway up, you pay your 500 rupee fee at the little booth.
Look out for Ambasthala Dagaba at the top, which is said to be the spot of the meeting between King Devanampiyatissa and monk Arahant Mahinda and built by the king.
Once you get to the top, you need to leave your shoes in the rack and cover your shoulders and knees as the whole area is a Buddhist site. Most of the main sights are centred around the Aradhana Gala area but be careful not to burn your feet on them as the stone gets hot!
One of the best things about Mihintale is the views! Climbing the Aradhana Gala only takes about 5-10 minutes but it is slippery so be careful, there is a handrail to hold on to though.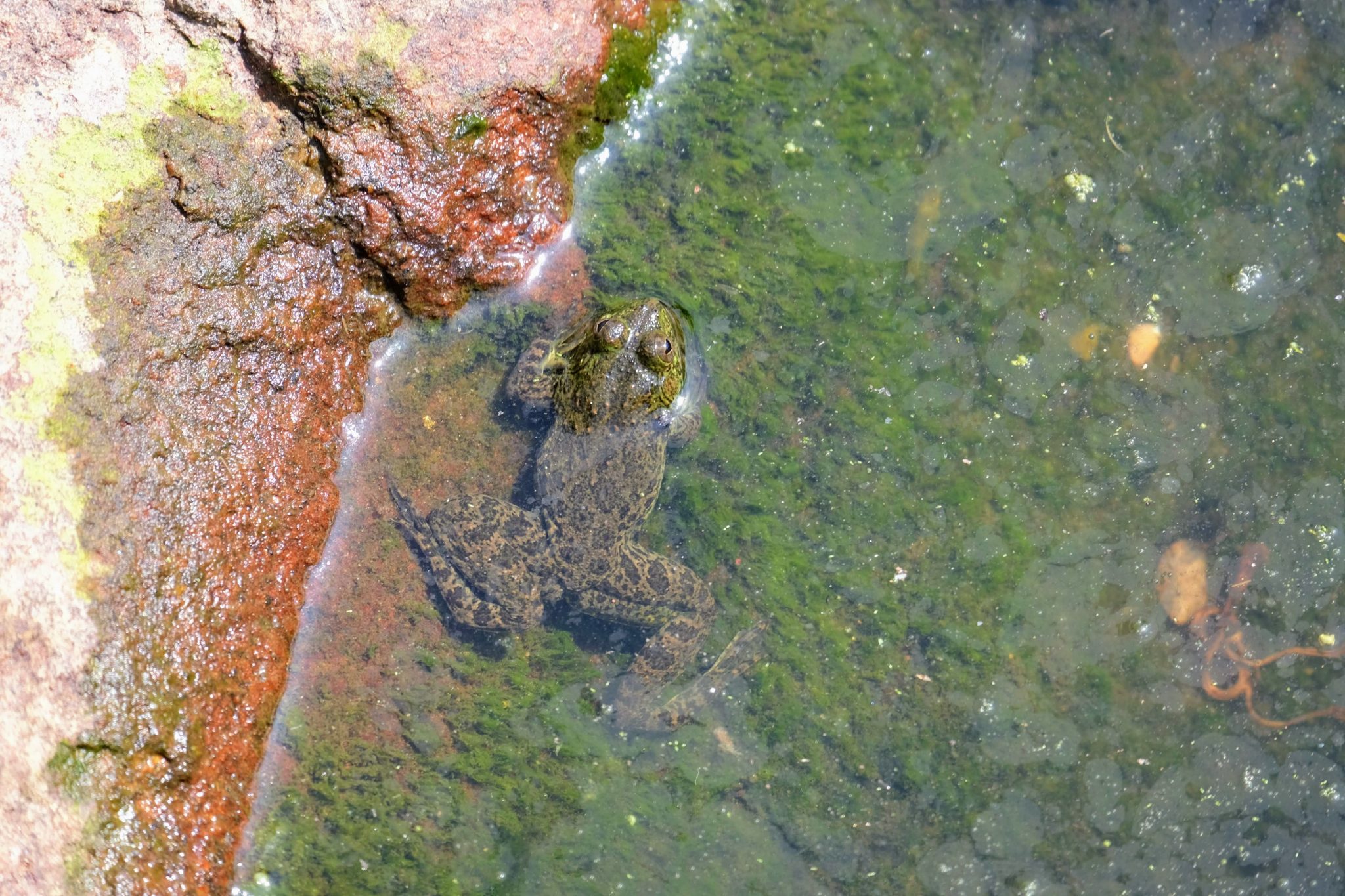 Look out for wildlife as you explore – including the sometimes pesky toque macaques! There are fish in the ponds as well as numerous frogs hiding out in the puddles.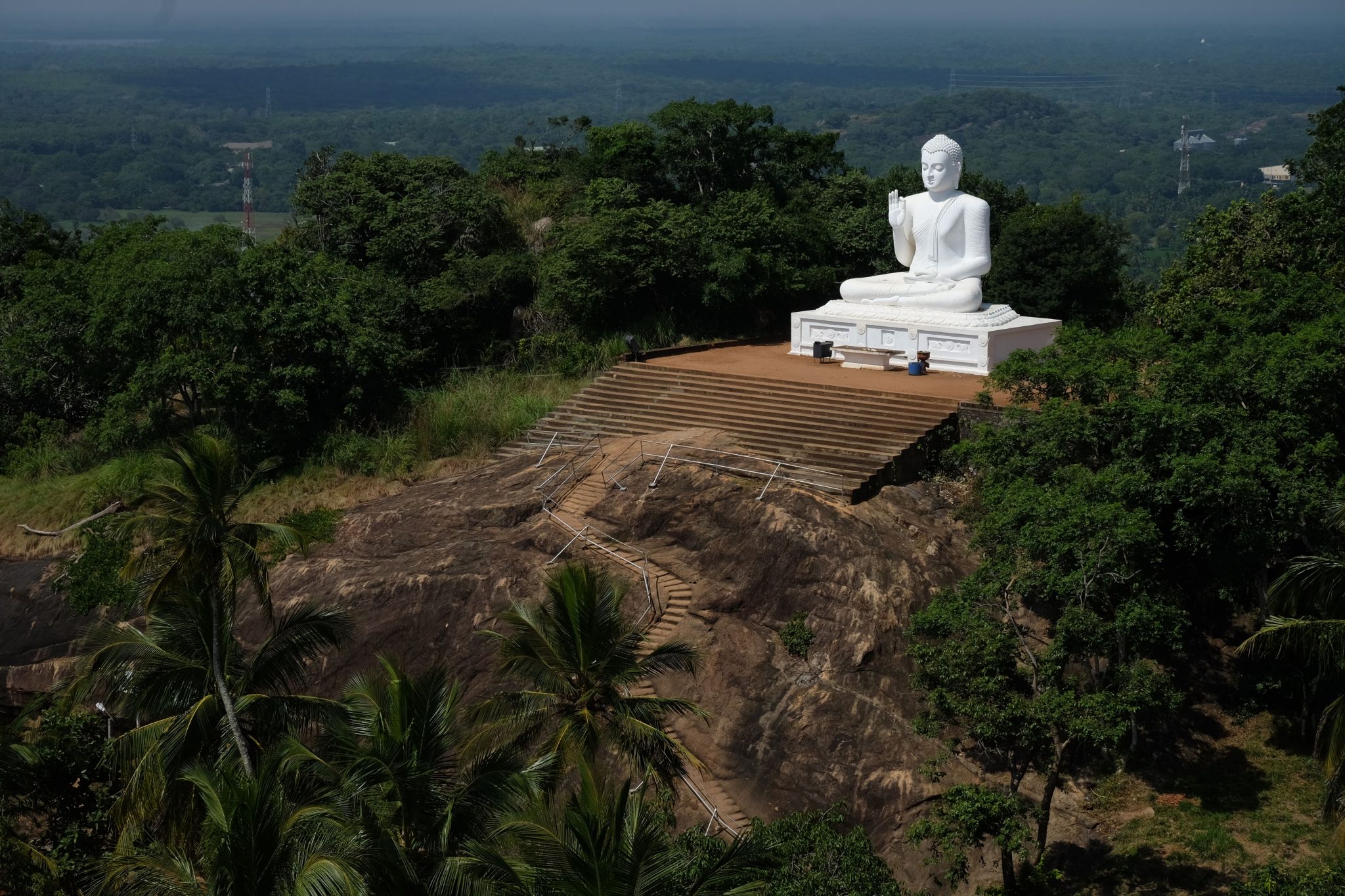 As well as the Aradhana Gala and the Ambasthala Dagaba, there is a Buddha and the Maha stupa to see and enjoy the views from there. One of the best views of Aradhana Gala is from the Maha stupa as it is opposite to it.
The reasons I liked Mihintale were that it felt like a sacred place, there weren't too many people and it involved some nice exercise to get to the top. It was also quite interesting as it wasn't like anywhere else we'd seen in Sri Lanka and we saw it in a couple of hours whereas sights like Polonnaruwa take all day to see the ruins so it was a nice change!
Have you been to any of Sri Lanka's cultural attractions like Mihintale or Anuradhapura, Sigiriya Rock or Polonnaruwa? What do you think about foreigner prices in Sri Lanka and beyond? Let me know in the comments below and let's have a chat about it!
Pin this for later: