Laos is great, whether you're in Vang Vieng, Luang Prabang or the 4,000 islands then laidback fun is pretty much guaranteed.
While I wholeheartedly recommend travelling in Laos, we had some of our most bizarre and ridiculously overdrawn journeys here.
Overland travel is the best for the stories you'll tell, the landscape that you'll see and taking public transport is a great way to lessen your environmental impact.
This is the good, the bad and the ugly about overland travel in Laos, from someone who's travelled all over Asia and has seen some things along the way.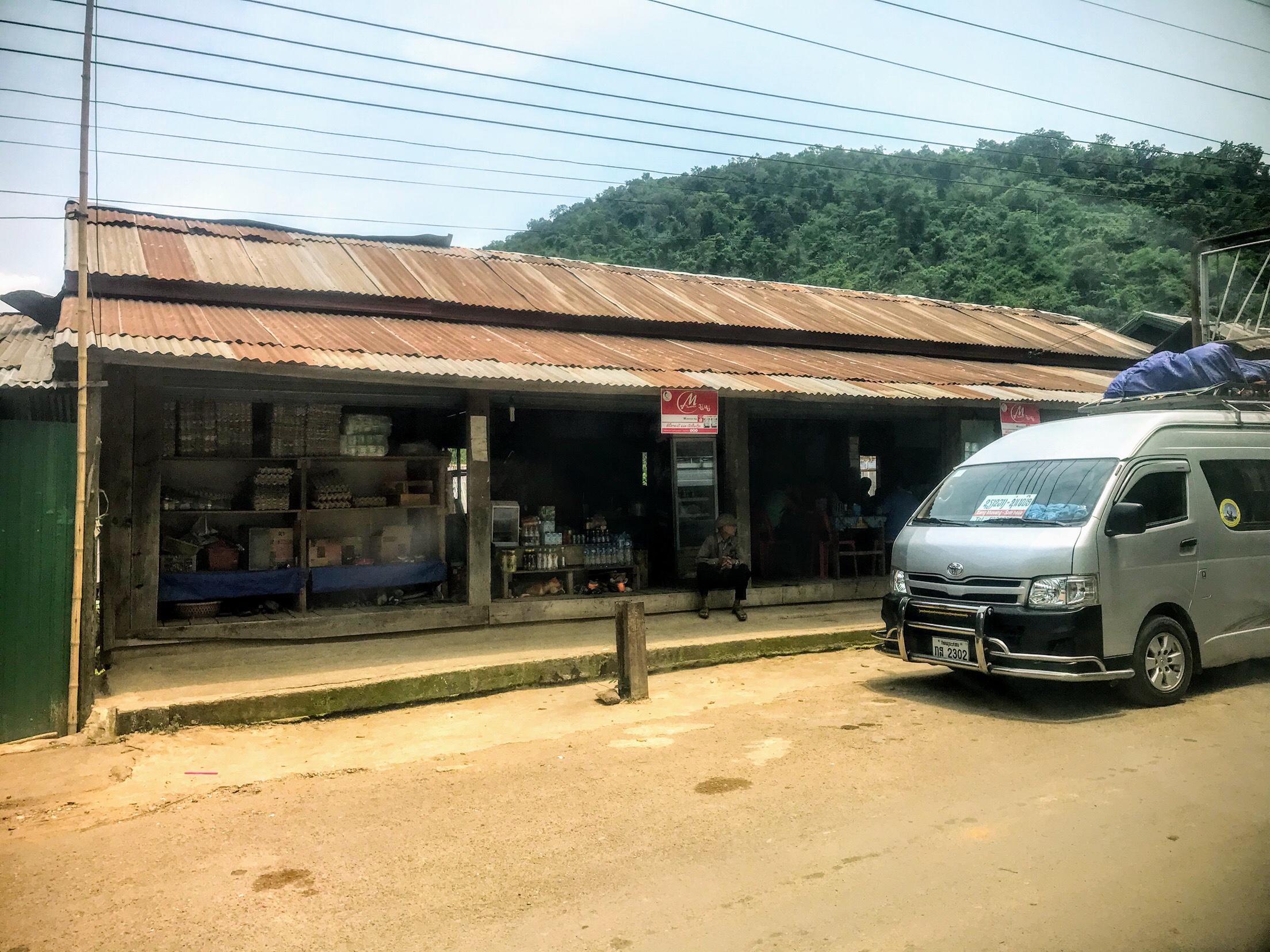 *This post may contain affiliate links*
Travel in Laos, much like many places in Southeast Asia is so variable and we used tourist minivans, coaches and public buses, so we had the full spectrum of experiences.
When we got to Laos, we took a songthaew from the Nong Khai Thai border to the capital of Vientiane. From Vientiane, we took a tourist minibus to Vang Vieng, which was an efficient journey but the fast bends were nausea-inducing. We took another tourist bus to Luang Prabang and then onto Nong Khiaw.
On our way to NK, we saw an elephant dressed in long chains crossing the road, working to move timber from the forest. Not only do we cut down our forests, but we enslave the animals whose homes we're taking away to help us do it.
Once we left NK we were really off the tourist trail and that was where the real fun began.
We took a minibus from Nong Khiaw to Sam Neua to see the Vieng Xai caves which was 12 hours in a cramped minivan. The bus stopped everywhere so it was hours late and because we were in rural Laos, we struggled to find any veggie food on the way. This meant it was dark when we got to Sam Neua and a taxi driver gave us the wrong price (forgot a zero) which led to an awkward standoff at the hotel. We arrived at a lot of places at midnight in Laos and generally ate a lot of snacks from minimarts as a result.
My guide to visiting the Vieng Xai war caves from Sam Neua.
We returned to the bus station after the caves to get a bus to Phonsavan and we watched the bus staff weighing themselves on the luggage scale, something I love to do myself.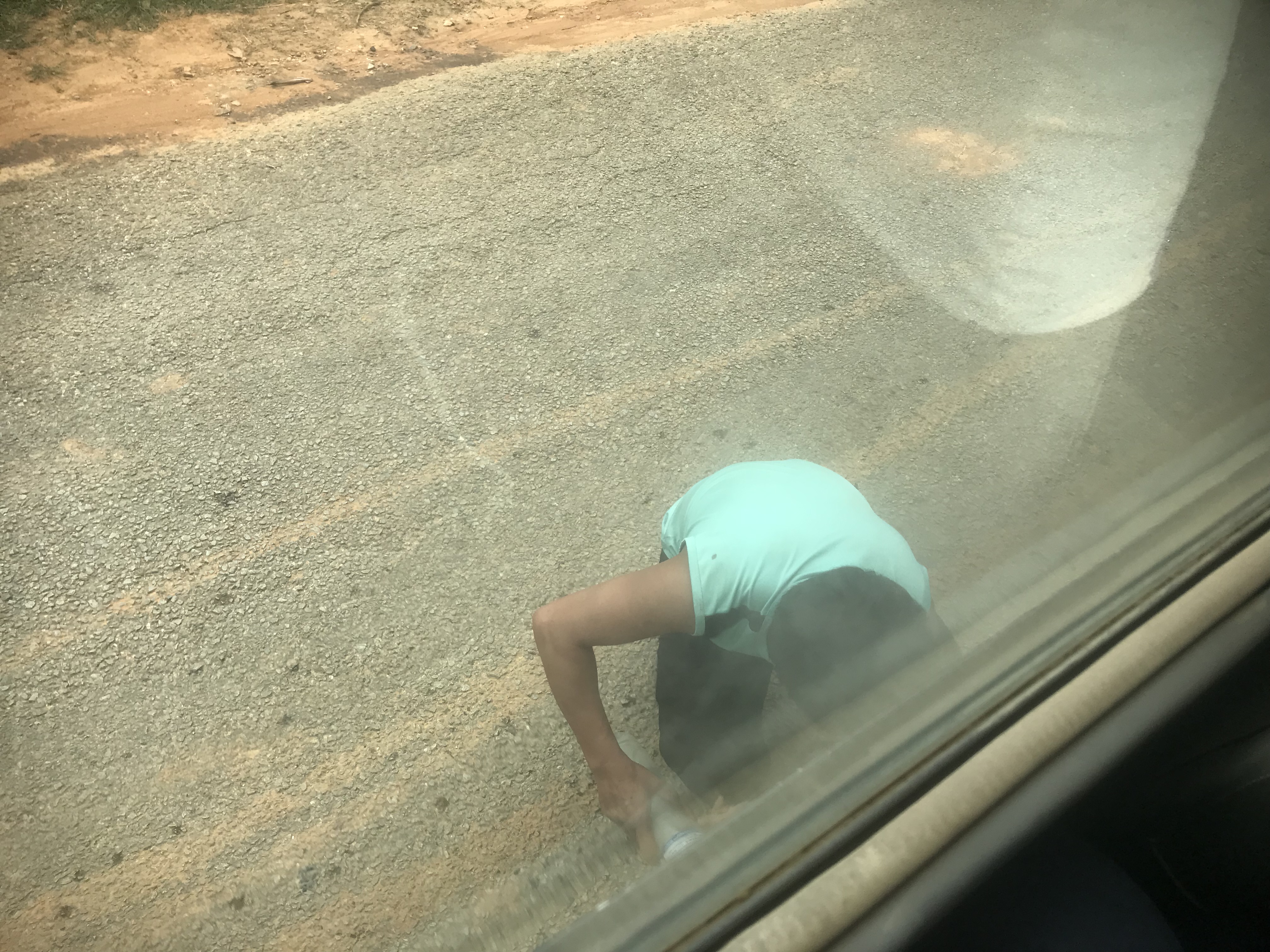 Cooling down the brakes on the bus, Laos
There was only six of us on the public bus and the views over the karst landscape was great, but the journey was pretty grim. An issue with the brakes meant that we had to stop with frustrating frequency to cool them down with water. The unsealed road was extraordinarily dusty and the windows didn't close so we were both covered in filth when we arrived. Not only that, but there was also past filth dropping from the ceiling on to my face. The Plain of Jars was slightly usual and worth visiting though.
My guide to visiting the Plain of Jars near Phonsavan on a budget.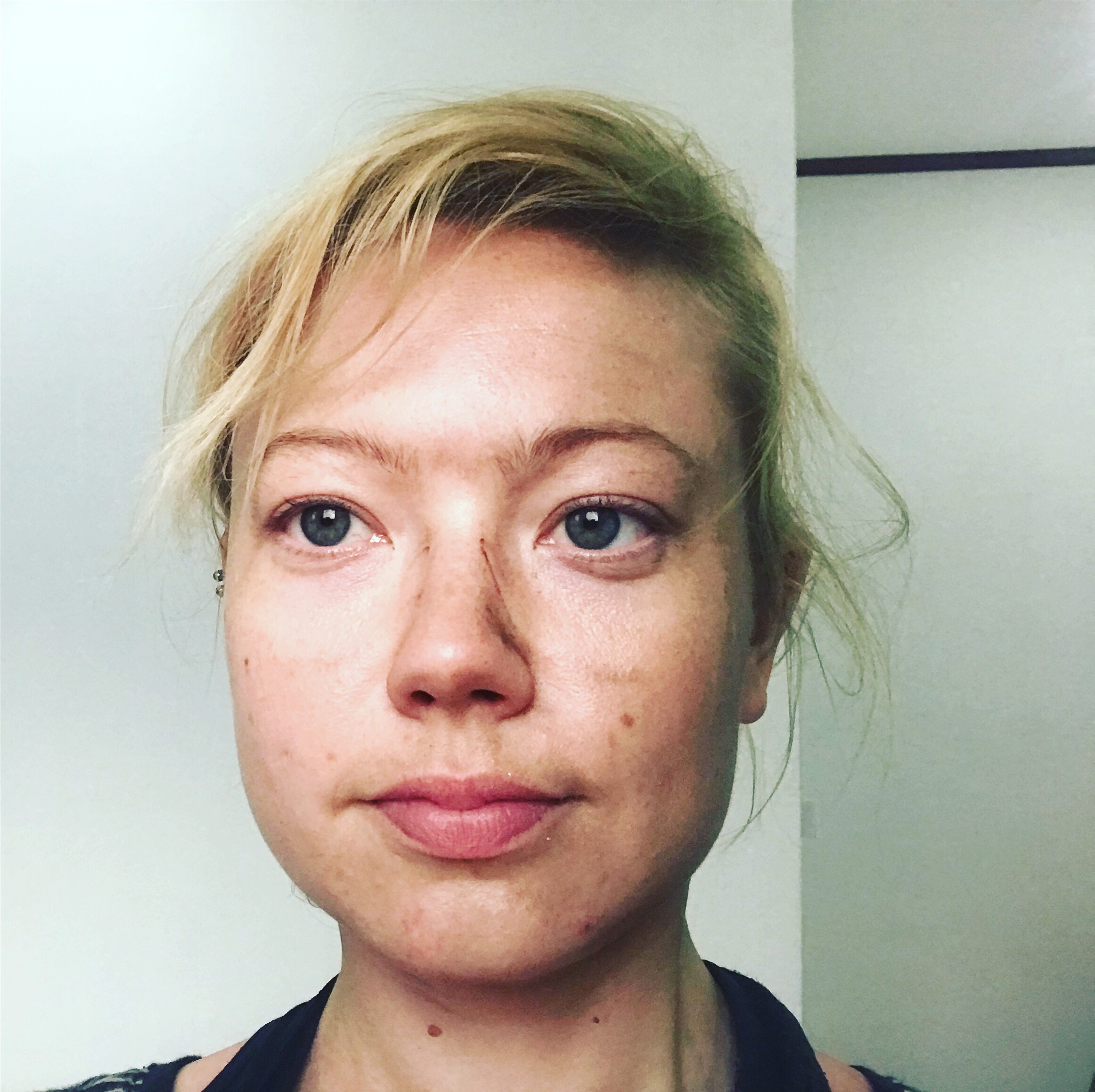 Dirty face after the bus from Phonsavan, Laos
We got the bus from Phonsavan from the hectic bus station that doubled up as a market, to the dusty town of Paksan, where we spent one night as a stopover. There was nothing to do in Paksan, and we met a group of Australian retirees who thought the same.
As soon as morning came, we were out of there and we flagged down a public bus on the Main Road to go to Thakhek. The rains came lashing down after we'd got on, and it started gushing in through the ceiling and the doors. The bus was not remotely watertight, so everyone had to cover their their children/chickens/nice threads to prevent them from getting soaked.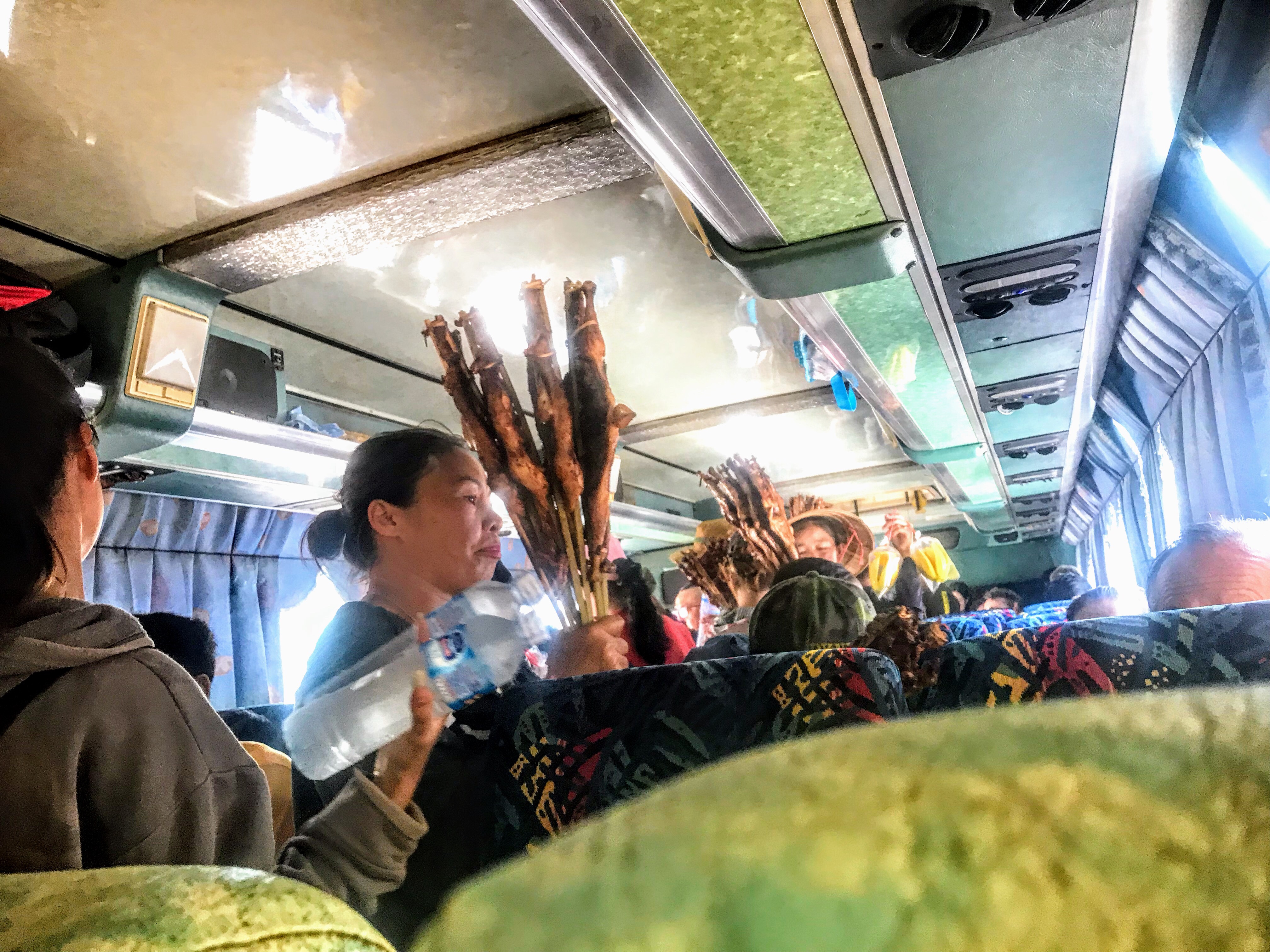 Women selling spatchcock chicken on the bus, Laos
The most common snack that you'll be offered on the bus in Laos is the spatchcock chicken, wrapped around bamboo sticks. They're pretty dry but the smell means they're not the most sociable of meals. As a vegetarian I steered well clear but chicken on a stick is a big part of the bus snack culture.
We stayed two nights in Thakhek, but in between we took a songthaew to Kong Lor Cave for two nights. The songthaew broke down 3 times so we spent hours in garages and befriending small children along the way. It was pitch black by the time we arrived but the Kong Lor Cave was worth it! We got up at 6am to get the songthaew back to Thakhek but it happily didn't break down at all which meant we actually got to enjoy a peaceful afternoon for once.
Visiting the beautiful Kong Lor Cave on a budget.
Green lit bus in Laos
We left Thakhek for Pakse which wasn't too bad as we were on a coach instead of a bus. We stayed a night in the hostel and in the morning we got the tourist bus to Don Det and then the boat for the 4,000 islands. The bus arrived 3 hours late and my seat was permanently reclined but the Mekong River was beautiful.
We saw the Rocket Festival while we were there which is meant to bring in the rains and it certainly worked!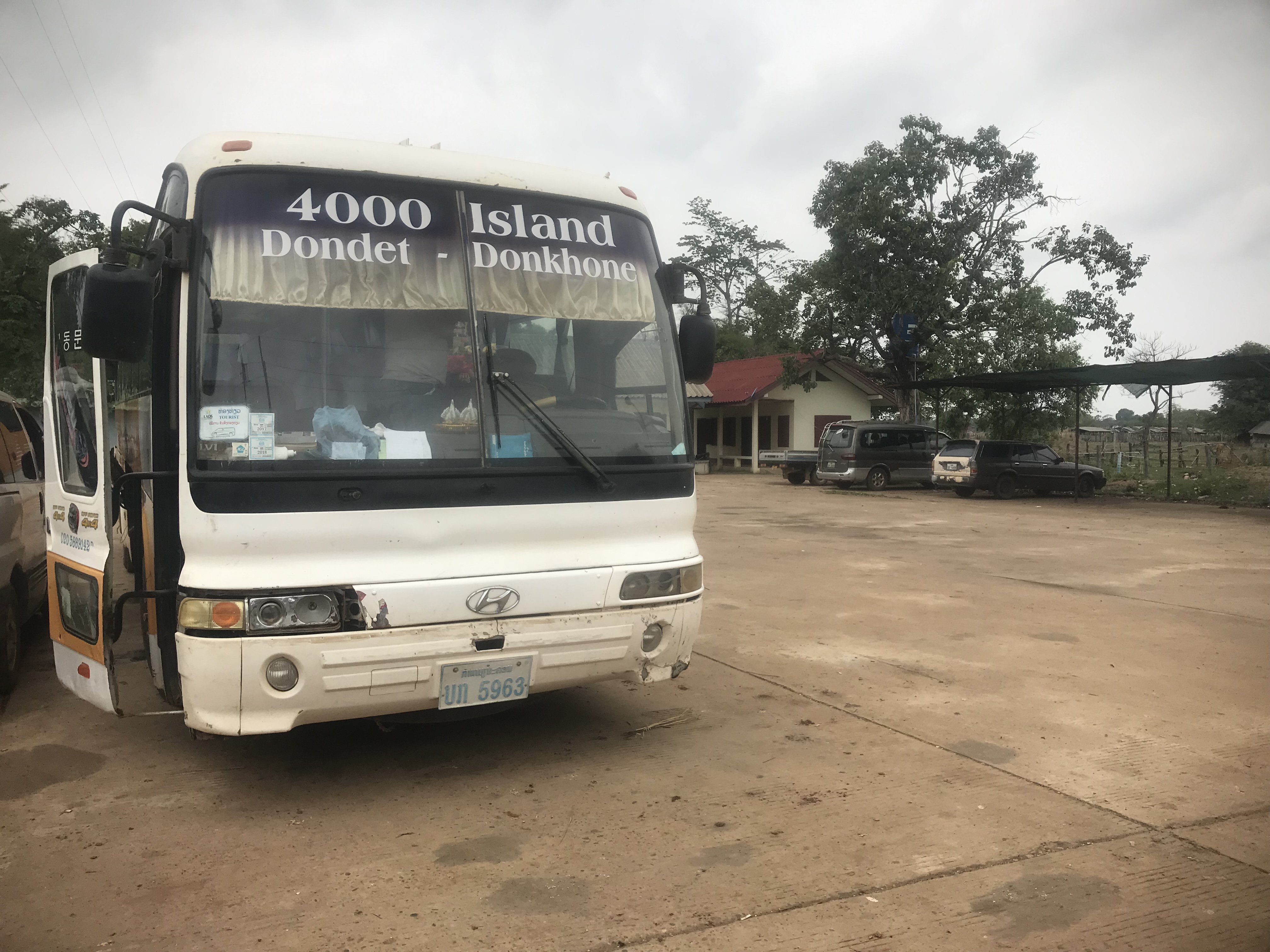 Arguably, the worst journey I went on was the one from the 4,000 islands to Savannakhet. We were totally bathed in green light which was very disconcerting and we noticed a woman had blood all down her leg.
Her mum then started mopping blood up off the floor, and for a horrible moment we thought she was having a miscarriage. Luckily, it turned out that they had been carrying a bag of animal blood that had burst everywhere. The blood made the floor sticky and seeped into my backpack, it also started to smell but still better than a medical emergency in a country with terrible medical care.
The bus was so delayed that they dropped us off at a nearby town and we had to get a songthaew to Savannakhet. The songthaew had to collect supplies from all over town, including several boxes of smelly durian that we were squashed between. We reached Savannakhet at midnight and we had to leave for Vietnam in the morning.
Bus snack, Savannakhet, Laos
Our last bus was a coach from Savannakhet to Hu? where we were given a snack and it rained outside without us getting wet so it was a win.
They also waited for us for an hour at the border crossing when the Vietnamese border control didn't know what to do with our e-visas as they're a new thing. We were so grateful as we had our luggage with us which meant that they could have left if they wanted.
I was happy that our last journey in Laos was a happy one and travelling to Vietnam was a great experience apart from the border crossing hassle. Despite all the delays and shenanigans, I thoroughly recommend travelling off the beaten track on Laos as the countryside is so beautiful that
Check accommodation reviews and find deals for Laos on Tripadvisor:
How do you find bus travel in Laos? Let me know your good, bad and ugly in the comments below!

Pin this for later: